Bernadette Feazell, 65, works at a pawn shop in Austin, Texas. She's worked there four years and makes $8 an hour, plus commission.
I work at Mustang Jewelry and Pawn. I've been there four years. I love my job.
What can I tell you? I'm from Texas, I'm kind of a tomboy, and I get to sell compressors and cement machines, and I get to do it in Spanish and English. We stay busy, as you can imagine, in a bad economy. Especially now.
I earn $8 an hour, and I get a commission. There are no benefits. The commission is 6 percent. It all depends on the month. Christmas is good. This month is good. I can make $260 extra a month on the commission, but I don't set the world on fire.
I get about five hours a day. And that's a pretty good day for an old girl. I'm 65. I draw $400 a month [in Social Security]. I have Medicare -- I just got it.
I had no insurance before Medicare. I've been uninsurable for years. I had something cancerous, and I wasn't insurable until now. I'm a newbie [to Medicare]. I'm not an old hand at it yet. I just got the card. I don't know how to use it.
Tomorrow I'm going to go have my teeth fixed in Mexico. One of the guys at work, a dentist told him it would be $3,000 to remove his teeth because they're so bad. Yes, the economy is really bad on teeth. He went to Mexico and they removed the teeth for $200. That's a big difference. It's four hours by Greyhound to Mexico, but people do it.
If you're a salesperson, you can't talk to people and not have nice teeth. So I've saved up, and my son's going to help me. I need a cavity filled. My last Mexican filling fell out, from two years ago. I went down to Nuevo Laredo. It's very violent, with a lot of decapitations.
No one is going to take care of you for free here. A filling would be a few hundred bucks. I've gone down to Mexico before for this. This will be my third time. I speak Spanish.
I buy my Prozac over the line in Mexico, too. Without anti-depressants, I don't think -- it would take a toll on me. It suppresses the appetite. And when you make this kind of money, you don't eat much. There are times when I would want a sandwich or a piece of chicken I can't afford. I sacrifice for my dogs. They get Iams. I have three small dogs.
My adjusted gross income for last year was $10,200. I was making $8 an hour all year. I'm at the cusp -- I make too much to get food stamps. Everything is expensive. My rent is $500 a month, and I have a roommate.
There's nothing left at the end of the month. If I've made it to the end of the month, I'm happy.
People in poverty can still be happy. A lot of rich people seem miserable.
People tend to think, you work for minimum wage, that's all you're worth. I think there's great honor in working. I work hard. And frankly, it's not because I think I'm worth $9.
I quit for a while. I had another job. I made $12 an hour working for a lawyer. There were no benefits, and the man made everyone so miserable. It was a Social Security Disability sweatshop. But the people were nice.
If you think a pawn shop doesn't know the pulse of the economy ... well, we know first. People come in now and try to sell us a blender for $5 because they need gas. We're privately owned. We try to help them. We'll buy their blender or their pot, stuff that we probably shouldn't. That's why people like us. You find odd things where we work.
One of first things in this economy that went down was the nail places. They're gone. Then the hair places went. You cut your own. I cut my own hair. I've had the same crooked bangs my whole life. My forehead, you can park a plane on.
We buy stuff at the Goodwill, that's where we shop. You get shoes there. There's a Goodwill outlet store, which is heaven. It's $1.38 a pound for clothes. Half of Mexico is there, I assure you. It's huge.
I live in the city, six minutes from where I work. If I had to drive across town, I couldn't do it. I have a 1996 car that's paid for, and I have insurance. It's about $500 a year. It gets to where you're like, how much more can I trim?
In Texas, oh my god, you would die without the car. You need the car to get to work. I probably could do it on the bus, but not every day.
I'm single. If times get bad enough I could always get married. I wanted to marry a man who had group insurance, but now I have Medicare.
As told to Dave Jamieson.

Bernadette's story is part of a Huffington Post series profiling Americans who work hard and yet still struggle to make ends meet. Learn more about other individuals' experiences here.
Have a similar story you'd like to share? Email us at workingpoor@huffingtonpost.com or give us a call at (408) 508-4833, and you can record your story in your own words. Please be sure to include your name and phone number.
Before You Go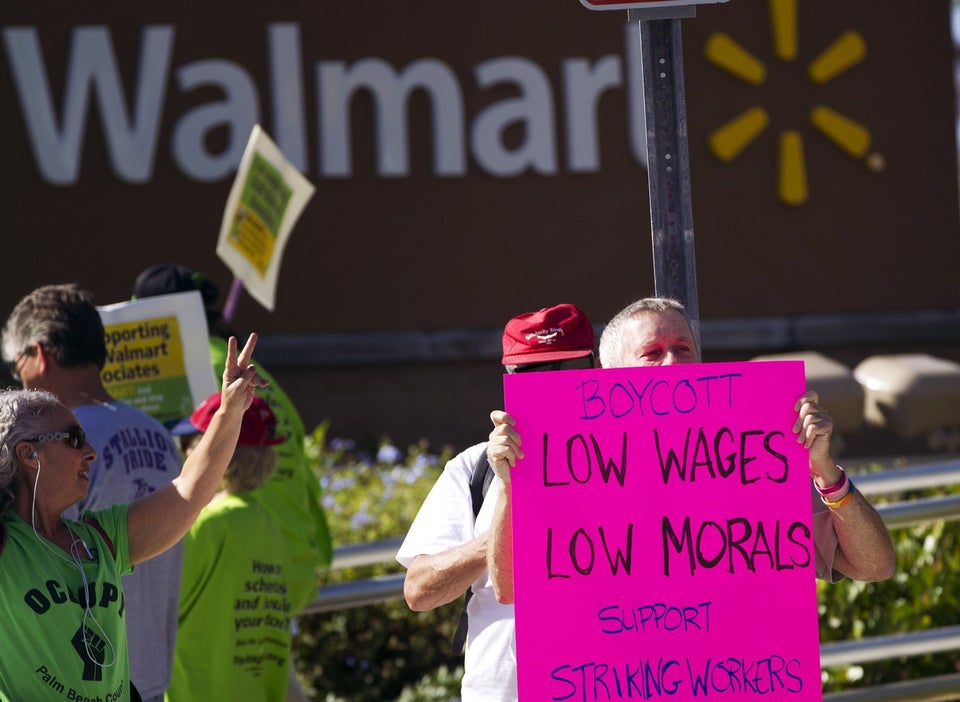 What Minimum Wage Haters Won't Say
Popular in the Community