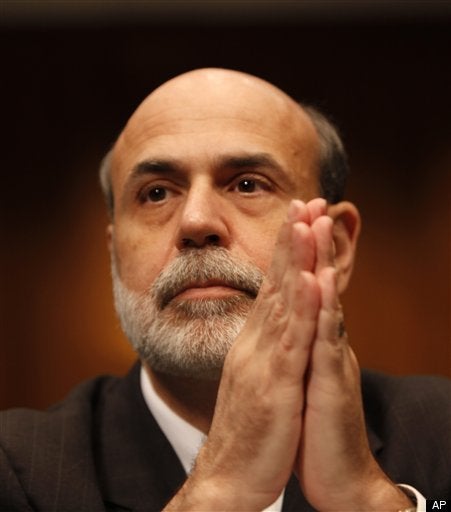 Federal Reserve Chairman Ben Bernanke said Wednesday that the pending financial reform legislation before Congress could have the effect of simplifying the nation's largest banks and limiting their ability to grow even larger, adding that while the bills could help end Too Big To Fail, key challenges remain.
He did not, however, say that the legislation could or should force the nation's financial behemoths to shrink -- a point advocated by his colleagues in regional Federal Reserve banks across the country.
Stressing the Fed's ongoing improvements in how it regulates banks and supervises the financial system, Bernanke told a crowd of bankers, regulators and economists in New York that the Fed's efforts and the bills pending in Congress will go a long way toward addressing the problems associated with Too Big To Fail and the weaknesses in the current financial regulatory system.
The Fed, Bernanke said, is attempting to "construct better measures of counterparty credit risk and interconnectedness among systemically critical firms"; "improve their understanding of banks' largest exposures to other banks, nonbank financial institutions, and corporate borrowers"; its supervisors are "collecting data on banks' trading and securitization exposures, as well as their liquidity risks"; and the Fed is paying attention "not only to the risks to individual firms, but also to potential systemic risks arising from firms' common exposures or sensitivity to common shocks."
These are among the recommendations advocated by the Squam Lake Group, a collection of 15 top economists from across the country advocating specific financial reforms to address the weaknesses that led to the worst financial crisis and subsequent economic downturn since the Great Depression. SLG organized the meeting.
Attendees included Frederic Mishkin, a former Fed governor; current Philadelphia Fed chief Charles Plosser; Henry Hu, a top official at the Securities and Exchange Commission; Raymond W. McDaniel, Jr., chairman and CEO of Moody's Corporation, parent of Moody's Investors Service; Peter Fisher, a former top Treasury Department official; Paul McCulley, managing director of Pimco, the world's largest bond investor, and the man who coined the phrase "shadow banking system"; Jan Hatzius, chief U.S. economist for Goldman Sachs; Lorenzo Bini Smaghi, an executive board member of the European Central Bank; top officials from the International Monetary Fund and the Organization for Economic Cooperation and Development; and bankers from the world's largest financial firms.
In explaining how the Fed's actions will impact many of those in attendance, Bernanke said their firms may not be allowed to get any bigger.
"Enhanced prudential standards for the largest firms should also reduce the incentive of firms to grow or otherwise expand their systemic footprint in order to become perceived as too big to fail," he said.
Thomas Hoenig, Richard Fisher and James Bullard, regional Fed presidents from Kansas City, Dallas and St. Louis, respectively, have said the nation's megabanks should instead shrink because they're already too big.
According to their most recent quarterly filings with the Fed, Bank of America, JPMorgan Chase, Citigroup, Wells Fargo, Goldman Sachs and Morgan Stanley -- the nation's six biggest bank holding companies in terms of assets -- collectively hold more than $9.4 trillion in assets, a figure equivalent to two-thirds of the nation's total economic output last year, according to IMF figures. It's also greater than the 2009 output of every other nation on Earth.
Bernanke added that the largest banks could also be forced to simplify their businesses, a key reform advocated by those wishing to ensure no individual firm's failure could put the entire financial system at risk, something that occurred at the height of the financial crisis in 2008.
"[T]he financial reform legislation under consideration in the Congress usefully requires each systemically important financial firm to prepare a 'living will' that sets out a plan for winding down the firm's operations in an orderly manner," the central banker said. "The creation and supervisory review of these plans would require firms and their regulators to confront the difficulties posed by complex legal structures well in advance of the firm's financial distress, and in some cases could lead firms to simplify their internal structures."
As for Too Big To Fail, Bernanke generally praised the approach taken by Congress. The Senate and House financial reform bills both call for enhanced "resolution authority" that should give policymakers a way to dismantle systemically important firms on the verge of failure.
Bernanke said the proposed authority "is necessary if commitments to allow failure are to be credible, which in turn is essential to reverse the perception that some firms are too big to fail."
But, he added, "a key challenge would be fostering the international cooperation needed to manage the cross-border aspects of such a resolution regime."
Many critics of the legislation point to the international issue as one that assures that the resolution authority will never work -- megabanks and other systemically important firms have such extensive operations in foreign markets that there's no way to effectively dismantle them in one country without causing panic in others.
Regulators in the U.S. are trying to coordinate just such an international regime to ensure that firms with broad international scope can be wound down safely if need be. The credibility of the proposed resolution authority depends on it, experts say.
"It's going to take some experience, practice and time for all of us market participants, regulators and others to assess whether or not [the proposed legislation] fully meets the concerns that led to the legislation in the first place," Bernanke said.
REAL LIFE. REAL NEWS. REAL VOICES.
Help us tell more of the stories that matter from voices that too often remain unheard.