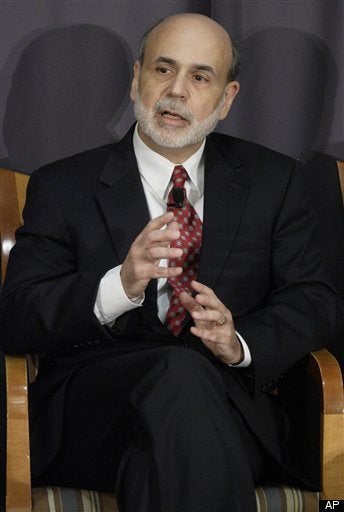 WASHINGTON (Reuters) - The economy may be finally hitting its stride, even if growth remains too weak to put a real dent in the nation's jobless rate, Federal Reserve Chairman Ben Bernanke said on Friday.
Offering no real clues on the future direction of monetary policy, Bernanke sounded cautiously more upbeat, citing improvements in consumer spending and a drop in jobless claims as hopeful signs that a fragile recovery was perking up.
"We have seen increased evidence that a self-sustaining recovery in consumer and business spending may be taking hold," the central bank chief said in his first testimony to Congress since the Fed launched a controversial plan to buy an additional $600 billion in government bonds.
His remarks were made public just an hour after the Labor Department reported the economy generated a disappointing 103,000 additional jobs in December. The jobless rate dropped to 9.4 percent from 9.8 percent, but the decline was partly due to a troubling rise in the number of people exiting the workforce.
Bernanke, whose testimony to the Senate Budget Committee, was submitted to Congress before the jobs data, defended the Fed's bond purchase by highlighting the weakness in employment and what he saw as the risks associated with very low rates of inflation.
"Persistently high unemployment, by damping household income and confidence, could threaten the strength and sustainability of the recovery," Bernanke said.
"Very low inflation increases the risk that new adverse shocks could push the economy into deflation. Deflation induced by economic slack can lead to extended periods of poor economic performance."