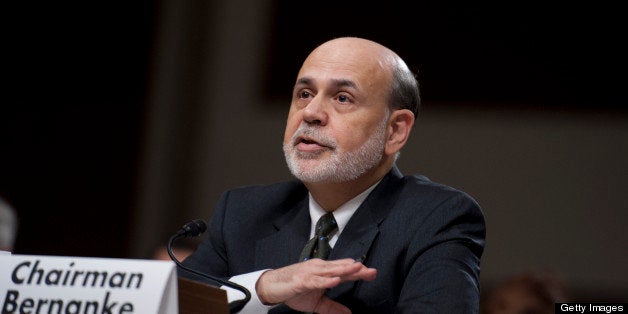 Sure, Ben Bernanke is worried about the U.S. government's debt problem. He just thinks we're going about solving it the wrong way.
Unfortunately, the people who could do things the right way aren't paying any attention to him.
The Federal Reserve chairman, in testimony before the Joint Economic Committee of Congress on Wednesday, suggested that ending the nation's long-term unemployment crisis would be a more effective way of shrinking government deficits and debt than the austerity cocktail funneled down our throats by Congress and the White House in recent years.
"The loss of output and earnings associated with high unemployment ... reduces government revenues and increases spending on income-support programs, thereby leading to larger budget deficits and higher levels of public debt than would otherwise occur," Bernanke said.
Instead of doing anything about unemployment, which hovers at 7.5 percent four years after the end of the Great Recession, Congress and the White House have spent the past two years finding diabolically creative new ways to slash government spending. That has worsened the unemployment crisis, making Bernanke's job harder.
As he has done repeatedly in the past couple of years, Bernanke again bemoaned the government's austerity obsession on Wednesday, including this year's payroll-tax increase and the brutal budget cuts of sequestration. Bernanke suggested that the government could replace some of this foolishness with longer-term fixes to Social Security and Medicare. A "Grand Bargain" on the deficit that does away with some short-term austerity might help the economy, Bernanke added.
"That call is likely to fall on deaf ears," Paul Ashworth, chief U.S. economist for Capital Economics, said in a note.
And good thing -- the economy doesn't need a "Grand Bargain." But it does need something done about short-term austerity. Fiscal tightening might cut 1.5 percentage points from economic growth and cost more than 2 million jobs this year, economists estimate. That is too much of a drag for Fed policy to overcome all by itself, Bernanke warned -- again, not for the first time.
With austerity choking the economy, unemployment is well above the Fed's target level of 6.5 percent, and inflation is well below its target of 2 percent -- meaning the Fed is failing on both sides of its dual mandate to pursue maximum employment and stable prices.
Given all that, Bernanke said the Fed is in no hurry to taper the pace of its extraordinary bond-buying measures, known as "quantitative easing." The Fed is buying $85 billion in bonds every month, trying to keep interest rates low and drive investors to take bigger risks. It is a potentially dangerous approach, but Bernanke suggested the Fed had no choice as long as Congress and the White House were working against it.
Bernanke's promise not to take away the punch bowl any time soon led to a broad rally in stocks, bonds and commodities Wednesday morning. The Dow Jones Industrial Average was up more than 100 points by the time Bernanke's testimony ended at midday.
Bernanke's comments draw comparison to a year-old paper, "Fiscal Policy In A Depressed Economy," by Berkeley economist Brad DeLong and Harvard's Larry Summers. The paper has received new attention lately.
A sort of antidote to the research of Harvard economists Carmen Reinhart and Kenneth Rogoff, which helped convince Congress to deliver austerity in the first place, the DeLong-Summers paper suggests that extra government stimulus spending in the short term could actually lower government debt levels in the long run.
But even after the Reinhart-Rogoff view has been discredited, the DeLong-Summers-Bernanke view can't seem to get any traction in Congress. Which means the Fed will keep doing all of the heavy lifting to help the unemployed. And that is not enough.

Calling all HuffPost superfans!
Sign up for membership to become a founding member and help shape HuffPost's next chapter
BEFORE YOU GO
PHOTO GALLERY
11 Lies About The Fed