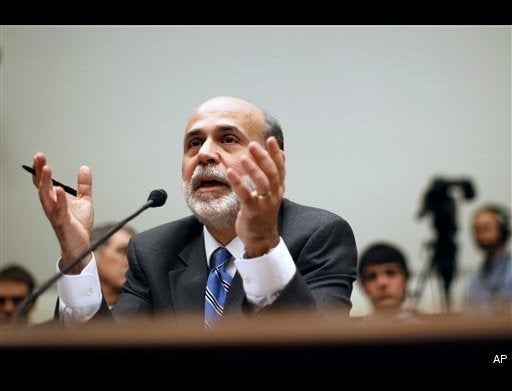 While the conventional wisdom in Washington appears to focus largely on the need to lower the federal government's budget deficit, rather than on reducing the nation's nearly 10 percent unemployment rate, Federal Reserve Chairman Ben Bernanke sent a message Wednesday to lawmakers: Now's not the time.
"Right now I don't think is the time -- this very moment is not the time -- to radically reduce our spending or raise our taxes because the economy is still in recovery mode and needs that support," Bernanke testified before the House Budget Committee.
Bernanke referred to the nascent economic recovery as "still pretty fragile" and cautioned that the economy "may need more assistance."
Though the nation's output is growing, jobs are still scarce; nearly eight million jobs have been lost as a result of the worst financial crisis since the Great Depression. Since January the private sector has created about 480,000 jobs, Labor Department data show. At that rate, the economy won't return to its pre-recession employment level of about 115.6 million jobs until about 2016.
The lack of jobs accompanying the ascent out of the "Great Recession" has led economists and commentators such as regional Federal Reserve Bank presidents to term this a "jobless recovery." Others, while not making that claim outright, worry that's what the recovery will end up being unless current stimulative measures -- such as the Fed's policy of a near-zero main interest rate -- continue.
The Fed is "doing its part," Bernanke said of the central bank's "supportive monetary policy." The main interest rate stood at 0.20 percent in May, Fed data show.
The nation's central banker added that government's fiscal policy, like the nearly $800 billion stimulus bill passed last year, "is helping" and that it's "needed."
Congressional Republicans have focused on reducing the federal government's budget deficit rather than on taxpayer-financed job creation efforts; Democrats have begun to follow.
Bernanke, however, pushed back against House Republicans' claims that the stimulus, pushed by the Obama administration, didn't bolster the economy. He said it "did increase growth" and "add to job creation."
But the economy's slow recovery has been a "disappointment," Bernanke said. He added that there wouldn't be a "V-shaped recovery," a term to describe a rapid economic expansion following a downturn.
Despite the slow recovery and potential need for additional stimulus, though, Bernanke warned Congress to develop a credible plan to deal with the government's budget deficits.
Obama's 2011 budget forecasts a $1.6 trillion hole, or about 10.6 percent of the nation's total output, a post-World War II high.
Bernanke said ongoing deficits of that size aren't sustainable, and called on Congress to create a plan in the "medium term" to bring deficits to a more manageable level. Economists say deficits of about 3 percent of total GDP are sustainable.
The plan, he said, needs to have the confidence of the markets. If it has that, "I think we'll be okay," Bernanke said. But if investors in U.S. debt don't find the plan "plausible," the nation faces a risk of a "potential loss of confidence" by investors.
A loss of confidence could entail investors demanding higher rates of return in order to buy Treasuries, which would drive up the government's borrowing costs. Funds for government programs would instead be diverted to bondholders.
Investors are demanding about 3.3 percent interest from the U.S. government in order to buy 10-year Treasury bonds, a level near historic lows. Ten years ago, investors demanded double that rate.
But it's important to note that Bernanke didn't say Congress needs to cut spending now; he simply said Congress needs to begin developing a plan in the "medium term" to bring down the government's budget deficit. In response to a question about whether Congress should focus on job creation (which would entail more spending) or reducing the deficit, Bernanke said it needs to do both.
Congress needs to "show" that it's "serious" about the deficit, he said.
Meanwhile, the muscular jobs bill that progressive groups, unions, and labor economists clamor for has yet to materialize.
The private sector created 20,000 jobs last month. Nearly 15 million unemployed workers continue to look for work.
Related
Popular in the Community