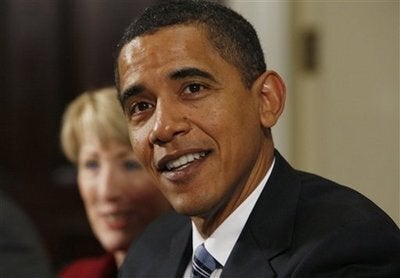 A review of Bernard Goldberg's "A Slobbering Love Affair: The True (And Pathetic) Story of the Torrid Romance Between Barack Obama and the Mainstream Media" (Regnery Publishing - January 26, 2009).
That certainly didn't take long. Just shy of a week after Barack Obama took the oath of office, becoming America's 44th president, the nation's foremost right-wing publishing house has released a new tome by Bernard Goldberg that seeks to trash the supposedly liberal "mainstream media" for being in the tank for Obama.
The three-ringed circus of liberal media bias cryptozoology is nothing new for Goldberg. He's been part of this factually challenged freak show for years. This isn't even his first book on the subject -- he wrote 2001's creatively titled, Bias.
In the first chapter of Slobbering, Goldberg writes that the media were "championing" Obama and cites as proof a June 2008 broadcast of CBS' The Early Show, which ran a segment called "Five Things You Should Know About Barack Obama," featuring biographical fluff on the then-Illinois senator. Goldberg goes on to contend that CBS' Jeff Glor sounded "more like Obama's campaign manager than a network news correspondent" during the segment. However, like so many other glossy television profile pieces during the long presidential campaign, CBS' report was only one-half of a set. Just days later, CBS would air a segment titled "Five Things You Should Know" about Sen. John McCain, featuring such trivia as McCain's high school nickname, television and movie cameos, and enjoyment of bird-watching and comedian Sacha Baron Cohen's fictional character Borat. Not surprisingly, Goldberg's book makes no mention of the McCain segment.
Karl Frisch is a senior fellow at Media Matters for America, a progressive media watchdog, research, and information center based in Washington, DC. Frisch also contributes to County Fair, a media blog featuring links to progressive media criticism from around the web as well as original commentary. You can follow him on Twitter and Facebook or sign-up to receive his columns by email.
Calling all HuffPost superfans!
Sign up for membership to become a founding member and help shape HuffPost's next chapter