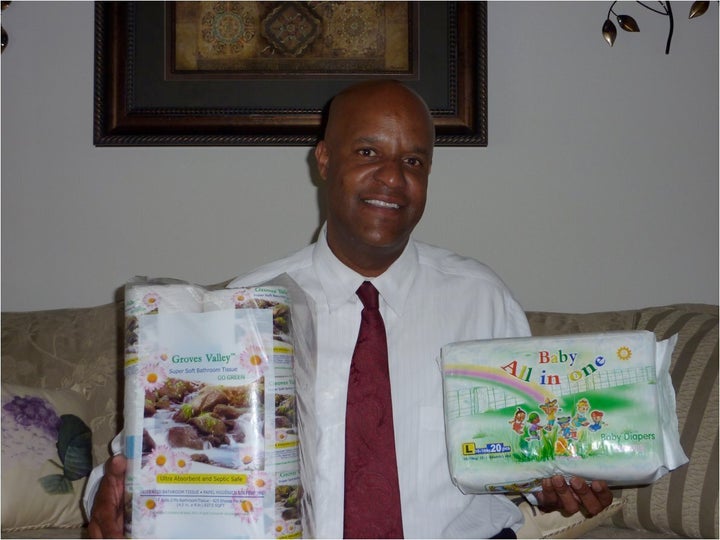 For 13 long months, Bernard Groves slept on benches or under park slides, rode the train for shelter, and walked around San Francisco or San Jose by day, carrying nothing but a backpack. And he says he knew what most people thought of him.
"When you're down and out, people look at you weird," Groves said. "You see peers you grew up with walk by and not give you a hand up, or even ask 'What's happening?' They just thought I lost my mind. That's the hard part of being homeless. People around you give up on you, but sometimes all you need is a little support. You just need to hear the right words to pick yourself up."
Groves said his decline into homelessness was gradual. He had suffered a lifetime of tragedies and losses, starting at age 5 when his younger brother died in a house fire. He lost another brother in a car accident in 1990 and his mother in 1999, then a third brother went to prison in 2000.
In 2006, Groves got laid off from his warehouse distribution job at a large beverage company, was separated from his girlfriend of 13 years, and was not able to get visitation with his three kids. Groves said he fell into a deep depression, which led to 13 months of homelessness. "It finally all just caught up to me," he said.
But in the backpack Groves carried around, he had the key to his future -- a business plan that would be a ticket out of homelessness. It helped him realize his lifelong dream of starting Baby Brat Inc., a diaper business, and Groves Valley Products, a company that sells green paper products, including paper napkins and bath tissue. Even when he lost practically everything, Groves said he never lost his dream of becoming an entrepreneur.
When did you first have the desire to start a business?
The idea came to me when I was 5 years old, just before the fire. I know it sounds strange, but at that age, I first thought of creating a diaper. And the idea resurfaced during the crisis I was going through. When I was bouncing from one friend's house to the next, I hit this point where I was crying and praying for an idea, and I heard a voice saying. "Baby Brat, Baby Brat," and all these ideas came with it. I thought, "This is my way to get a second chance in life."
But you became homeless shortly after that? What was your first night like, sleeping in the streets?
It was scary, not knowing where I was going to go. My first night, I slept on a bench in a bus booth. It was a very weird feeling, not knowing how long I would be out there on the street, where I was going to get my next meal from, and how I was going to be able to get these ideas from paper to reality.
So you still were thinking about starting a business while you were homeless?
I didn't let it go. I actually started fighting harder to make this dream a reality when I became homeless.
And you owned nothing but a backpack?
Just the clothes on my back and what was in my backpack: a change of clothes, some hygiene products, and a rough draft of a business plan, with ideas for how I wanted the diapers to look. And I had a bunch of other ideas -- a doll, wallpaper, toys -- on scrap pieces of paper.
Were there ever times where you wanted to give up? What was your lowest point?
There were plenty of times I wanted to give up, and I asked God to take me or asked him, "What is your purpose for me?" My lowest point was sleeping in a park under a bench. At that time I hadn't eaten for like three or four days. I was just trying to get to a place where I could work on my ideas. I ended up meeting someone who told me where the homeless shelter, EHC LifeBuilders, was.
How did you discover the Small Business Development Center?
I happened to walk down a street and see the San Jose Small Business Development Center -- I went in and found out they have classes, and the help there is free. I'd go there to get my ideas going, and get the guidance, the direction, learn how to bring ideas from paper to reality. They listened to me. They said, "These are great ideas," and told me I could do it. I didn't tell them I was homeless, because they might not have taken me seriously. It felt great to get the support.
Where did you meet your business partner, Robert "R.J." Faison?
I met R.J. in the shelter. He was a laid-off engineer in product development, and I had some experience in product manufacturing. While we were homeless, we had access to the shelter's computer lab. The first day I walked into the lab, I said, "Does anyone who is computer savvy want to make $100,000 and help me with my ideas? Meet me in the hall." And he was the only one who came out.
And you got startup money from your pastor?
Yes, around the time I went to the shelter, I met my pastor, Tony Grayson, who invested some cash to get us going. He's a giver, and all about helping people who are off track, and my life was way off track when I met him and told him about my ideas. But he believed in everything I said. We tested our product on the market, and it did well. We have buyers who want the product, but now we're seeking more sponsorship or funding so we can kick-start our inventory. Eventually, we want to build a green manufacturing company.
Even though you're not yet making a profit with the business, the business has allowed you to have a home?
Yes, I'm able to live in a rented home. Before I had a lot of self-pity, but now my spirits are up. I plan to be a positive force. I don't think I'm ever going back to the homeless shelter again, and if I do, it'll be to pick people up, tell them my story and inspire them. They might have ideas, and maybe I can help them and give them some hope. You never know what tomorrow is going to bring you, but when you fall down, that's when you have to fight the hardest and believe in yourself the most.
Name: Bernard Groves, founder, and R.J. Faison, co-owner
Company: Baby Brat Inc., Groves Valley Products
Age: 44
Location: Silicon Valley
Founded: 2008
Employees: None
2012 Projected Revenue: Undisclosed
Website: www.babybratinc.com
Related
Popular in the Community