Bernard Hopkins became the oldest boxer ever to win a major title belt, eclipsing his own, previous record when he defeated Tavoris Cloud for the IBF light heavyweight championship in March. At 48 years old, the Philadelphia native is considered one of the greatest middleweights in the history of boxing, having captured 53 total wins. He doesn't drink, doesn't smoke, but instead meditates and practices yoga.
During his time in New York City, "The Executioner" stopped by to chat with The Huffington Post.
What is the hardest thing about getting ready for a fight at this stage in your career?
It's basically getting the kinks out. The kinks are getting your body prepared to go through a stressful seven to eight weeks of training. That means that the physical kicks in right away, the game-plan on how to beat my opponent is in play. Sparring partners have to be put together so they can emulate and imitate the guy that I'm fighting. But far as my preparation, mentally and physically has to come in play. And being a veteran, that's not a burden for me. It's just getting my body ready to go through the trauma ... The vitamins, the food, the rest, day in, day out.
It's not always easy. You have to learn how to be two people, if not three, seriously, in one body ... The fighter has to have a separate team to negotiate with the promoters and the networks. Isn't that a skill?
Do you feel like other boxers, young boxers, may not understand that?
Are you kidding me? No. Unfortunately, they don't know what a conflict of interest is. Brother, it's sad.
Much has been made about the constant deception in the world of boxing. Is that deception real, though?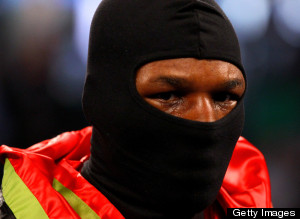 Bernard Hopkins tells HuffPost: "I needed a hook, like a rapper needs a hook. I said to myself, 'If I'm going to be the executioner, then I gotta execute.'" (Getty Images)
Not [just] in boxing, in the real world. Boxing is a small world where the same thing that goes on, goes on in corporate America.
What is your take on the heavily publicized Manny Pacquiao-Floyd Mayweather stalemate?
They're both idiots. Wouldn't you lose 40 pounds to make $40 million? There are some things in life that you just do.
Talk about your executioner head mask. What does that do for you and the psyche of your opponent?
I guarantee you, if they didn't, they wish they'd kissed their wife and kids before they left the house. I went to the press conference Wednesday promoting [the title fight against Cloud], and I never said anything because the executioners don't talk. They come and execute and leave.
I can sense they're timid. When you see a guy on the street and he tucks in his chain and puts his wallet away, he's telling you to come take it. I'm not that guy anymore, but I've transferred that mentality to boxing.
How long have you been using the mask?
Since I became the executioner. When I became the executioner, I was B.J. Hopkins, in 1993. I needed a hook, like a rapper needs a hook. I said to myself, 'If I'm going to be the executioner, then I gotta execute.' Now, I needed a costume. I can't come in there looking like a regular guy, and so I used to have a guy with the swords. I dropped that, but I kept that mask and that hood because the psychological warfare is in me anyway. If I can create an atmosphere to make my job easier and your confidence less, why not? Don't we call ourselves professionals? Because at the end of the day, I know it's scary. But I know most men I fight are scared before they get in that ring. Everything I do is premeditated. Ninety-nine percent of getting over a problem is mental. I don't react and think off emotions -- that gets you in a bad situation.
That was a fee, I'm going to give you an invoice. That was a motivational speech.
Calling all HuffPost superfans!
Sign up for membership to become a founding member and help shape HuffPost's next chapter