The time of the hippies smoking pot and playing baroque violin and viola da gamba vs the penguin-suited symphony orchestra musicians vibrating every sixteenth-note in a Mozart symphony is long gone.
- Bernard Labadie, founder and conductor of Les Violons du Roy

This Wednesday night, April 13, at Walt Disney Concert Hall, pianist Alexandre Tharaud and Québec-based Les Violons du Roy conducted by their founder Bernard Labadie will play music by Bach and Handel which add up, according to the Hall's precise program notes, to 84 minutes of music - plus encores. I have long admired Les Violons and Tharaud too, most recently his new Goldberg Variations on vinyl which I reviewed last month for Audiophile Audition here. I am expecting a tremendous experience.
I asked M. Labadie what's the latest on historically-informed playing (HIP) - like on original instruments - and why it's now indispensable to young, modern-instrument string players.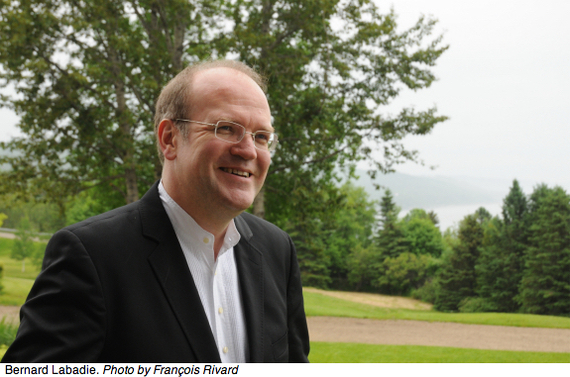 LV For the record, do Les Violons play on gut strings? And at what pitch?
BERNARD LABADIE Les Violons play on metal strings at modern pitch. The string players however use different bows depending on the repertoire - baroque for Bach and Handel, classical or "transitional" for Mozart and Haydn, and modern for later repertoire. It allows the orchestra to change sound and personality very quickly depending on what it performs.
LV How important is being knowledgeable about and having practical experience in historical performance practice, even if your goal is to play in a conventional, modern-instrument orchestra?
BERNARD LABADIE In our world, I don't think any musician, young or old, can ignore the reality of performance practice. The time of the hippies smoking pot and playing baroque violin and viola da gamba vs the penguin-suited symphony orchestra musicians vibrating every sixteenth-note in a Mozart symphony is long gone. The boundaries between the two worlds are now completely blurred, as more and more so-called "hip" musicians (for "historically informed performance") work with "modern" or standard symphony and chamber orchestras. We have now generations of musicians who started their career on period instruments and actually never played anything else, as we have consummate musicians adapting the realities of "hip" practice to their modern violin, cello or piano. This is not a question of trend, even less dogma, but a purely artistic process which is now part of the life of most classical musicians when they perform the music of Bach, Mozart, Haydn, Mozart and beyond.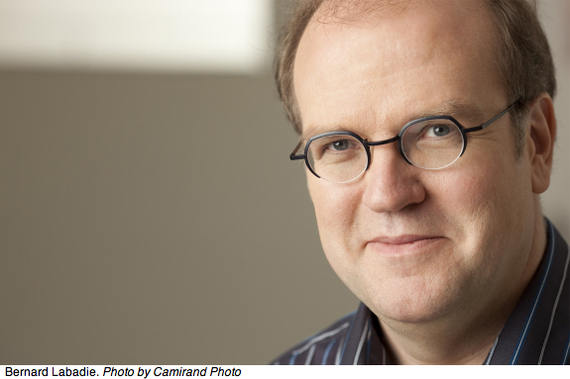 LV What were your options about this when you were a student?
BERNARD LABADIE They were certainly more limited than now, although I was blessed to be born when the first generation of ground-breaking musicians and scholars like Nikolaus Harnoncourt, Gustav Leonhardt and Christopher Hogwood were rocking the world of classical music. The doors were already open, and all I had to do was to engulf myself in this new universe.
LV How receptive and knowledgeable to historical performance practice are the strings in modern-instrument symphony orchestras these days?
BERNARD LABADIE A lot more than before, to say the least, even in certain areas of the world where resistance used to be stiffer (that was certainly the case with some American symphony orchestras). I remember that when I first started guest conducting US orchestras on a regular basis in the early 2000s, I more than occasionally faced a lot of resistance from certain musicians (although rarely from an entire orchestra). It still happens once in a while, but it's now extremely rare. I'm blessed with the possibility of working regularly with most of the best orchestras in this country, and I now have a network of orchestras who know me and welcome me every other year. Musicians remember me and our work together from one time to the other, and I don't have the impression anymore of starting from scratch every time I get on the podium.
LV You worked with three very different conductors: Pierre Dervaux, John Eliot Gardiner and Simon Streatfield. What did you learn from each?
BERNARD LABADIE I am mostly self-taught as a conductor and all of these encounters were on a (sometime very) short basis. This being said, Simon Streatfeild was the music director of the Québec Symphony (my hometown orchestra) when I had just started my immersion into conducting, and although the teaching was on a very loose schedule he sort of took me under his wing and allowed me to work regularly with his orchestra, which proved to be of invaluable help for a young musician who basically knew nothing about the craft. I worked with Pierre Dervaux in summer academies over two years shortly before his death. He was a master technician with a no-nonsense approach to the art of conducting, and I learned a lot from him. As for John Eliot Gardiner, I worked with him only for a week in the summer of 1991, but it had a profound effect on my evolution as a conductor and especially as a musician. His uncompromising attitude towards the mission of the conductor transformed my own approach to my work.
LV What three works would you like to record that lie outside the Baroque-Classical continuum?
BERNARD LABADIE Recording is not a priority for me; it is not real life but a by-product of a certain era (a very short one in the perspective of the whole history of western music) which is slowly dying. This being said, if you ask me what are my favorite pieces outside of the 18th-early 19th century repertoire, there is a huge number of them. On the top of my head I can certainly mention the Brahms and Fauré Requiems (I have conducted the former only once but the latter many times), and Puccini's La Bohème. People forget it now, but early in my career I actually did a lot of romantic opera and I have a kept a soft spot for that repertoire.
Calling all HuffPost superfans!
Sign up for membership to become a founding member and help shape HuffPost's next chapter