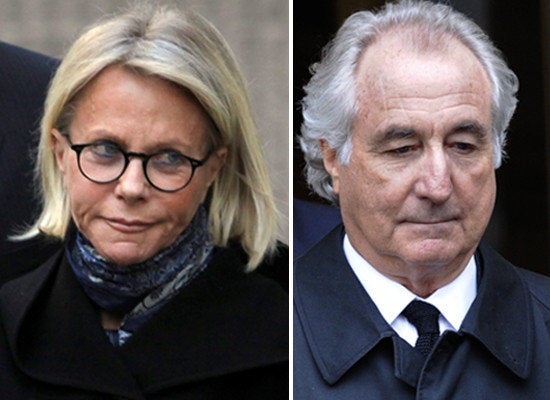 Ruth Madoff, wife of disgraced Ponzi schemer Bernard Madoff, told "60 Minutes" that the couple was so distraught over her husband's crimes that they attempted suicide together.
"I don't know whose idea it was, but we decided to kill ourselves because it was so horrendous what was happening," Ruth Madoff tells reporter Morley Safer. "We had terrible phone calls. Hate mail, just beyond anything and I said '...I just can't go on anymore.' "
On Christmas Eve, Ruth and Bernie went through with the suicide pact.
So Ruth and Bernard Madoff took a bunch of pills, some of them Ambien and possibly some Klonopin, Ruth recalls. She did not drink alcohol with them for fear of vomiting. "I took what we had, he took more," says Ruth. It was Christmas Eve, she says, "That added to the whole depression." But the pills didn't work. "We took pills and woke up the next day....It was very impulsive and I am glad we woke up," she says.
An excerpt from the exclusive interview will be broadcast tonight on the "CBS Evening News with Scott Pelley." The full "60 Minutes," story will air on Sunday.
In an interview with New York magazine, Bernie Madoff previously denied that he ever considered suicide. "I never thought of taking my life," he told NYMag's Steve Fishman. "It's just not the way I am." (Visit nymag.com to hear audio of the interview).
Ruth Madoff's shocking story comes on the heels of a new tell-all memoir from Stephanie Madoff Mack, the widow of Ruth and Bernie's son Mark.
Mark committed suicide on the second anniversary of his father's arrest in the living room of his SoHo loft while his wife and daughter were in Disney World. He hanged himself while his infant son was sleeping nearby.
My stepfather ... found Mark's body hanging from the steel beam that ran through the living room. He had fashioned a noose out of our dog Grouper's leash. A snapped cord from the vacuum cleaner was on a table nearby; apparently it had taken two tries. Nick was sleeping just a few steps away.
Calling all HuffPost superfans!
Sign up for membership to become a founding member and help shape HuffPost's next chapter