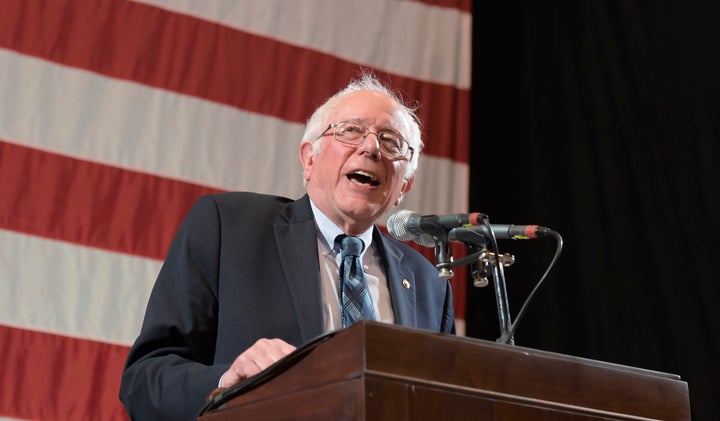 Kansas Democratic Party leaders scored a genius point when they invited Senator Bernie  Sanders to rally the troops. On the same day that former Labor Secretary Tom Perez was elected national Democratic Party chair, Bernie came to Kansas to keynote the Kansas Democratic Party's annual Washington Days celebration.
Loping across the stage, red-faced and waving, the tireless Sanders said: "Apparently, I was incorrectly told Kansas is a Republican state," referring to the Topeka High School gymnasium crowd of 4,000, plus the over 1,000 students and teachers waiting to hear him later in the school auditorium.  He said the robust turnout spoke to how many Americans are concerned and ready to "fight back."
One of the warm-up speakers, James Thompson, a civil rights attorney, is running for the 4th congressional district seat vacated by Mike Pompeo. An Army veteran who as a boy was briefly homeless, Thompson said that Bernie had told him backstage that "the revolution begins here in Kansas."
Another pre-Bernie speaker, Gail Finney, a fifth-term African-American legislator from Wichita, called herself a "Berniecrat."
I am not a Berniecrat, and was worried that attending the Vermont Senator's speech would give me a case of "buyer's remorse," that I might suffer regret at not supporting Bernie, rather than Hillary, for President. But that night, watching Bernie up close from my position in the press section, I felt the way I did during the campaign. His mantra of economic equity is critically important, and I admire his energy, stamina, focus, and principles. But then, as now, I feel he lacks the range to lead the country.
During the campaign, I underestimated the desire for radical change in the country. So, we have a President whose henchman Steve Bannon calls for "deconstruction of the administrative state." The Trump administration wants to burn the house down, and in a month's time they have scorched the foundation.
Bernie was in Topeka to lift Democrats and progressives out of a post-election gloom, and he did that. The facts he presented about the redistribution of wealth upwards to the top 1 percent gained new urgency and poignancy given the dramatic post-election changes wrought by the Trump presidency. I was energized to be with several thousand like-minded souls, sardined into a gym affectionately called The Dungeon, at the beautiful, historic high school both my children attended. When Bernie reassured us that we are not returning to the days of xenophobia, homophobia, racism and sexism, the audience gave him a standing ovation, one of many.
Near the end of his hour-long speech he said, "Despair is not an option," pointing out that since Trump lost the popular vote by 3 million votes, he has "a mandate for nothing." Sanders maintained that on every major issue, the clear majority of the American people are "on our side."
He also cited the 130 Town Hall meetings being held that day in which masses of people were exhorting their congressional representatives – whether they dared show up – not to repeal the Affordable Care Act.
Bernie's opening joke ― that he must have been mistakenly informed that Kansas is a Republican state – underscores that we are certainly not solidly Republican. And the national election that gave us Donald Trump saw Kansas Democrats gain 12 seats in the state House and one in the Senate. Those numbers, plus the moderate Republicans who beat their more conservative opponents, have made for some promising math in the Kansas legislature this session.
We in Kansas have been led for over six years by an autocratic ideologue, Sam Brownback, Trump's country cousin of sorts, and Kansas has a palpable hunger for change. Before the legislature went on break, the House passed a tax reform bill that would have raised personal income taxes, restored a tax bracket and closed the LLC small business loophole that Governor Brownback created. When the Governor vetoed that bill, the House did the seemingly impossible and overrode his veto by one vote. The Senate, the more conservative body, passed the same bill, but were three votes short of a veto-proof majority. After recess, the legislature needs to craft a tax reform bill that will sail over the governor's veto pen in both legislative branches.
A few days after Bernie spoke in Kansas, newly-elected DNC chair Tom Perez was interviewed on NPR. He cited the need for a "50-state strategy," which he said entailed "not simply electing the president, but we're also working to elect people from the school board to the Senate across the nation." When asked whether this strategy had any chance in red states, Perez said: "Well, absolutely. You look at what happened in Kansas. Donald Trump won by 14 points, and they [Democrats] picked up 14 seats in the state legislature because there's radical social engineering going on by Gov. Brownback."
That was 13 seats, not 14, but Kansas legislators seem to be showing the will to shift from Brownback's disastrous tax policies that have public school teachers paying more income tax than lawyers. It may not be the start of Bernie's revolution – this is Kansas, after all – but it's a return to fairness and common sense over ideology.
If it can happen in Kansas, it can happen nationwide.
Top photo by Ann Leffler Palmer.
Calling all HuffPost superfans!
Sign up for membership to become a founding member and help shape HuffPost's next chapter
BEFORE YOU GO