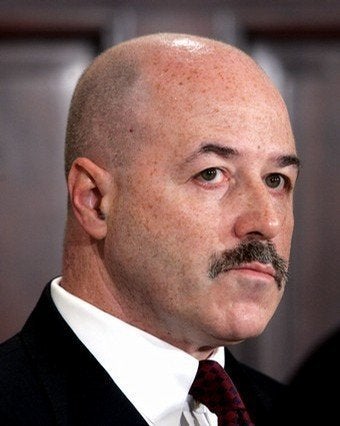 Watching Bernie Kerik weep while admitting he was a crook, this reporter could not help recalling past conversations with Judith Regan, his editor, publisher and former lover.
While some may feel sympathy towards him - [Even federal judge Stephen Robinson, who chucked him into jail last month, said he would consider the "good" in Kerik's life at sentencing.] -- Regan feels no sympathy whatsoever.
True, she can be reputably difficult, especially in her relationships with men. Considering her a woman scorned, Your Humble Servant hesitated to report much of what she had said about Kerik over the years. Yet virtually all her assertions have proven true.
To her, Kerik's weeping is a calculated act to curry sympathy.
She said he pulled the same act after she dropped him in the fall of 2002, realizing he'd lied about leaving his wife.
"The night I was done with him was the day of the New York marathon," she had explained. "The guys from his detail took me to the tent he was in. He started crying, 'I love you. You can't leave me.' He was crying in front of everyone inside the tent.
"He convinced me to cancel my plans for the evening. Then he says he is sick to his stomach, that he couldn't take the stress and had to go home and sleep. He gets in his car and two minutes later calls me again, all weepy. He hangs up the phone but it doesn't disconnect and I can hear him telling the guys on the detail how he fooled me and how he was taking his wife out to dinner.
"Another time he called me in the middle of the night, saying, 'I am going to kill myself.' He is screaming, crying. Then he starts talking in his soft voice, 'I am so depressed. My gun is loaded.'
"'Oh my god,' I think. I immediately call someone from his detail. I had him to go to his [Kerik's] house. Kerik was furious."
"He could turn on a dime," said Regan, who fell for Kerik while promoting his book, The Lost Son, onto the best-seller list. She was so smitten she gushed in her publicity blurb: "When Bernie Kerik walked into my office and told his story, my life was transformed."
Later, after they split up, she said of him: "He cries on cue. He did it when he was interviewed on 60 Minutes. He did it when he went on Oprah and he spoke about his mother." Kerik had described her as a prostitute and wrote that he spent his life searching for her.
"It was all manipulation," Regan said. "He cries to manipulate people. He does it to get people to feel sorry for him. He has studied it, it's a psychological skill.
"A hero, as he liked to portray himself? While police commissioner, he spent his days running around the city having sex with women. Not just me and Jeanette Pineiro," she said of the Corrections officer with whom Kerik reportedly had a long-running affair.
Kerik bedded both of them at different times at the Ground Zero penthouse apartment, donated to him as a place to rest after long hours in the rubble of 9/11.
"There were others," Regan said. "His detail was driving these women all over the place. He had deals with hotels around the city. He and I would go in separate doors. He never paid for anything.
"Then there's his story that he couldn't find his daughter, whom he had fathered out of wedlock when he was in Korea. Here she is living in America under her own name and he couldn't find her? All you have to do is Google her. And this is the guy they send to do security in Iraq?"
Tough cookie that she is -- she sued Rupert Murdoch after he fired her and won a $10 million settlement -- she was terrified of Kerik.
After she dumped him, he called to tell her son's exact location as he drove back to college. Another time, she summoned a private detective to escort her home after Kerik, outside in his car, repeatedly telephoned her as she ate dinner at a West Side restaurant.
"He had this guy on his detail from Staten Island. Under the guise of friendship, he would say to me, 'You don't know what Bernie can do to you. Your money will disappear. Your kids will be fucked. You have no idea what he can do to you.' It was all done under guise of I am your friend, like a common mafia move."
Regan refused to discuss Kerik last week, which leaves unanswered the question: was Kerik's weeping in the courtroom for real?
And was Judge Stephen Robinson buying it?
Last month Robinson revoked Kerik's $500,000 bail after he disobeyed Robinson's order not to leak confidential information about the case that Robinson said might poison the jury pool.
Then, Robinson said that Kerik "has a toxic combination of self-minded focus and arrogance," and added, "I fear that confidence leads him to believe that the ends justify the means and the rules that apply to all don't necessarily apply to him in the same way."
While in jail, Kerik signed himself into the Westchester prison psych ward for stress. Had that been for real or was it a bid for sympathy?
Sitting in court last week with his back to the spectators, Kerik bowed his head and dabbed at his eyes as his lawyer, seated next to him, rubbed his back in sympathy and Robinson seemed to exhibit a change of heart.
As Kerik wept, Robinson said, "This is very sad day. But I think you've had a full life. And I should be able to take into account that full life and all of the things that you have done, not just the charges. Because there is much good in that full life I believe."
Support HuffPost
The Stakes Have Never Been Higher
Related
Popular in the Community