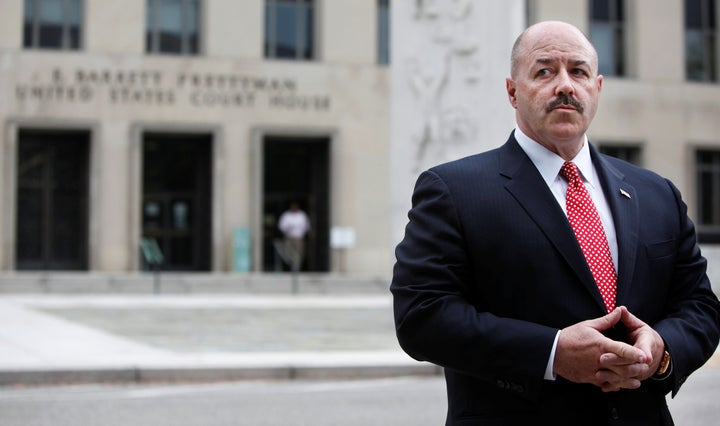 Bernie Kerik earned more than $12 million over a six-year period that included his glory years of national acclaim as a hero of 9/11 and would-be director of Homeland Security.
Now he's been sentenced to four years in federal prison for offenses that ranged from tax fraud to lying to White House officials. But the Kerik saga shouldn't be seen as the classic rise-and-fall story of a great man undone by big temptations.
What's really amazing here is that this cheap crook and charlatan should have achieved such wealth and lofty position in the first place. While Kerik has left an impressively long trail of wrongdoing, it bears the fingerprints of a petty criminal. During the period the former New York City police commissioner was raking in megabucks, he shortchanged the government by a little less than $200,000, according to the prosecutor.
There was an off-the-books nanny, bogus charitable deductions, the unreported free use of a car and, of course, the well-known apartment renovations paid for by a construction company with suspected mob ties. Kerik earned well over half a million dollars from his best-selling rags-to-riches memoir, but he only thought to conceal about $70,000 of his book income from the government.
There's little doubt Bernie had bigger dreams. He set up a Delaware corporation to park income from his lucrative post-9/11 speaking engagements. He also created an offshore account for himself by forming a shell corporation in the Cayman Islands.
But in the end, Kerik just couldn't get summon the will to make his schemes work, just as he didn't bother to extend his great contribution to the war on terror -- a stint advising the Iraqi police - to more than a few months' effort.
He preferred hanging out with like-minded cronies and screwing around with women. In other words, he was a helluva lot like his former friend and patron, Rudy Giuliani, the man who set his amazingly unqualified bodyguard/chauffeur on the road to riches by making him New York's top cop.
On 9/11, when Giuliani was transformed from failed pol to America's mayor, Kerik distinguished himself by sticking tightly to his boss's side. Instead of running the Police Department at this moment of crisis, Kerik reverted to his role of bodyguard.
The city's emergency command center went up in flames because Giuliani wanted the facility located within walking distance of City Hall. That's how the center wound up in terrorist target No. 1 -- the World Trade Center. And that's why Giuliani (and Kerik) were famously trudging through the streets of lower Manhattan following the attack -- they had no place to go.
Kerik's greatest strength was loyalty to the boss combined with a low cunning that enabled him to manipulate people.
An eyewitness to the latter quality was Judith Regan, the hotshot book editor who published Kerik's memoir. Regan was one of two women Bernie was making love to in an apartment overlooking the ruins at Ground Zero that a developer had donated for the use of rescue workers in need of rest.
She split with Kerik when it dawned on her that Bernie wasn't going to leave his wife, as promised.
"The night I was done with him was the day of the New York marathon," she told HuffPost blogger Len Levitt. "The guys from his detail took me to the tent he was in. He started crying, 'I love you. You can't leave me.' He was crying in front of everyone inside the tent."
"He cries on cue," Regan lamented. "He did it when he was interviewed on 60 Minutes. He did it when he went on Oprah and he spoke about his mother."
Everything unraveled in the intense public scrutiny of Kerik that followed President Bush's decision to make Bernie the domestic point man in the war on terror.
On Thursday Kerik read a brief statement, taking responsibility for his misdeeds. "Believe me when I say I have learned from this and I have become and will continue to become a better person."
Popular in the Community