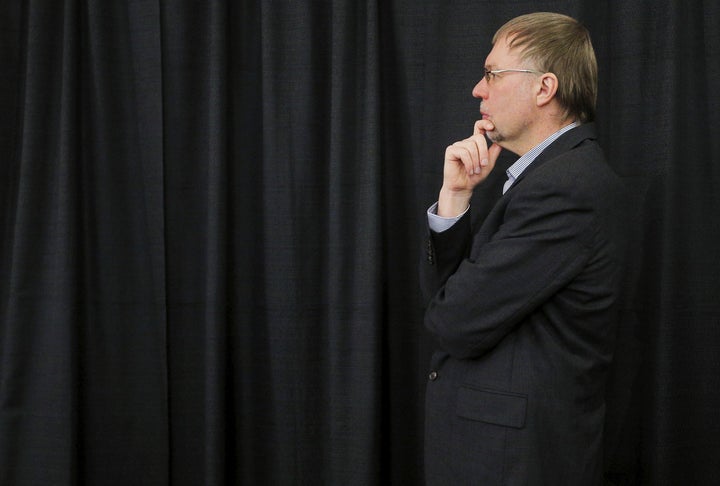 Thanks to years of Facebook postings, though, we can glean some sense of the passions that drive the younger Sanders. Because, in addition to his legal advocacy focusing on Social Security Disability Insurance, Levi Sanders is extremely mad online.
Levi (pronounced LEH-vee) has already come under some social media scrutiny for his past tweets. It seems that Twitter is where he goes to drop his iffy takes; Facebook is where he prefers to brawl.
Levi Sanders vs. The High School Reunion Establishment Elite
Take, for instance, a discussion from several years ago in a Facebook group for Levi's high school graduating class. One alum, Daniel, started off the conversation about an upcoming get-together by saying, "I understand that there has been discussion about the increased cost of attendance this evening for those that didn't RSVP." The problem was that the venue was charging a penalty for anyone who hadn't RSVP'd before the group finalized the reservation. Daniel was very sorry, but the matter was out of his hands.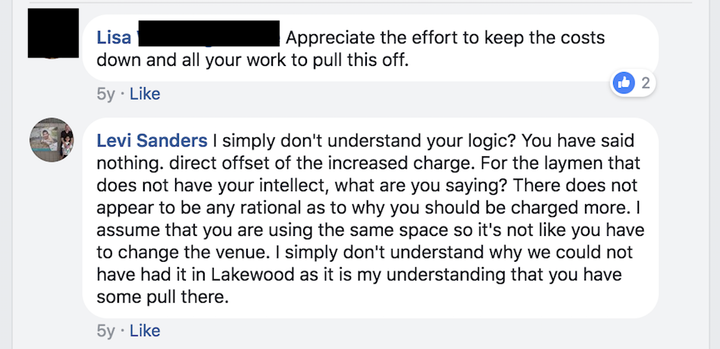 This was followed by calls for Levi to cut Daniel some slack, and by assurances that the organizers of this get-together for Burlington High School's class of 1987 were not in the high school reunion game for profit.
Levi again called bullshit.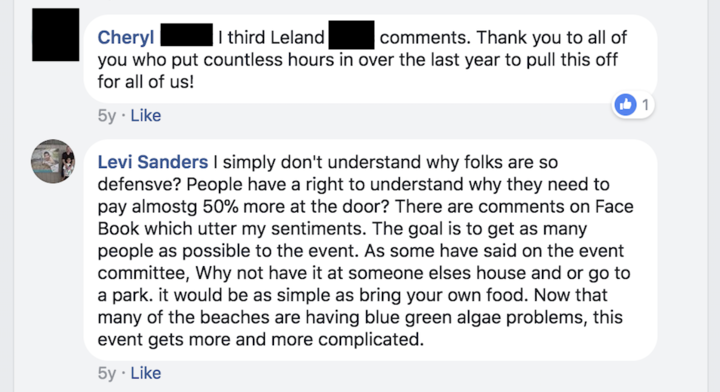 Another class member, Michelle, expressed discomfort with Levi's tone and asked that he take his concerns to a more private forum. The voice of the people, however, would not be silenced.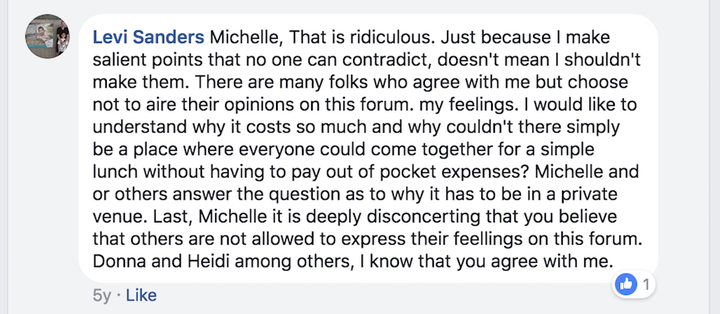 Another classmate, Sue, followed up to suggest that Levi simply commit to observing the deadline, thus avoiding any additional fees. Classic neoliberal logic.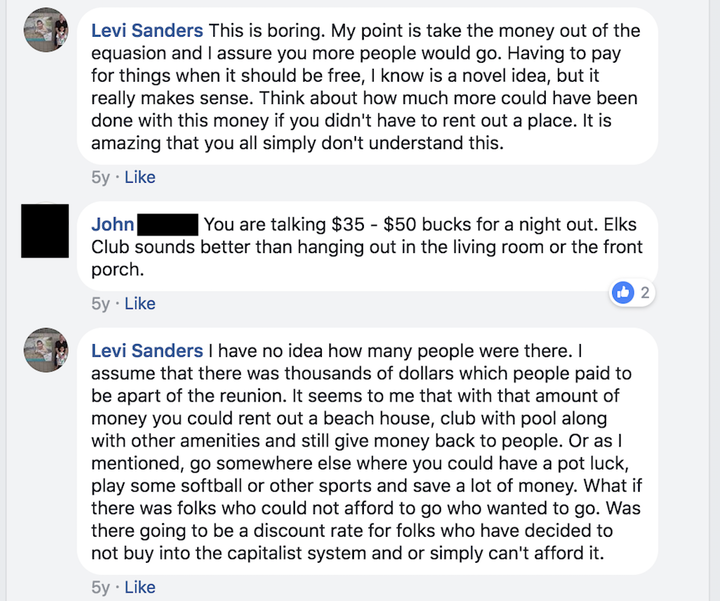 "Friday, at Nectars, was free," classmate Leland replied, referring to a Burlington restaurant.

"I am not sure anyone understands your point," Leland responded, adding that Levi was "welcome to plan the next one."

Some discussion followed, in which Kristin jumped in to clarify that those who were unable to pay simply didn't, and that "no one was turned away."

Levi Sanders vs. 'Simple Pepsi Brothers'
Five years ago, one of Levi's Facebook friends decided to post a status bashing socialism.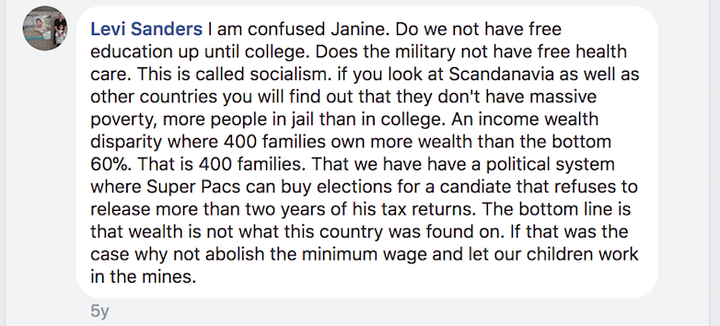 To which someone named Michael countered, somewhat unconvincingly, "#2 is our biggest problem. No one wants to work, they just want handouts. Go Jets !!!!!"

Bart then jumped in to suggest that comparing the U.S. to Scandinavia is "like comparing a farm region in Iowa to a soon-to-be-bankrupt urban jungle in California."

Bart: "HAHAHA really? you just went out of your way to defend socialism ... all I need to do is state the obvious, that Obama is more likely to move the US towards a bigger version of Cuba than Romney is."

To which the simple Pepsi brother offered nothing but silence.
Levi Sanders vs. The City of Houston

"But Houston is so cheap!" suggested Jonas.


Jonas noted that "this is where the money is," to which Levi replied with devastating irony:

Jonas: "How do Jewish people treat Black people in Massachusetts? Let's talk about Brighton, MASS..I KNOW YOU ARE JEWISH!!! JEWISH HIRE JEWISH PEOPLE COME ON NOW..."
Levi was oblique in response:

Jonas then responded, as most people eventually do, by essentially telling Levi to chill out.

Levi Sanders vs. Conservative Women (The Stupid Ones)
In a discussion of immigration reform, one of Levi's Facebook friends, Rendy, offhandedly suggested that we don't live in a country "with terrible human rights' violations and poverty."

"Levi Sanders, I agree with you and you know it," said Rendy.

At which point Andrew jumped in to counter with "Levi and his progressive BS ideas, lol."
Levi replied to underscore that Rendy was on his side.

Andrew followed up to note that "the idiot philosophy of social justice" is "just code word for communism or Marxism."

Levi Sanders vs. Liz Warren Fans

In the discussion that followed, Levi uncharacteristically stayed out of it until one user casually referred to senators as working a thankless job. Not on Levi's watch.

Levi Sanders vs. Farmers
"We're open until 2pm then we pack-up and drive home in the freezing rain," David wrote. "Rain, snow, sleet and hail; nothing keeps us farmers from showing up at market."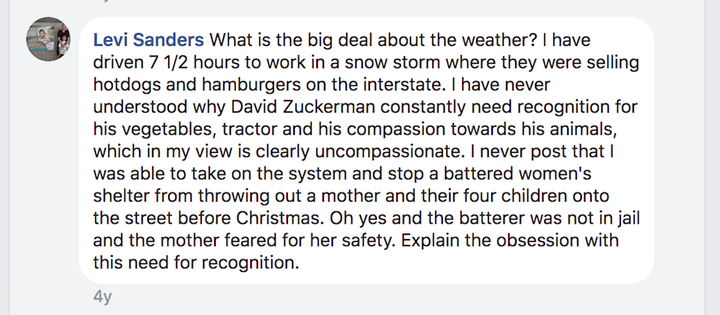 "Hi Levi- Not sure what you are talking about," David finally said. He tried to explain that people like to talk about the weather casually and thanked Levi for working to make the world a better place.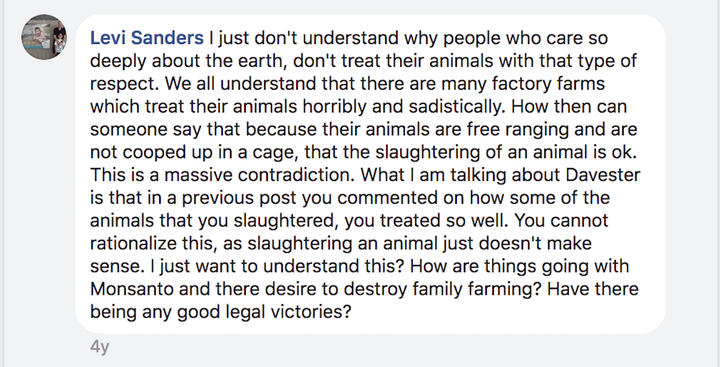 David noted that he is "not a vegetarian, however, I do believe that there is a difference in raising animals for consumption in a factory farming, cement floor, no outdoors environment, vs. lots of straw for bedding, indoor (shelter from elements), outdoor (free access), rotational grazing environment." He went on to explain how he tries to raise his animals ethically.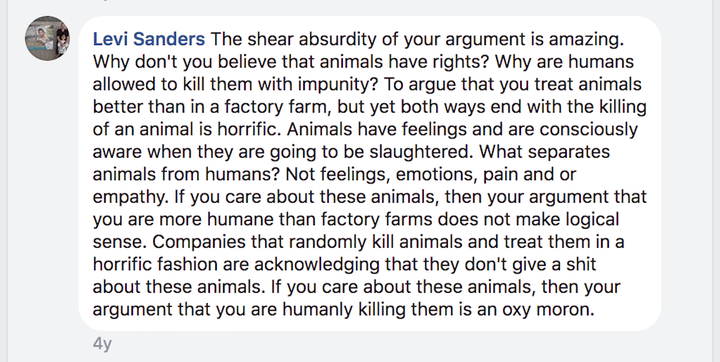 David's silence remains deafening.
Levi Sanders vs. Farmers II

"How many pigs have you raised in your lifetime, Levi?" asked Jason.

At which point, once again, Levi was basically told to chill.


Jason has yet to say whether or not he does, in fact, concur.
Levi Sanders vs. Vegetarian Liars
This one comes from our old friend Rendy, who posted a photo of a Reuben sandwich on Facebook. Levi wasn't born yesterday, you absolute fool, you nitwit.

Levi Sanders vs. Bacon
Just a few years ago, a Facebook user named Flavia posted a number of photos, one of which depicted a small plate of bacon in the corner that most people likely would never have even noticed.

Levi, I'm sorry, it's bacon.

Levi, Flavia didn't eat the bacon.

Flavia, perhaps frustrated with her friend's didacticism, countered that "kale is no better than spinach or other greens."

Levi did not take the hint.
Levi Sanders vs. Disgusting Flesh
Flavia, again, decided to share a nice photo of her meal.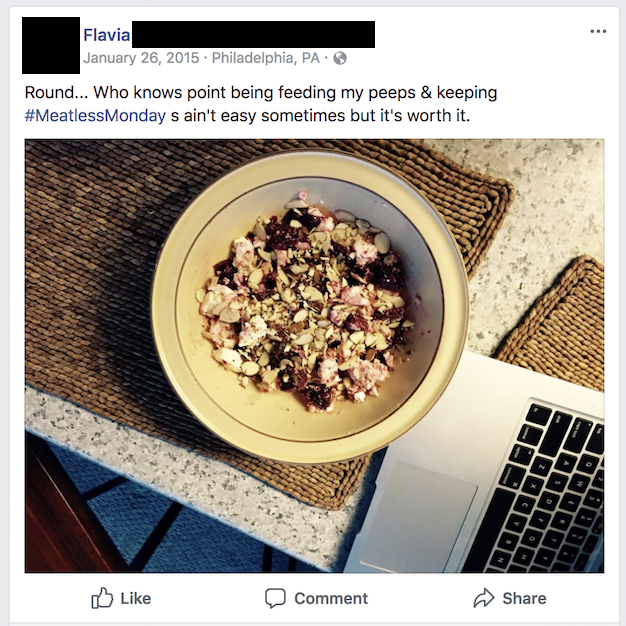 Levi was, as always, told to chill.

Technically true! Flavia countered, once again, by asking Levi not to be quite so judgmental, asking: "Do you drive a car? Because I don't and the folks that feed oil slaughter animals on the regular." No ethical consumption under capitalism, Lev.

Levi Sanders vs. A Frozen Food Brand
A nice meal idea, nothing more.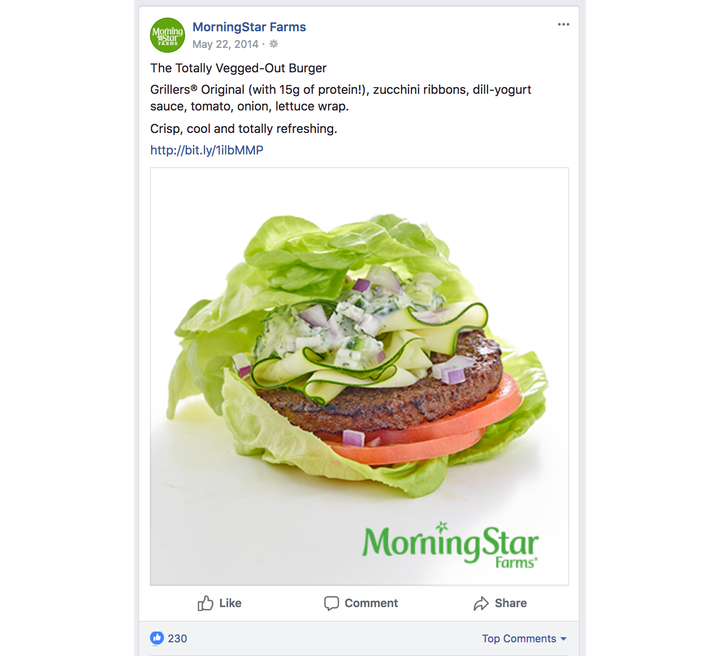 Levi Sanders vs. Yogurt Brand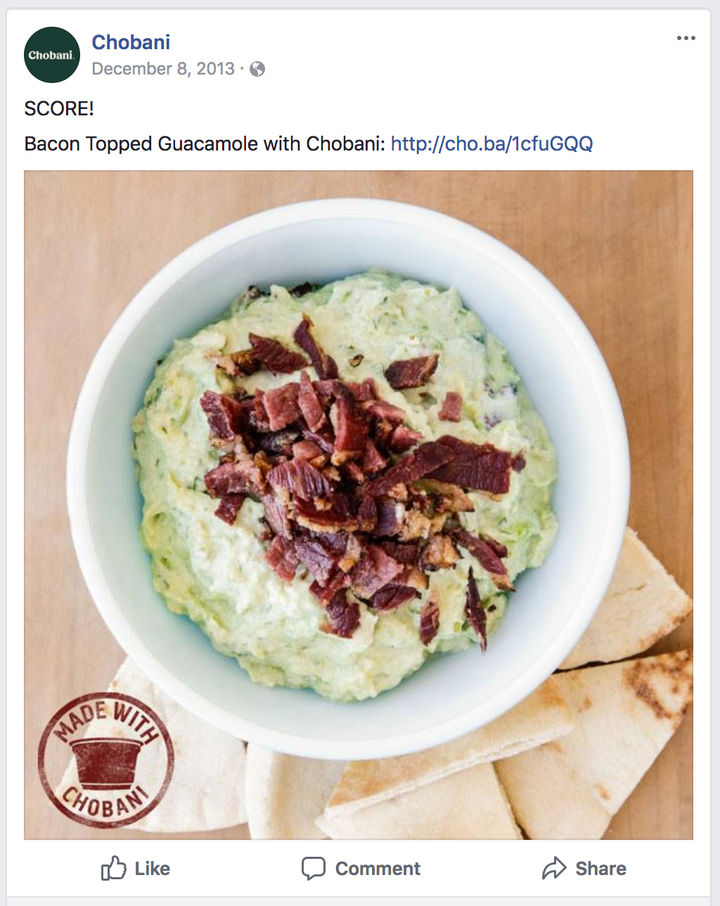 You people make Levi sick.

While you probably didn't know who this Levi Sanders was until his campaign announcement last week, you've definitely known a Levi Sanders. We've all known a Levi Sanders. Ever angry, scrapping with people who agree with him, screaming at brands when no one else will take the bait. There is a Levi Sanders in all our lives.
Have you ever fought with Bernie Sanders' son on Facebook? Probably. In which case, let us know.
Popular in the Community