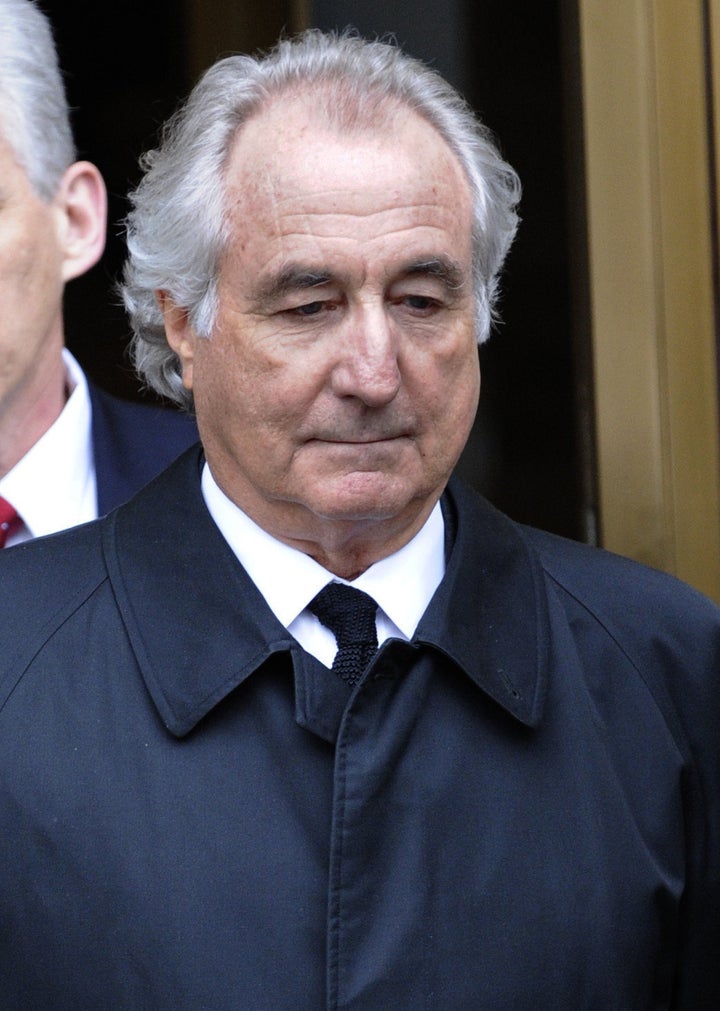 More than two years have passed since Bernard Madoff was arrested for a massive Ponzi scheme which spanned 16 years and consumed roughly $20 billion in lost cash and nearly $65 billion in paper wealth, and the search for who was complicit is still heating up.
Now, in his first interview for publication since his arrest in December 2008, Madoff asserts that some of the financial institutions he dealt with most frequently "had to know." From the New York Times interview, conducted as part of research for a forthcoming book on the Madoff scandal, "The Wizard of Lies: Bernie Madoff and the Death of Trust":
He spoke with great intensity and fluency about his dealings with various banks and hedge funds, pointing to their "willful blindness" and their failure to examine discrepancies between his regulatory filings and other information available to them.

"They had to know," Mr. Madoff said. "But the attitude was sort of, 'If you're doing something wrong, we don't want to know.' "
Previously, Madoff claimed that he essentially worked alone. He still maintains that his family was innocent. The only people formally charged in connection with the scheme are Madoff's former auditor and seven members of his staff.
Madoff did not name names or specific institutions, but Irving Picard, the court-appointed trustee charged with recovering assets for Madoff's swindled victims is focusing in on JPMorgan, which served for decades as Madoff's primary banker.
On February 3, Picard accused JP Morgan of having significant doubts about Madoff but silently acquiescing in his fraud. JP Morgan shot back, demanding a jury trial. Reuters reports:
The second-largest U.S. bank said court-appointed trustee Irving Picard is exceeding his power by suing in bankruptcy court, where a judge rather than a jury would decide the case.

"The trustee's massive damages action against JPMorgan bears no resemblance to a typical lawsuit commenced by a bankruptcy trustee," JPMorgan's lawyers said in a court filing late Tuesday.

"In substance," the bank said, "the trustee is trying to pursue an enormous back-door class action."
JP Morgan is in the midst of preparing for an aggressive expansion in consumer and private banking over the next five years. All financial entities facing civil lawsuits by Madoff victims deny any complicity in the fraud.
In a column last week, Frank Rich pondered whether Picard might be the great recession's Ferdinand Pecora -- who in 1933 lead a "no-holds-barred dispensation of blame to tycoons who looted the Wall Street casino and then let ordinary Americans pay the consequences." Rich writes:
The prime mover in connecting Madoff's low-tech, relatively low-yield scam to the big Wall Street picture is Irving H. Picard, the bankruptcy trustee pursuing loss claims for Madoff's victims. Most Americans haven't heard of Picard. But each day that he accelerates his pursuit of Madoff's collaborators, he steps further into the vacuum of leadership left by others, including the Obama administration's Department of Justice.
Rich's conclusion is grim. "Determined as Picard, our accidental Pecora, may be, the fact remains that the time couldn't be riper for the next Madoff, whether in a strip mall or in the elite gambling dens of Wall Street, to get in the game."
Calling all HuffPost superfans!
Sign up for membership to become a founding member and help shape HuffPost's next chapter