Back in June 2016 Sanders carried CA-34 by a narrow margin over Hillary Clinton, 51% to 48%. In the new poll of 400 likely primary voters, 72% said a Sanders endorsement would make them more likely to consider voting for a candidate - the highest mark of any potential endorser. Today, one of Sanders' campaign deputies who campaigned vigorously for Bernie across California hopes to carry his movement forward as a member of Congress. Arturo Carmona, who served as deputy political director for the Sanders campaign has the highest favorability ratings, and holds a narrow lead among the top prospects to replace Becerra. Still, it is very early in the campaign and most voters are still getting to know the twelve challengers vying for the open seat in a majority-Latino district in Los Angeles.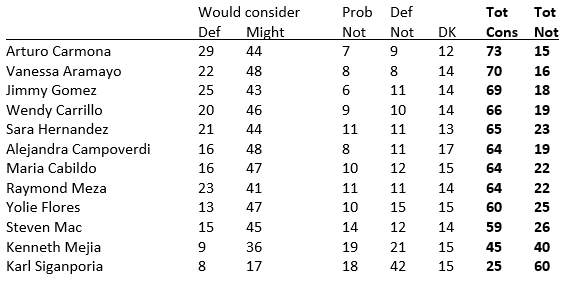 It wasn't just Sanders name, but many of the themes from his political movement that voters in CA-34 also supported. For example, 49% said they would prefer an outsider, community organizer for Congress compared to 27% who said they supported a career politician. Likewise, 51% want a candidate who thinks the Democratic party needs fundamental reform versus 33% who like the idea of candidate who represents the California Democratic establishment. And by a 53% to 34% margin the voters in the district thought Bernie would have defeated Trump last November.
In the very early stages of this campaign there are four candidates among the twelve that seem to be somewhat better positioned through their fundraising, endorsements, and political experience - however things can change quickly as voters learn more about each candidate. Among these four, the poll finds Carmona leads State Assemblyman Jimmy Gomez 30% to 19% with 9% supporting Sara Hernandez, a former aide to L.A. City Councilman Jose Huizar, 8% supporting former LAUSD board member Yolie Flores and 31% undecided and 5% for someone else (full poll results here)
While Carmona's ties to Bernie Sanders may sound good to voters over the phone, leading a sample of 400 potential voters is different than winning a special election. Gomez has already received numerous high-profile public endorsements from 5 members of Congress, 20 current and former state legislators and the Mayor of L.A. Eric Garcetti. If Carmona is going to capitalize on the apparent pro-Bernie mood in the district he will need his former boss to not just endorse him, but he may need Sanders to campaign with him in Los Angeles where Bernie is still wildly popular. If that happens, then Angelinos will see one of the more closely contested and exciting special elections in a very long time with the Sanders movement once again taking on the political establishment.
--------------------------------------------------------------------------------------
About the Poll: Latino Decisions interviewed a total of n=400 potential voters by cell phone and landline, between January 10-14, 2017. All interviewers were live-callers and bilingual, allowing respondents the option of answering in English or Spanish. Overall, 51% of all respondents were Latino, and 20% of all respondents answered the survey in Spanish. Voters were selected from the California voter file who had primary vote history for previous primary elections, making them likely to vote in the upcoming special election. Final data were weighted to match the demographics of the district for gender, age, ethnicity, and partisanship on the voter file among likely primary voters. The poll contains a +/- 4.9% margin of error.
Calling all HuffPost superfans!
Sign up for membership to become a founding member and help shape HuffPost's next chapter