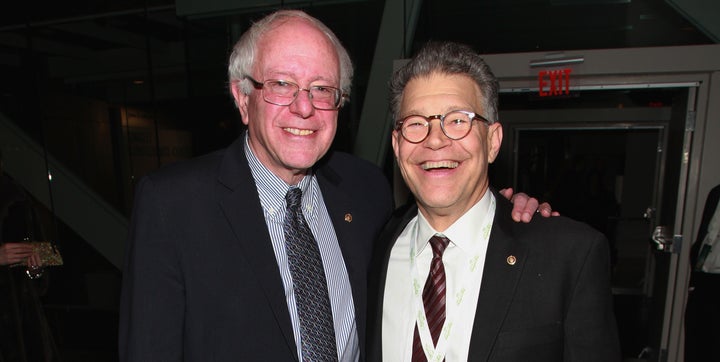 WASHINGTON ― The pharmaceutical industry consistently ranks as the most hated sector of the economy. It is also the most profitable. This is not a coincidence: Sick people need medicine to live, and drug companies charge ludicrous prices to extract their margins. This puts Big Pharma in a class by itself, even among deeply unpopular companies. People can't stand dealing with cable providers, but TV doesn't keep anyone above ground. At least Walmart has low prices.
Drugs are ridiculously expensive for two reasons, both imposed by the federal government. First, the government grants pharmaceutical firms long-term monopolies on prescription medication. Second, the government bans itself from regulating the prices these monopolists choose to charge ― or even allowing Medicare or Medicaid to negotiate with them.
No other country in the world does business this way, because it is economically inefficient and bad for public health. President Donald Trump spent much of the 2016 campaign saying as much — vowing to stick it to the drug companies if he was elected.
"When it comes time to negotiate the cost of drugs, we are going to negotiate like crazy," Trump said on the campaign trail. After winning the election, he ratcheted up the rhetoric, telling reporters at a press conference that pharmaceutical companies were "getting away with murder."
Now Democrats are seizing on Trump's bombast to burnish their own prescription drug credentials. In just a few months, a handful of progressive Senate Democrats have effectively reversed the friendliness with Big Pharma that former Presidents Bill Clinton and Barack Obama had fostered for decades. Two of the usual suspects are leading the charge ― longtime pharma critics Sens. Bernie Sanders (I-Vt.) and Sherrod Brown (D-Ohio) ― along with a relative newcomer to power politics, Sen. Al Franken (D-Minn.).
In December, Franken and Brown rounded up 18 other Democratic Senators to sign a letter to Trump that vowed to help him pass measures to lower drug prices. They were ready to support legislation allowing Medicare to negotiate with Big Pharma, cap price increases and speed up the entrance of generic drugs to the market.
Franken and Brown went further last month, when they introduced legislation that combines just about every policy idea drug lobbyists hate. The bill includes old standbys like Medicare negotiations and permitting imports of safe prescription drugs from Canada (where prices are lower, because Canada regulates them). But it also features more radical moves, including expanded federal funding for clinical trials, which would prevent private companies from monopolizing taxpayer-funded research. Typically, the government pays for early drug research, with pharmaceutical firms supporting the final steps in the process.
"As Democrats stand up to Big Pharma, Trump is backing down."
"Taken together, this sweeping list of innovation-chilling mandates on the research-based U.S. biopharmaceutical industry would not improve coverage and access to treatments but instead hurt some of our most vulnerable patients," said Nicole Longo, a spokesperson for the top prescription drug lobbying organization, the Pharmaceutical Research and Manufacturers of America. Longo argued the Franken-Brown bill would entail "stifling innovation and job growth."
Nobody on Capitol Hill expects the Franken-Brown bill to become law. Democrats are in the minority in both chambers of Congress, and even if they weren't, legislation specifically targeting an entrenched special interest is usually impossible to pass on its own. But the legislation's 15 cosponsors demonstrate a shift in party thinking. The list includes Sen. Cory Booker (D-N.J.), who came under progressive fire for opposing a January budget resolution to allow imports of Canadian prescription drugs. Sen. Kirsten Gillibrand (D-N.Y.), a moderate with a checkered record on corporate accountability issues who is rumored to be considering a 2020 presidential bid, is also among the cosponsors, as are freshmen Sens. Maggie Hassan (D-N.H.) and Chris Van Hollen (D-Md.). Newbies rarely poke potential corporate donors in the eye just to make a statement.
Franken and Brown's offices say they hope the bill serves as a "menu" of options for Trump should he decide to actually do something about high drug prices. If the president decides to go after Big Pharma, he could demand a provision or two from the Democratic legislation and truthfully claim to have bipartisan support for the move.
Leaders in both parties have been doing favors for Big Pharma for decades. The law prohibiting Medicare from negotiating drug prices was passed by a GOP-controlled Congress and signed by then-President George W. Bush. Bill Clinton tried to use trade policy to help drug companies gouge AIDS and HIV patients in South Africa. Obama pursued longer and stronger drug monopolies through the Trans-Pacific Partnership, backtracked on campaign promises to allow imports of safe prescription drugs from Canada and sicced the State Department on India's generic drug industry in an effort to elevate prices abroad. In January, 13 Democrats including Sen. Patty Murray (D-Wash.), the top Democrat on the Senate Health, Education, Labor and Pensions Committee, sided with Big Pharma and 39 Republicans to knock down a bill to allow Canadian prescription drug imports.
Progressive Democrats who were unhappy with Obama's drug platform are using the party's minority status to reshape its agenda. But as they stand up to Big Pharma, Trump is backing down.
After excoriating drug companies in early January, Trump held a meeting with top executives. He left parroting drug lobbyist talking points: tough negotiations with Big Pharma had transmuted into nefarious government "price-fixing." He's been quiet about drug prices in the weeks since, ignoring them during the GOP's disastrous internal negotiations over an Obamacare replacement.
But a full flip-flop from Trump would be a political boon for progressive Democrats. Brown and other co-sponsors including Gillibrand and Sens. Elizabeth Warren (D-Mass.), Amy Klobuchar (D-Minn.) and Tammy Baldwin (D-Wis.) are all up for re-election in 2018, with Brown and Baldwin representing states Trump carried in 2016. If Trump doesn't deliver on drug prices, Democrats will have a simple message: Return us to power and we will.
This article has been updated to include comments from PhRMA and additional information on co-sponsors of the Franken-Brown bill.