NEW YORK ― At a ceremony to swear in New York City Mayor Bill de Blasio for his second term, Sen. Bernie Sanders (I-Vt.) held up his hometown as a bastion of progress and a template for what Americans should strive for in the face of the Trump administration's policies.
"We have an administration in Washington which, instead of bringing us together, is trying to divide us up to appeal to our very worst prejudices," the Brooklyn-born Sanders said Monday afternoon on the front steps of New York City Hall.
In the time since Sanders attended the inauguration of President Donald Trump last January, he said, the White House began "eviscerating environmental legislation and making us more dependent on fossil fuel and not less." The Republican-controlled Congress attempted to "throw 32 million people off of the health care they have." And the president signed a sweeping tax bill providing "the billionaire class with hundreds of billions of dollars in tax breaks while raising taxes on millions of working-class families."
"In this city, the largest city in our country, the people of New York under Bill de Blasio have chosen to move government in a very different direction than what we're seeing in Washington," Sanders told the crowd.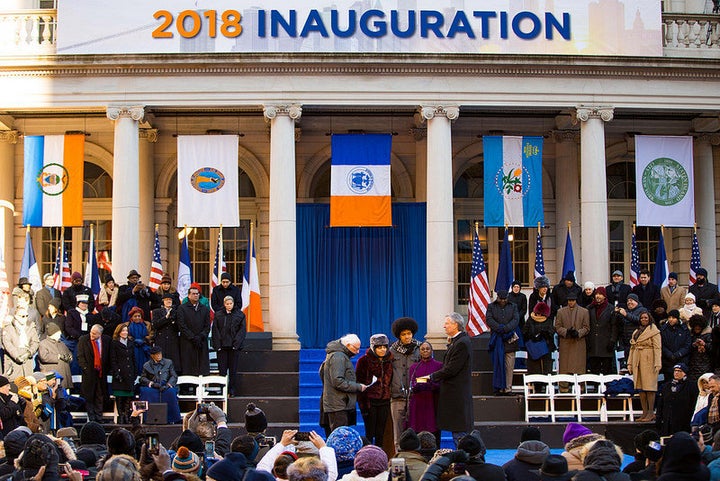 The senator praised the 56-year-old mayor, considered one of the most progressive in the country, for running on a populist platform to increase affordability for working-class families. He especially touted the city's universal preschool program ― a signature achievement for de Blasio that serves about 70,000 kids.
"While many politicians don't even talk about the crisis of child care, the de Blasio administration has taken a major and important step forward in leading this country toward universal pre-K education," Sanders said.
New York is still plagued by an affordable housing crisis, with rents rising twice as fast as wages. Scott Stringer, the city's comptroller, and Public Advocate Letitia James ― both of whom were also sworn in for second terms on Monday ― railed against rent hikes in speeches ahead of Sanders and de Blasio. But Sanders commended the efforts of de Blasio's administration, which went to court last year to defend the city's decision to bar landlords from raising prices on rent-stabilized apartments.
Sanders also highlighted the mental health initiative of New York City's first lady, Chirlane McCray, as well as de Blasio's promise to defend the approximately 175,000 so-called Dreamers in the city who were given legal status under the Deferred Action for Childhood Arrivals program that Trump repealed in September.
"The issues go on and on again," Sanders said. "The bottom line is what Mayor de Blasio and his administration understand is that in this country, in the home of Ellis Island, our job is to bring people together with love and compassion and to end the divisions and the attacks that are taking place."
"The people of New York under Bill de Blasio have chosen to move government in a very different direction than what we're seeing in Washington."
In a short speech capping off his inauguration on Monday, de Blasio thanked Sanders and his wife, Jane, for spearheading a populist campaign that galvanized a long-dormant leftist movement across the country.
"These two proud Brooklynites have changed America in a profound way," de Blasio said. "Bernie and Jane, you have proven that the voices of the people are what matter most, and the political process in this country will never be the same. It will be better, it will be more democratic, because of what these two have done."
The mayor said last month that meeting Sanders was the highlight of his first term, an example of what the New York Daily News described as an "emerging bromance" between the two men. Yet de Blasio supported former Secretary of State Hillary Clinton, who is also a former New York senator, in the 2016 Democratic presidential primary, and campaigned for her in Iowa.
Some progressive activists have speculated that Sanders threw his support behind de Blasio to bolster the mayor against centrist Democrats such as Los Angeles Mayor Eric Garcetti, who is being discussed as a potential 2020 presidential candidate, and New York Gov. Andrew Cuomo (D), a loyal Clinton ally with whom de Blasio has long feuded.
Before You Go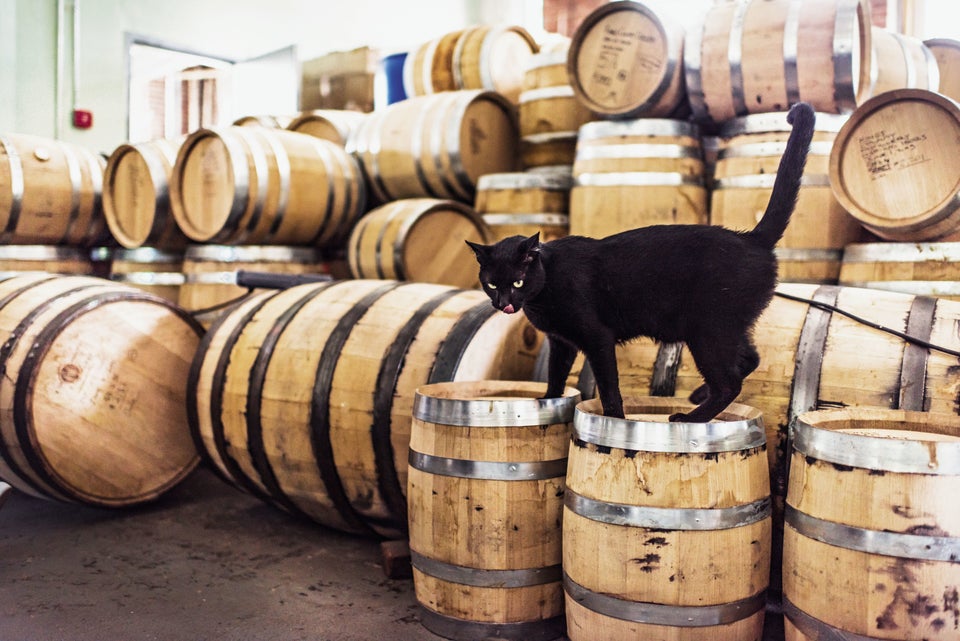 Shop Cats of New York
Popular in the Community