Sen. Bernie Sanders (I-Vt.) was forced to leave a Seattle, Washington rally without speaking after protesters claiming to represent the Black Lives Matter movement stormed the stage and took the microphone from the Democratic presidential hopeful.
Sanders only managed a brief greeting to the crowd of thousands before a small group of protesters commandeered the stage, demanding that they be allowed to speak and that the senator be held "accountable" for not doing enough to reform criminal justice and promote racial equality.
After the moment of silence, one of the protesters who identified herself as Marissa Johnson, asked the crowd to "join us now in holding Bernie Sanders accountable for his actions."
"I was going to tell Bernie how racist this city is — with all of its progressives — but you've already done that for me. Thank you," she added.
An event organizer, trying to appease the protesters, offered to let the activists speak after Sanders. But the protesters persisted, demanding, "Let us speak."
Boos could be heard from the crowd of thousands at Westlake Center in downtown Seattle. "Shame on you! Shame on you!" some chanted, while others encouraged the protesters be allowed to speak.
"You are never going to hear Bernie speak if I don't hear silence now," Johnson said when some in the massive the crowd at Westlake Center called out for Sanders to be allowed to speak. "Now that you've covered yourself in your white supremacist liberalism, I will formally welcome Bernie Sanders to Seattle."
After a tussle for the microphone and stand off between event organizers and protesters, Sanders left.
The bungled rally in left-leaning Seattle likely came as a surprise for the self-avowed Socialist. "I think we're going to have a really great crowd tonight, and think the issues we're talking about are issues that are resonating with the state of Washington and all over the country. That is there's something wrong when the middle class continues to disappear and almost all new income and wealth are going to top 1%," Sanders told the local NBC affiliate, KING 5.
"Bernie, you were confronted at NetRoots at by black women," Johnson said. "You have yet to put out a criminal justice reform package like O'Malley did."
Sanders left the event titled "Social Security Works" without speaking for more than a minute, heading for other scheduled events. The rally was to celebrate the 80th anniversary of Social Security and the 50th anniversary of Medicare, The Hill notes. Speeches from Seattle City Councilmember Kshama Sawant and U.S. Rep. Adam Smith (D-Wash.) preceded Sanders.
"I think it is unfortunate because among other things I wanted to talk about the issues of black lives," Sanders said following the interrupted rally.
"They didn't want to hear anything," the senator told CNN's Dan Merica. Sanders went on to express his disappointment of not being able to speak at an event he was invited to.
A statement apparently from the group of protesters addressed the event:
"Today BLM Seattle, with the support of other Black organizers and non-Black allies and accomplices, held Bernie Sanders publicly accountable for his lack of support for the Black Lives Matter movement."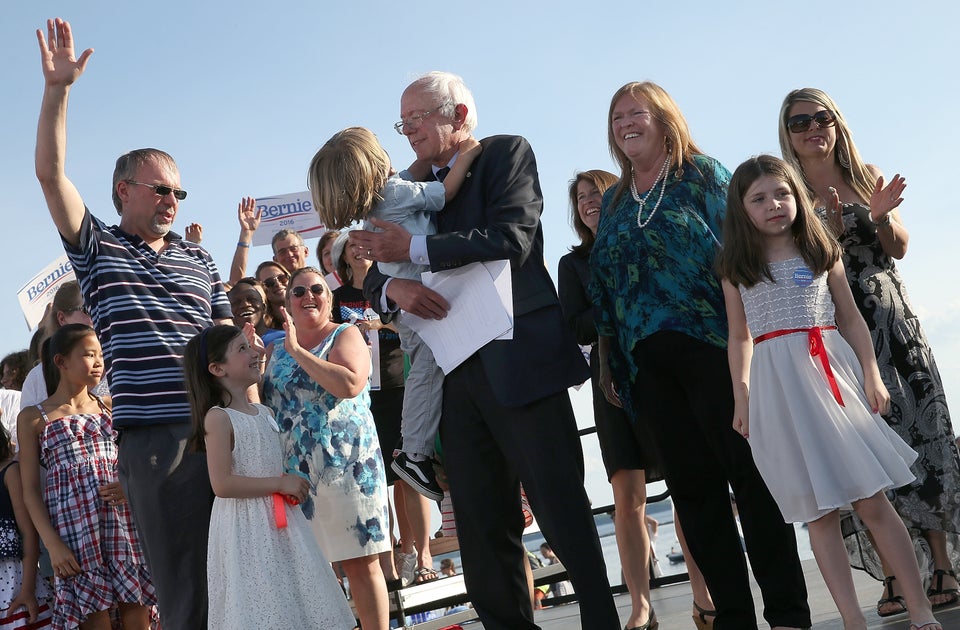 Bernie Sanders On The Campaign Trail
Popular in the Community