In a speech at the Brooklyn College commencement ceremony Tuesday, Sen. Bernie Sanders told how his challenging childhood just a few miles away shaped his world view.
The former Democratic presidential candidate said his upbringing in the polyglot New York borough influenced him in two key ways.
The economic struggles of his parents, who raised him and his brother in a small rent-controlled apartment in the Flatbush neighborhood, inspired him to seek economic justice, he said. 
"As with many of your families who don't have a lot of money, financial pressure caused friction and tension within our household," the 75-year-old Sanders recalled. "From those experiences of growing up without a lot of money, I have never forgotten that there are millions of people throughout this country who struggle to put food on the table, pay the electric bill, try to save for their kids' education, or for retirement ― people who, against great odds, are fighting today to live in dignity."
In addition, his father's background as a Jewish immigrant from Poland who escaped the anti-Semitism and violence of Eastern Europe served as a flesh-and-blood reminder of the dangers of nationalism and racial demagoguery, he said.
"While my father emigrated to the United States and escaped [Adolf] Hitler and the Holocaust, many in his family did not," Sanders said. "For them, racism and extremism and ultra-nationalism were not 'political issues.' They were issues of life and death and some of them died horrific deaths."
"From that experience, what was indelibly stamped on my mind, was the understanding that we must never allow demagogues to divide us up by race by religion, by national origin, by gender or sexual orientation," he declared, drawing loud applause.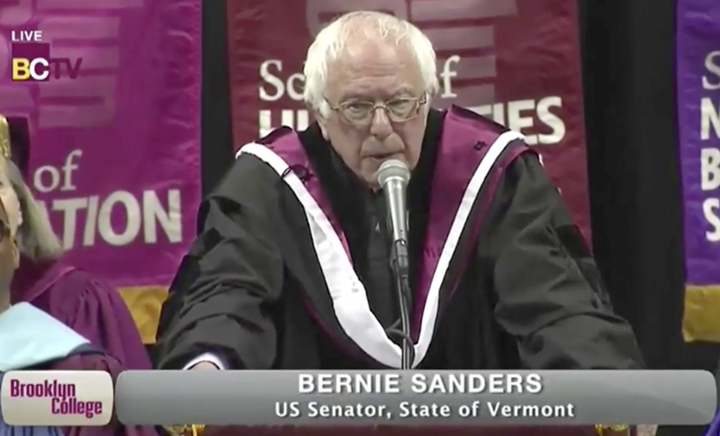 Sanders went on to deliver a familiar denunciation of President Donald Trump and the policies of congressional Republicans. He made an equally passionate appeal for policies that bridge the wealth gap, ensure affordable health care for all, fight climate change, protect women's reproductive rights and reverse mass incarceration.
He concluded on an optimistic note, arguing that notwithstanding the country's enormous challenges, the American people's collective wealth, ingenuity and access to technological advances provide the makings of greatness if properly harnessed.
"My message to you is very simple: Think big, not small, and help us create the nation that we all know we can become," he said.
Sanders, who completed a year of studies at Brooklyn College before transferring to the University of Chicago, was received warmly from the moment he walked to the speaker's lectern. He told the crowd his year at Brooklyn College had a "great impact" on his life.
As part of the festivities, Sanders was awarded an honorary doctorate in humane letters. But the red and gold academic hood that Brooklyn College officials placed on Sanders to signify the honor did not last more than few minutes.
The hood began to ride up on toward his neck as he spoke and he quickly discarded it. 
"I think speakers have a right not to have that stuff around their throats," he quipped.
Calling all HuffPost superfans!
Sign up for membership to become a founding member and help shape HuffPost's next chapter
BEFORE YOU GO
PHOTO GALLERY
Bernie Sanders' Most Interesting Quotes