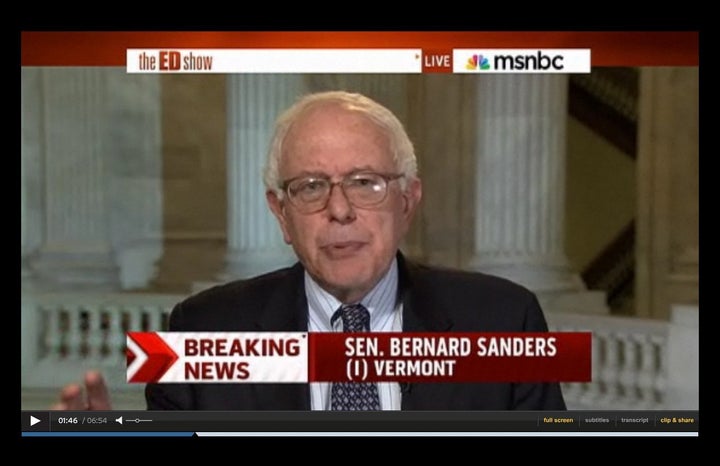 Sen. Bernie Sanders (I-Vt.) appeared disgusted Monday over a recently reached deal between the White House and Republicans that would allow the Bush tax cuts for the wealthiest two percent of Americans to be extended for two years in return for GOP cooperation on the reauthorization of unemployment benefits for a 13-month period, among other concessions.
"For a Democratic president, Democratic House, Democratic Senate, to be following the Bush economic philosophy of tax breaks for millionaires, billionaires is absolutely wrong public policy, absolutely wrong politically, and I gotta tell you, I will do whatever I can to see that 60 votes are not acquired to pass this legislation," Sanders said on on MSNBC's "The Ed Show," before telling host Ed Schultz that he might go as far as to filibuster the legislation.
"Millionaires and billionaires do not need huge tax deductions, that's the simple truth," Sanders continued. "If we're serious about creating jobs in this country, which should be our main priority, that's the worst way to do it. Much better to take that money, invest in our roads, bridges, railroad systems, infrastructure -- you create jobs doing that."
Though Sanders appeared disappointed with the Obama administration for supposedly placating Republicans and going against his own campaign message regarding the issue, he also placed blame on his GOP colleagues for pursuing such an outcome.
"Our Republican friends have got to be held accountable. The issue is the insult, the outrage that they want tax breaks for billionaires but they can't in their heart come up with extending unemployment compensation so millions of families in this country can have a modicum of security," Sanders said. "I believe, politically, we can rally the American people around that cause."
Popular in the Community