Sen. Bernie Sanders (I-Vt.) has raised more than $18.2 million since launching his 2020 presidential campaign in late February, the campaign announced on Tuesday.
Sanders raised that sum from nearly 900,000 contributions, which came from 525,000 individuals, some of whom donated more than once. The average donation was $20, and 99.5 percent of donations were in increments of $100 or less.
But Sanders, who handily won re-election to the Senate in November, also benefits from transferring outstanding funds from previous campaign accounts to his presidential run.
Counting those funds, Sanders has raised $32 million and has $28 million in cash on hand that he can still spend.
"The state of the Bernie Sanders campaign is strong and getting stronger by the day," said campaign manager Faiz Shakir on a call with reporters announcing the figures.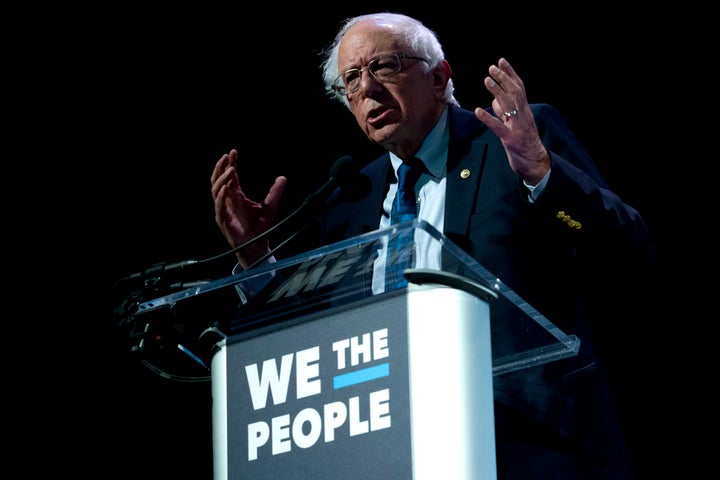 Sanders' fundraising figures are the highest among the three candidates who have announced their first-quarter fundraising totals. Sen. Kamala Harris (D-Calif.) announced a haul of over $12 million on Monday evening, likewise composed of almost entirely of small donations. South Bend, Indiana, Mayor Pete Buttigieg (D) announced a $7 million haul earlier on Monday.
Former Rep. Beto O'Rourke (D-Texas), who topped Sanders' first-day fundraising total and has tapped veterans of Sanders' 2016 bid for his digital fundraising efforts, has not yet revealed his first-quarter fundraising total.
Sanders' campaign is eager to build on his high name recognition and strong standing in polls. On the Tuesday morning press call, Shakir noted that it took the 2016 Sanders campaign 146 days to receive 900,000 donations ― a figure his 2020 bid notched in just 41. An estimated 20 percent of Sanders' 2020 donors have never donated to him before, according to Shakir.
In addition, Sanders has strong donor support in early primary and caucus states. He has received 8,000 individuals donations each from Iowa, New Hampshire and Nevada, as well as 6,500 contributions from South Carolina. And Sanders has received over 167,000 donations from California, which is due to hold its primary much earlier this election cycle.
Shakir boasted that Sanders had not raised a single dollar from private fundraising events. The only other Democratic presidential contender to foreswear high-dollar, private fundraising is Sen. Elizabeth Warren (D-Mass.).
"There is no kowtowing at the altar of the rich here, no bundling, no sneaking off to posh fundraisers with beautiful hors d'oeuvres ― that is not this campaign, maybe others," Shakir said.
Still, Sanders' campaign haul is not that much higher than his first quarter of campaigning for the 2016 presidential race. From April 2015, when Sanders announced his 2016 bid, through the end of June 2015, he raised about $15 million from a much smaller campaign fundraising email list.
Sanders' campaign had also been encouraging supporters to contribute before the first-quarter deadline this year so he could amass a million contributions ― a milestone he did not reach in 2016 until six months into the campaign.
The campaign evidently did not reach that goal, but Shakir said he did not regret setting it as a marker to motivate supporters.
"It was important to us to set an ambitious goal," he said. "We are trying to have credibility with our movement and let them know that when we share numbers and when we share ambitious goals, they truly are ambitious."
Calling all HuffPost superfans!
Sign up for membership to become a founding member and help shape HuffPost's next chapter
BEFORE YOU GO
PHOTO GALLERY
Bernie Sanders On The Campaign Trail