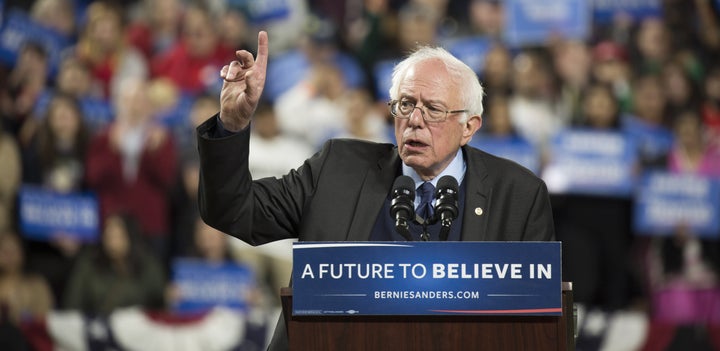 Sen. Bernie Sanders' presidential campaign press call Monday was billed as one to discuss his "path forward" to the Democratic nomination, but his team made some dubious claims about why he's trailing former Secretary of State Hillary Clinton among delegates in the process.
Clinton currently leads the Vermont senator by 268 pledged delegates, 1,243 to 975.
Jeff Weaver, Sanders' campaign manager, said on the call that their campaign chose not to compete in eight of the 32 states that have held primaries or caucuses so far. Weaver identified Texas, Alabama, Virginia, Tennessee, Mississippi, Arkansas, Georgia and Louisiana as the states where they didn't mount a challenge to Clinton, who swept all of the Southern contests; he said the Sanders campaign did not broadcast television advertisements in those eight states or have "a big campaign presence."
"Almost all of Secretary Clinton's delegate lead come from states where she faced little or no competition," said Tad Devine, Sanders' senior campaign strategist. "Her grasp now on the nomination is almost entirely on the basis of victories in states where Bernie Sanders did not compete."
Devine and Weaver's claim depends on one's definition of the word "compete" during the Southern primaries, where Clinton netted over 300 delegates.
Sanders held rallies in Austin and Dallas. He held multiple events in Virginia. He held rallies in Atlanta, Georgia. He also visited Alabama, Mississippi and Louisiana. His campaign had field offices in most of those states. If he wasn't actually competing in the South, where his campaign always acknowledged he faced an uphill battle because of Clinton's popularity among African-American voters, then why bother visiting?
Devine pointed to Sanders' victories in the Hawaii, Alaska and Washington caucuses on Saturday to advance their argument that Clinton's delegate lead isn't as significant as it seems.
"Last weekend is a testament to the fact that where we compete with Hillary Clinton, where this competition is real, we have a very good chance of beating her in every single place that we compete with her," he said. "In states where both campaigns have competed, Secretary Clinton has an edge in delegates but only a slight edge."
His campaign's dismissal of his losses in the Southern primaries also doesn't account for Clinton's wins in Ohio, South Carolina, Massachusetts, Arizona, North Carolina and Florida, which Sanders visited multiple times and where his campaign ran television ads.
Weaver said on the call that "reports of our death are greatly exaggerated" and that the campaign would be making "a big commitment" to delegate-rich states like New York, which holds its primary next month.
"People are going to look very closely at this competition, and look at whether Hillary Clinton has proven to be a very strong nominee," Devine said. "If you want to be the nominee of the Democratic Party, you have to consistently prove to the Democratic Party your strength, your ability to coalesce the party behind your candidacy."
Clinton's campaign rebutted Weaver and Devine's comments in a call with reporters Monday afternoon.
"I seem to recall him campaigning quite a bit in Texas," said Joel Benenson, Clinton's chief strategist and pollster. "If you want to write off states that are battleground states, like Florida and North Carolina, if you don't want to compete in battleground states like those and Virginia that are essential to winning an electoral college, to me that's not how you set yourself up to win a general election. You compete hard in the states that are going to be the toughest for us to win in a general election because you want to get your people mobilized, you want to get them engaged."
Benenson argued that Sanders' victories in most of the states that hold caucuses are less significant because turnout in those states tends to be lower than in primaries.
"She has won in 17 of the 21 states where more than 7 percent of eligible voters turned out, when voters are coming out to the polls she has been dominating," he said. "I think Sen. Sanders admittedly has had significant wins in caucus states, but in a lot of those states the turnout has been lower than primary states, and in many of those states they are less diverse than the rest of the country and less diverse than the coalition Democrats have to assemble to succeed in November."
Before You Go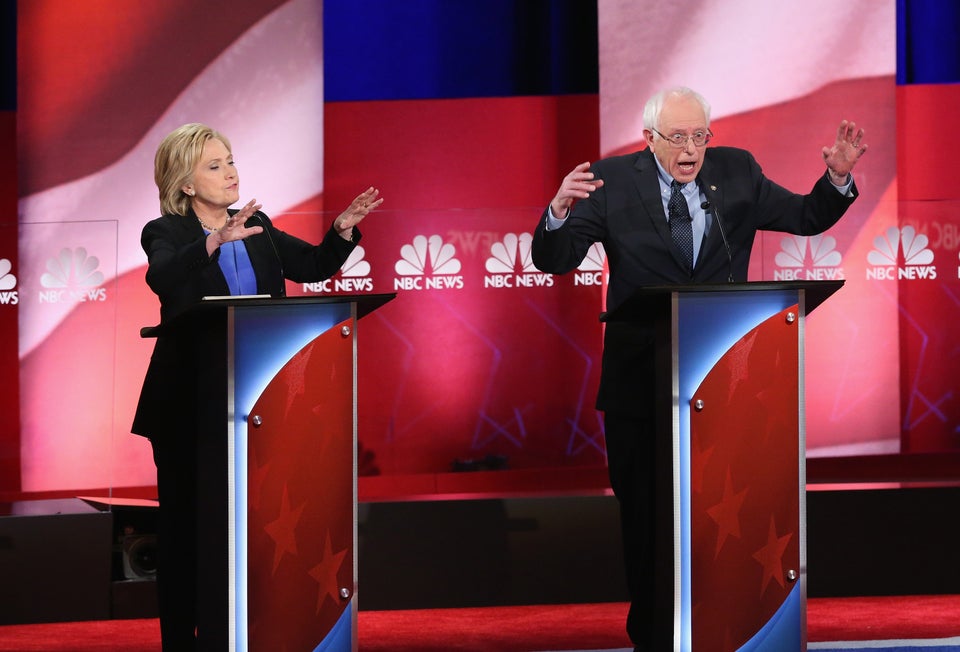 Bernie Sanders And Hillary Clinton Face Off
Popular in the Community