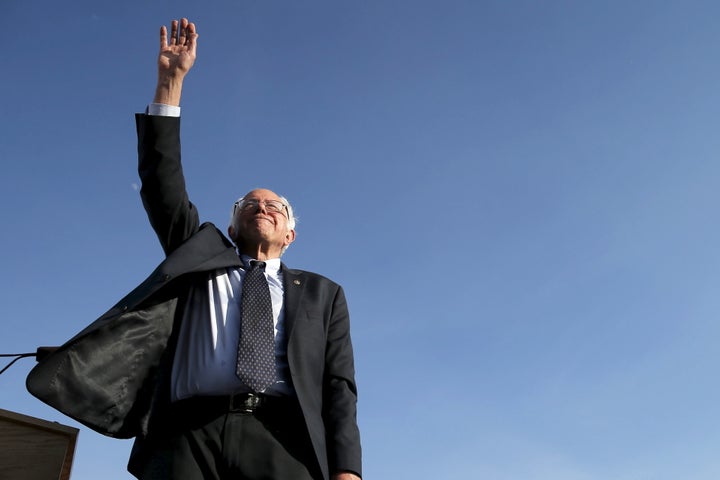 Sen. Bernie Sanders (I-Vt.) said he will be meeting with Hillary Clinton on Tuesday evening, in what appears to be a step in plotting the wind-down of his presidential campaign.
Appearing on "Meet The Press," Sanders quite notably did not say that he would continue campaigning for the nomination after Washington, D.C., holds its primary on Tuesday. Instead, he described a process that sounded like finding a détente with Clinton and figuring out a way to pursue his agenda items at the convention in July.
"I simply want to get a sense of what kind of platform she will be supporting, whether she will be vigorous in standing up for working families and the middle class, moving aggressively on climate change, healthcare for all, making public colleges and universities tuition-free," he said of Tuesday's planned meeting. "And after we have that kind of discussion and after we can determine whether or not we are going to have a strong and progressive platform, I will be able to make other decisions."
Sanders went on to note that he will be going to the convention with over 1,900 delegates, which he suggested would give him significant leeway in determining what type of platform the party adopts.
"I have got to make sure that working with all kinds of people throughout this country, we are going to have an agenda that stands up to Wall Street, that is aggressive on the issues that people who supported me feel strongly about," he said.
But in a sign that his sights were now more on helping the Democratic ticket than on leading it, Sanders made clear who his foe would be in the weeks and months ahead.
"I am doing everything that I can and will continue to do everything that I can to make sure that Donald Trump does not become president of the United States," said Sanders. "I think this man in a dozen different ways is not fit to become president. I think the idea that he is running on a campaign based on bigotry, insulting Mexicans, Muslims, and women, it's hard to believe that that is really happening in the year 2016."
Popular in the Community