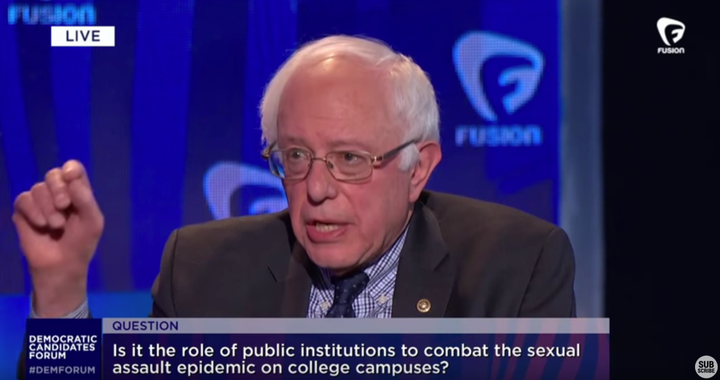 Democratic presidential hopeful Bernie Sanders (I-Vt.) provoked reprisal from sexual assault survivors over his comments about campus rape during a Fusion forum on Monday night.
When asked about it, Sanders called campus rape an "epidemic," and agreed that "public institutions" have a role to play in addressing sexual assault -- though the moderator asking the question did not explain what was meant by a "public institution." Sanders also agreed that affirmative consent -- that "only yes means yes" -- should be taught to high school and college students.
However, he also suggested that colleges and universities should not handle any sexual assault case:
Rape and assault is rape and assault. Whether it takes place on campus or on a dark street. And if a student rapes a fellow student, that has got to be understood to be a very serious crime. It has got to get outside of the school and have a police investigation. And that has to take place. Too many schools are seeing this as 'well it's a student issue, let's deal with it.' I disagree with that. It is a crime and it has to be treated as a serious crime. And you are seeing now the real horror of many women who have been assaulted or raped, sitting in a classroom alongside somebody who raped them. Rape is a very, very serious crime and it has to be prosecuted. It has to be dealt with.
Sexual Assault Survivors Are Not Fans Of Sanders' Comments
"Framing it as an 'either/or' proposition shows how poorly politicians understand Title IX as a civil right applying to this issue," Dunn told The Huffington Post on Tuesday. "I do agree however that we need to have national education around the issue of consent and sexual respect within primary and secondary education settings to address the epidemic of sexual assault."
"Advocating for requiring survivors to go to the police shows his lack of understanding of what constitutes equity on campus," said Andrea Pino, a survivor and co-founder of the activist group End Rape On Campus, "and also demonstrates an ignorance of the current lack of police preparedness on this issue."
"Without key interventions by their schools, many survivors won't be able to continue their educations," Brodsky wrote on Feministing, where she is an editor. "An extension on a paper due the week after an assault might make the difference between a victim staying in school and dropping out. No police force can provide that kind of accommodation. Don't want victims 'sitting in a classroom alongside somebody who raped them'? A school can often make that happen more quickly than a student can get a restraining order, particularly if he or she has trouble accessing a court."
A Sanders campaign spokesman did not respond to request for comment to further clarify the senator's remarks.
Sanders Co-Sponsored A Bill That Would Add New Rules For How Colleges Handle Rape Reports
Sanders has avoided saying much on the issue of campus rape, a topic that received unprecedented attention by the Obama administration, and one being debated with multiple pieces of legislation in Congress. He quietly signed on as a co-sponsor to a bipartisan bill put together by Sens. Kirsten Gillibrand (D-N.Y.) and Claire McCaskill (D-Mo.), the Campus Accountability and Safety Act, or CASA.
Notably, Sanders signed on as a co-sponsor to CASA in September, one day after Democratic presidential rival Hillary Clinton laid out bullet points for how she would tackle college sexual assault.
Rather than refer more campus rape reports to police, CASA would ramp up penalties for colleges that mishandle cases, and establish new resources for rape survivors in college, and require that schools disclose how they sanction cases of sexual violence.
Both Brodsky and Dunn said Sanders' comments were typical of lawmakers who often want to appear as though they take sexual violence seriously.
"If politicians want to say they are serious about campus sexual assault," Dunn told HuffPost, "they should start by showing an understanding about the systematic failure of the criminal justice system to address or respond to sexual violence on campus."
Popular in the Community