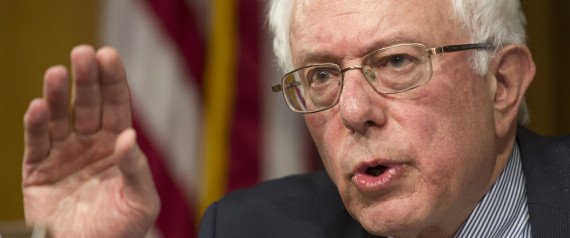 How many times have you heard the phrase, "I like Bernie Sanders, but he can't win," uttered by people who identify themselves as progressives? The facts, however, illustrate that "Bernie Sanders can win" and nobody in politics foreshadowed the Vermont Senator's latest surge in both Iowa and New Hampshire. He recently raised $15 million in just two months, and his campaign reports that "Nearly 87 percent of the total amount raised during the quarter came from the donors who contributed $250 or less." While Clinton's team isn't worried, they should be, primarily because Hillary Clinton already lost a presidential race (spending $229.4 million in the losing effort) and finished behind both Obama and John Edwards in the 2008 Iowa Caucus.
While Clinton is expected to amass $2.5 billion, Bernie Sanders has cut the former Secretary of State's lead in New Hampshire from 38 percentage points down to just 8. According to a July 4th CNN article titled Sanders snags key endorsement in New Hampshire, Senator Sanders also gained a key ally:
Wolfeboro, New Hampshire (CNN) Sen. Bernie Sanders has snagged a key endorsement in New Hampshire that may sting a little for Martin O'Malley's campaign.

Longtime New Hampshire Democratic activist Dudley Dudley told CNN Friday that she has decided to endorse Bernie Sanders for the Democratic 2016 nomination.

Since then, according to a recent CNN/WMUR New Hampshire primary poll, frontrunner Hillary Clinton's lead over Sanders has shrunk from 38 percentage points to 8, with O'Malley trailing both.

Likely Democratic primary voters are now more apt to see Sanders as the candidate who "best represents the values of Democrats like yourself," the poll found.
It's important to note that Sanders didn't need billions of dollars to earn the trust of voters in New Hampshire, or cut Hillary's lead to only 8 points. Since he voted against the Iraq War and has spent a lifetime championing progressive issues while others waivered (Hillary was against gay marriage until 2013, voted for the Iraq War, pushed for the TPP on 45 separate occasions, and supported Keystone XL), Bernie Sanders doesn't need to prove he's a progressive. Voters know what they're getting with Vermont's Senator. In contrast, Hillary Clinton rarely offers a direct answer on why she failed to champion certain causes when they weren't popular.
Therefore, it's still early and Election Day is 490 days away. If this were a football game, Team Bernie is on the opponent's 45 yard line, he's down by two scores, and it's only the first quarter. Sanders has time, and his recent surge in Iowa and New Hampshire shows that anything is possible. Although still trailing Clinton in Iowa, he's continuing to narrow the gap and has gone from 15 percent support in May to 33 percent support in July.
What polls can't measure, however, is the numbers Sanders is drawing in overflowing crowds. A Washington Post article titled Sanders draws more than 2,500 to Iowa stop -- tops for this presidential cycle so far, explains how an energized base of voters is making what was once improbable a very real possibility:
COUNCIL BLUFFS, Iowa -- Another day on the presidential campaign trail, another crowd of eye-popping size for Bernie Sanders.

The independent senator from Vermont attracted more than 2,500 people to a convention center here on Friday night as part of his continued quest to lead a "political revolution" and win the Democratic nomination in a field that also includes Hillary Rodham Clinton.

It was by far the largest draw in Iowa, the nation's first caucus state, by any White House hopeful this cycle -- though there were plenty of Sanders fans in the crowd who came across the river from Nebraska.
Money can't buy enthusiasm or "eye popping crowds," and while Clinton has the financial backing (she's been referred to by POLITICO as Wall Street Republicans Dark secret), Bernie has the hearts and minds of Democrats. The Washington Post writes that he's gaining larger crowds than anyone in the 2016 presidential race, so while Clinton has the top Democratic strategists on her team, Bernie Sanders owns the grass roots support among voters. It's difficult to imagine Clinton, Bush or any other candidate matching the ability of Bernie Sanders to speak to a crowd of 10,000 people in Madison, Wisconsin.
This impressive groundswell of support for Senator Sanders isn't simply a matter of ensuring Clinton leans more to the left in 2016. Not long ago, Bill Clinton once stated, "Give me a break. This whole thing is the biggest fairytale I've ever seen" regarding Obama's chances at becoming president (the uproar forced the former president to say "But I am not a racist, I've never made a racist comment and I never attacked him personally"), so fairytales sometimes do come true. Supporters of Bernie Sanders are doing everything from starting entire Reddit threads and social media campaigns to creating Bernie TV, so what the campaign is lacking in big donors, it's more than making up in genuine enthusiasm and energy.
As for his image as a champion for liberal causes, voters in Iowa have taken notice and according to The Boston Globe, Sanders poses a real threat to the Clinton campaign:
Clinton's advisers are most concerned that Sanders might prove to be effective at painting Clinton as squishy or untrustworthy on liberal issues.

The crowds at Sanders's Iowa events appeared different from the state's famously finicky tire-kickers. Many said they had already made up their mind to support Sanders.

They applauded his calls for higher taxes on the rich to pay for 13 million public works jobs, for decisive action on climate change, and for free tuition at public colleges.
There's a reason Clinton's advisors "are most concerned" that Sanders might paint the former Secretary of State as untrustworthy: she's changed her viewpoint on gay marriage, trade, war, and a controversial pipeline.
Ultimately, if Sanders wins both the Iowa Caucus and New Hampshire Primary, the odds of him winning the Democratic nomination increase dramatically. Nothing illustrates the potential for Sanders to accomplish this task than a piece in The Des Moines Register titled Sanders encouraged by Iowa crowds, rising polls:
Sanders is drawing record crowds.

On Wednesday night, more than 10,000 people attended his rally in Madison, Wisconsin, and nearly 2,500 attended a Friday evening event in Council Bluffs -- the biggest Iowa crowd of any 2016 presidential contender yet...

Sanders drew both traditional Democrats and conservatives on Saturday.

"This will be the first time I've caucused with the Democrats," said Michael Tallman, 25, of Des Moines.

Tallman, who works in banking, said Sanders seems like a candidate who will represent all people -- rich or poor, male or female, gay or straight.

He said many millennials are disturbed by the current political process and they could be key to boosting Sanders' shot at winning.

"I think he has a real chance," Tallman said. "We've seen it happen before."
While Sanders "drew both traditional Democrats and conservatives" in Iowa, it would be unthinkable to see conservatives in any state supporting Hillary Clinton. The ability of Sanders to address issues that both right and left find important (even Ted Cruz is talking about wealth inequality) is one of the many advantages Sanders has over any Democratic rival. This advantage could also catapult him to victory over any GOP challenger.
Money can't buy a vote, it can only help publicize a candidate and communicate a message pertaining to policy and values. After that, even tens of billions can't erase Clinton's defense of the Iraq War, defense of traditional marriage, or deleted emails. Bernie Sanders is drawing record crowds and surging in the polls because his value system is worth infinitely more than his opponent's ability to generate billions of dollars. Like one Iowa supporter says, "I think he has a real chance," and if Sanders wins Iowa and New Hampshire, anything is possible in 2016. Pretty soon, you might never again hear the antiquated phrase, "I like Bernie Sanders, but..."
Popular in the Community