TORONTO ― When Sen. Bernie Sanders (I-Vt.) arrived at the University of Toronto's Simcoe Hall around 10:40 am on Sunday ahead of his sold-out speech on health care and progressive politics, the college students who had lined up outside in the 45-degree weather for standby tickets began to holler with joy. Sanders, grinning, stopped to shake hands and pose for selfies before going inside.
Bisma Ali, a 17-year-old University of Toronto student, had arrived at 5 a.m., ensuring that she and her classmates Tebat Kadhem, 20, and Catherine Stratton, 21, would have spots at the head of the line.
"Bernie Sanders represents hope for the younger generation," said Kadhem, who ran unsuccessfully for a Toronto city council seat in February. "Even if we're Canadian, we see an American politician that is standing up for human rights and standing up for the people that don't have a voice, and we resonate with his message."
Asked if, in an alternative universe, they would ever support Sanders for Canadian prime minister, the three women nodded eagerly.
"He should come join Canadian politics in the House of Commons! We'd love him there," Ali said.
Sanders was treated to similar rock star receptions over and over again during a visit to Toronto this past weekend that was officially devoted to learning about the Canadian health care system ― a publicly financed, universal program that Sanders has spent his entire career pushing the United States to emulate. Before Sunday's Simcoe Hall event, where he received standing ovations from more than 1,000 cheering fans and soaring praise from left-of-center Ontario politicians, he toured world-class hospitals on Saturday, where one pharmacist fanned herself, claiming she had "felt the Bern."
Of course, the key audience for Sanders' trip was back home. Over the course of his trip, he was keen to dispel Republican Party myths about the Canadian health care system and shatter the U.S. stigma against learning from other countries' health policies.
The senator is hoping the facts found on his trip to Canada will help boost the campaign for single-payer health care insurance in the U.S.
On Sunday, Sanders warned that the situation in the United States ― where Republicans, backed by billionaires like the Koch brothers, are trying to dismantle recent expansions of health coverage and gut social programs to pay for tax cuts ― could reach Canada too, if the Canadian people are not sufficiently vigilant.
The contemporary GOP "is what happens when billionaires are able to buy a political party. Don't let it happen in Canada," he declared to sustained applause from the crowd.
Cementing ties to left-leaning Canadian lawmakers, activists and young people was a beneficial byproduct of Sanders' journey. Since the 2016 presidential run that earned him international fame, he has become a kind of roving ambassador for left-wing ideals.
"He's like the face of progressive politics in North America," said Graham Coulter, a 22-year-old history student at the University of Toronto, who came to see Sanders speak.
But for U.S. policy wonks hoping to learn more about the tradeoffs of Canada's health care system, much less for progressive strategists in search of ideas for overcoming the considerable obstacles to passing single payer in the U.S., Sanders' foreign visit was less useful.
The tour on Saturday, which Sanders' staff organized in conjunction with the office of Ontario Premier Kathleen Wynne and staff at Women's College Hospital in Toronto, was heavy on Canadian health care success stories and arguments against conservative criticism of the single-payer system.
Sanders' Saturday itinerary was focused on specialty wings in three hospitals clustered in the city's downtown: Women's College, Mount Sinai and Toronto General, locations that undoubtedly offered a rosier window into the health care system than a rural clinic or urban emergency room would provide. He was accompanied by Wynne (a member of the center-left Liberal Party), three U.S. medical professionals Sanders had invited, and a rotating cast of Canadian doctors, hospital executives and patients ― virtually all of them outspoken boosters of single payer.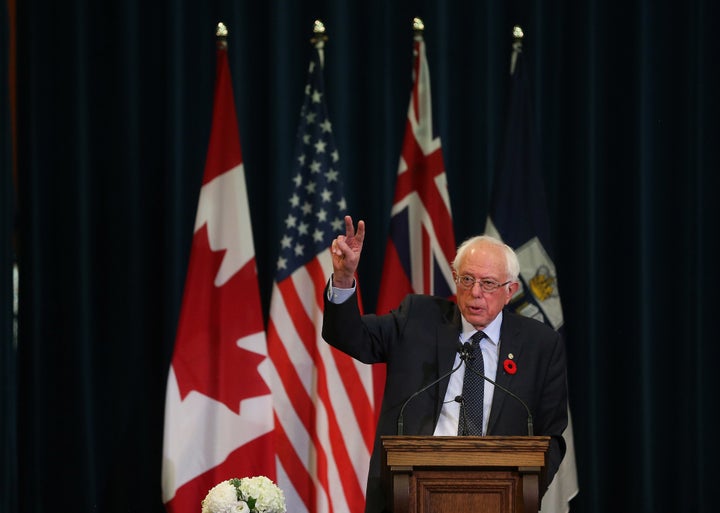 What Sanders' Trip Demonstrated
Sanders described the fact-finding trip to Canada as an important step toward normalizing the use of international comparisons when crafting U.S. domestic policy.
"How is it that here in Canada, they provide quality health care to all people ― and I don't think there is any debate that the quality of care is as good or better than the United States ― and they do it for half the cost?" he said to reporters in an impromptu press conference on Saturday.
Sanders revisited the issue in his speech at the University of Toronto on Sunday, even as he acknowledged that Canada's system was not perfect.
"No country in the world has all of the answers and ever will as technology changes and needs change," he said. Crafting "sensible policy" requires that we "look all over the world and we ask the hard questions: Is it working better there? What can we do to make our system better?"
Asked on Saturday whether he had invited any Republican colleagues to join him on his Canadian tour, Sanders said it was "a great idea."
"I have not, but maybe the next trip we'll try to take some of them," he said.
Sara Collins, a vice president of the Commonwealth Fund, which publishes an annual comparison of wealthy countries' health care systems, called Sanders' appeals to examine the practices of other nations "constructive."
"It's important for policymakers in the United States to look abroad for ways to improve our health care system, both on the coverage side and on the delivery system side," Collins said.
"For Canada and Canadians, there is no question that they have the system that they want."
At Mount Sinai Hospital, Dr. Shoo Lee, the pediatrician in chief, and Dr. Mathew Sermer, chief of obstetrics and gynecology, showed Sanders and his entourage around the state-of-the art neonatal intensive care unit, or NICU. The ward offers parents of premature and ill babies the opportunity to learn to monitor their infant's health for as many hours a day as they want and to perform the basic tasks involved in caring for the baby.
The hospital even has apartments for a limited number of those parents ― with no out-of-pocket costs, courtesy of Ontario's health insurance system.
Andrey and Kristina, whose baby Victor was born 26 weeks into her pregnancy and remains in the NICU, agreed to speak to the visiting delegation on condition that reporters use only their first names. An employee benefits manager for the Ontario government, Andrey was enthusiastic about the quality of care Victor was receiving.
"You might have heard the people say about the lines up at the hospitals, but when it comes to serious stuff like" his son's premature birth, Andrey said, the Canadian health insurance system is "the best."
In a discussion at Women's College, Sanders conducted a kind of Socratic back-and-forth about Canadian health care with more than a dozen medical professionals and patients assembled around a table. He played devil's advocate, asking people to respond to typical criticisms of the Canadian system and feigning surprise when they said the various allegations were baseless.
Almost every time, the Canadians said their system performed far better than its critics were willing to admit ― while providing free care to all at about half the cost per person of the U.S. system, as Sanders frequently noted.
Only when it came to dental care ― an area in which Canadians, like Americans, rely on private insurance ― was Sanders told that the system suffered from problems similar to those of the United States.
"I am on my own," said Naomi Duguid, a patient who spoke at the Women's College roundtable discussion and who lacks dental insurance. "Going to the dentist is something I don't even think about. In fact, it's the only time I get to experience what it must be like to be an uninsured American."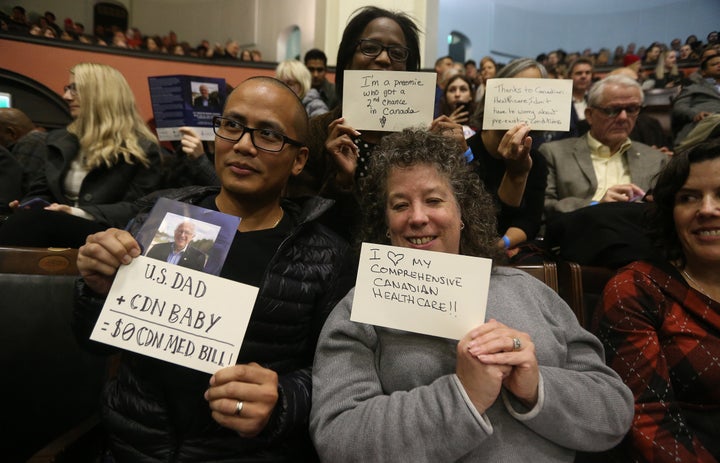 Where Sanders' Trip Fell Short
Canada's publicly financed health care system, sometimes known as "Medicare," began to take shape in the years after World War II under the leadership of Tommy Douglas, premier of Saskatchewan from 1944 to 1961. Saskatchewan became the first province with universal public health coverage in 1962. Every other province had followed suit by 1971.
Today, Canada's national government requires provinces to provide taxpayer-funded coverage of doctor visits, hospital care and diagnostic procedures free of charge at the point of service. The provinces pay about 75 percent of the cost, with the federal government chipping in the rest.
The provincial programs are not identical. They offer varying degrees of coverage of pharmaceutical drugs for low-income residents and seniors, for example. Under Premier Wynne, Ontario voted to enact universal drug coverage for children from birth through age 24, a policy that will take effect in January.
Broadly speaking, Canada's system is far more equitable than the U.S. system. While 28 million Americans remain uninsured even after passage of the Affordable Care Act, Canada's citizens never have to worry about going entirely without basic care due to cost.
Canada tops the U.S. on many health and longevity indicators. The average Canadian life expectancy is 81.7 years (based on 2013 data), compared with an average U.S. life expectancy of 78.8 years (based on 2015 data). Canada also has lower infant mortality with a rate of 4.8 babies dying for every 1,000 live births, compared to 5.8 deaths for every 1,000 live births in the U.S.
But none of this means Canada is the only model for the United States to follow if Americans want universal health care. On many health care quality metrics, Canada trails other wealthy countries with different coverage systems.
In the Commonwealth Fund's 2017 comparison of 11 developed countries, which surveys residents on a broad array of health care indicators, Canada ranked third-to-last, just ahead of France and the United States. The highest-ranking countries were the United Kingdom, Australia and the Netherlands.
On some criteria in the Commonwealth Fund report, Canada even did worse than the United States. For example, half of Canadians surveyed reported waiting more than two hours for emergency room care, compared with 25 percent of Americans. Thirty percent of Canadians said they waited two months or more to see a specialist, compared with 6 percent of Americans.
When asked, the physicians on Sanders' hospital tour tended to acknowledge the flaws in the Canadian health care system and then dismiss them as challenges more easily addressed within the confines of a single-payer system. The centralized nature of the Canadian system has made it easier to troubleshoot wait times, according to Dr. Joshua Tepper, president of Health Quality Ontario, a public entity that advises on improving health care delivery and produces an annual report assessing the shortcomings and advances of health care in the province.
"The single-payer system gives us transparency, gives us information to actually manage the system" with patients' input, Tepper said during the roundtable discussion at Women's College.
Sanders told reporters on Saturday that the decision to look at the Canadian system, rather than that of another country with universal coverage, was due in part to the country's cultural proximity to the U.S. He also noted that, unlike the United Kingdom but like the U.S., Canada does not have its doctors and other medical professionals directly employed by the government, making a transition to a Canadian-like system less radical.
Still, he did not address whether touring some top-flight hospitals in the nation's largest city was truly representative of Canadian health care and its challenges.
Residents of Thunder Bay, a much smaller city in the rural northwestern part of Ontario, have nearly three times the limb amputation rate of Ontario residents overall, according to Dr. Barry Rubin, medical director of Toronto General's cardiac center.
"You go to the hospital and it's shocking ― there are people being wheeled around in wheelchairs with one leg," said Rubin, who has contributed to an effort to send more cardiovascular surgeons there.
In addition, Sanders' trip offered few new insights into how the U.S. public can be convinced to think of health care as a right that must be protected by their government, as Canadians do.
A majority of Americans (53 percent) now support adopting a single-payer, or "Medicare for all," insurance system, which represents a significant increase since 1998, according to polling conducted by the Kaiser Family Foundation.
But those people are simply answering a survey. It's not clear how the majority of Americans would actually respond to the prospect of giving up their employer-sponsored insurance for a new system that they finance with their taxes. When passage of the Affordable Care Act resulted in the cancellation of only a small fraction of existing insurance plans, it created a major political uproar.
"For Canada and Canadians, there is no question that they have the system that they want," Dr. Michael Domanski, division head of cardiology at Toronto General's cardiac center, said during a panel discussion at the hospital.
But Domanski, who grew up in the U.S. and practiced medicine there before moving to Canada, was unsure that Americans would be willing to pay Canadian-level taxes. "It will come down to the economics of it," he said.
At this point, Canadians have "grown up in a system that's equitable," so the concept of providing health care as a right is not a matter of mainstream debate, said Premier Wynne.
In the years after World War II, Wynne noted, there were "the same impulses in the United States as here, but somehow, we've diverged. That is an interesting question as to why that's happened."
Before You Go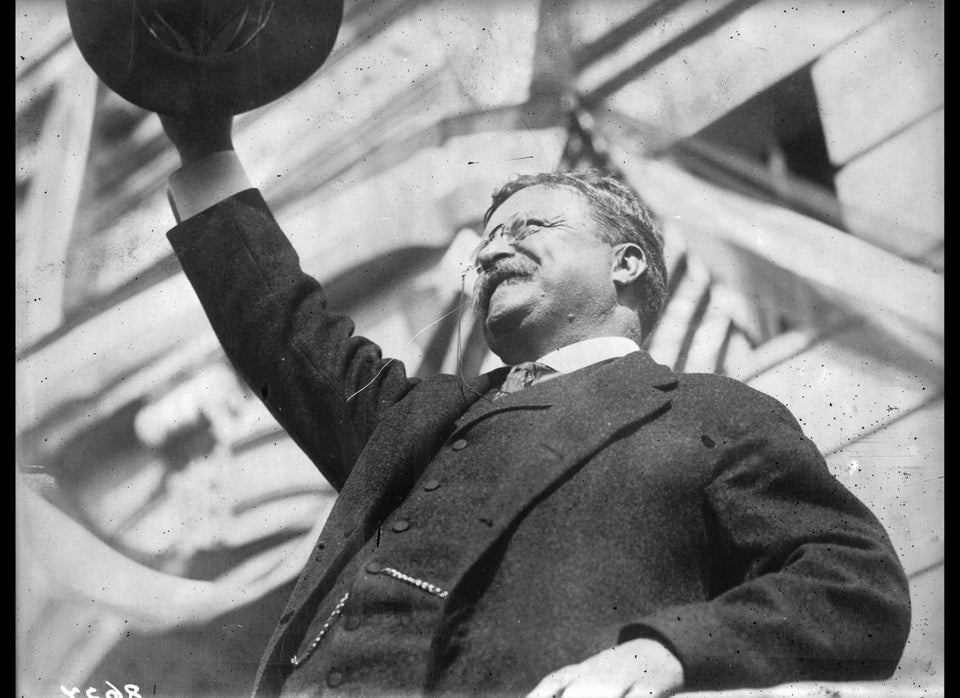 Health Care Reform Efforts In U.S. History
Popular in the Community