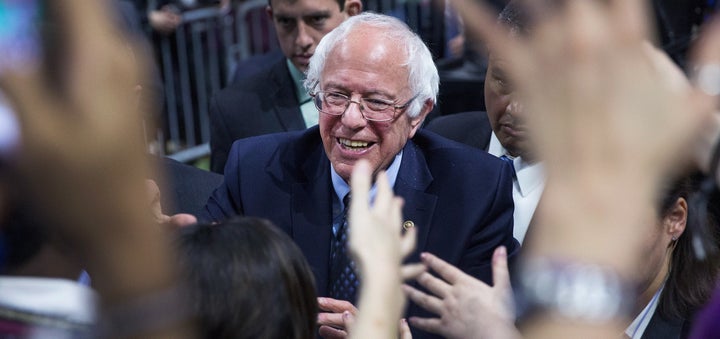 Sen. Bernie Sanders (I-Vt.) had a good night Saturday if you look at the number of states he won. He beat Hillary Clinton in the Kansas and Nebraska caucuses, while Clinton pulled out a win in the Louisiana primary.
But Clinton actually came out ahead in the delegate count, with 55 delegates to Sanders' 47. And while Sanders has a good shot at winning the Maine caucuses on Sunday, he needs to start winning bigger -- and in bigger states -- to close the gap with her. 
Both Clinton and Sanders are already looking ahead not only to Michigan's primary on Tuesday, but the delegate-rich date of March 15, when Florida, Illinois, Missouri, North Carolina and Ohio will be holding their primaries. 
These states have diverse Democratic electorates, which bodes well for Clinton. She has done significantly better with communities of color, despite the fact that Sanders has been trying to make inroads. 
In contrast, the caucus states where Sanders won Saturday are places where the Democratic base has grown smaller in recent years, with older, more conservative Democrats becoming Republicans or independents. That has left a more liberal electorate open to Sanders' message of radical change. They're also states that are predominantly white and rural, and Sanders tends to do best with those voters. 
But Sanders sees an opening in this state. People in Michigan, and Detroit specifically, know better than perhaps anyone else the effects of the recession and the changing economy. Those voters may be more receptive to Sanders' core message of economic inequality. And it gives Sanders a chance to test his campaign with black voters outside of the South. 
"I think in Michigan, she's still ahead. She's had a lead for awhile," Sanders' Senior Strategist Tad Devine acknowledged Saturday night on MSNBC. "But like many other states, we are closing very very fast. And I hope by the time we get to Tuesday, we can close in Michigan as well." 
The candidates will get a chance to present themselves to Michigan voters Sunday night, for the Democratic debate in Flint. 
On the Democratic side, states award their delegates proportionally based on the share of votes each candidate gets (provided they get at least 15 percent). So a loss in a close race could still pay off, and a big win is better than a small one. 
The Clinton campaign played down expectations for this weekend's caucuses in advance, acknowledging that they were better territory for Sanders. Their strategy was to basically minimize their losses so that the senator didn't run up too many delegates. Campaign manager Robby Mook said they were staying focused on steadily amassing delegates in the long run.
"We have no doubt that as long as Sen. Sanders remains in the primary, he will continue to win elections along the way, but it will make little difference to Hillary's pledged delegate lead. ... [O]ver the upcoming weeks, we intend to steadily add to Hillary Clinton's already sizeable lead in delegates, and as we do, it will become harder and harder mathematically for Sen. Sanders to ever catch up," Mook wrote in a memo to reporters this week. 
Essentially, Sanders has to start winning states outright in order to rack up enough delegates to catch up.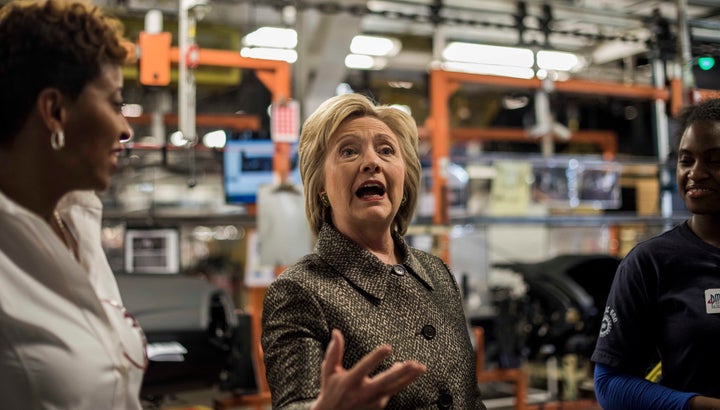 Devine admitted Saturday that Clinton has a "big advantage" with delegates at this point, but he said they still have "plenty of time" to close the gap. 
"We're going to need to beat her in big states, and I think we can," he said, pointing to Washington state and Wisconsin, and even New York, which holds its primary on April 19 and holds a big prize of 291 delegates.
"I think we'll have a big showdown in New York. And I know that's her home state and she represented it in the Senate, but we do not concede New York to Hillary Clinton," Devine said on MSNBC. "I think the guy from Brooklyn can beat her there."
This story has been updated with more information on the delegates awarded in Saturday's contests. 
Calling all HuffPost superfans!
Sign up for membership to become a founding member and help shape HuffPost's next chapter
BEFORE YOU GO
PHOTO GALLERY
Moments From The 2016 Campaign