CHICAGO -- Democratic presidential hopeful Sen. Bernie Sanders (I-Vt.) pledged to make criminal justice reform a priority of his administration during a busy campaign stop in Chicago Wednesday afternoon.
"I consider reforming our criminal justice system one of the most important things that a president of the United States can do," Sanders told supporters at a public event on the city's West Side. He said it was an "international embarrassment" that the U.S. incarceration rate is the highest in the world and said it would change under his presidency.
Sanders renewed calls to end for-profit prisons, remove marijuana from the federal list of controlled substances, eliminate the death penalty and end mandatory minimum sentencing.
"Too many lives have been destroyed because of police records," Sanders said, noting the issue affects both white and black Americans.
The disproportionately high rate of incarceration for black males and the criminalization of school-aged black Americans is "tragedy," Sanders said. "What a destruction of an entire generation."
"If the question is do I want or need Rahm Emanuel's support for president -- with all due respect to the mayor -- no, I don't."
His proposed solutions include investing more into jobs and education for young people.
"In the long run, I think it's a lot cheaper to send a kid to the University of Illinois than to jail," Sanders said to applause. He also said a demilitarized police force -- with more diversity and accountability to communities they serve -- was essential.
"I want police departments to look like their community, not like occupying forces."
Sanders acknowledged the "vast majority" of police were doing hard, dangerous and often stressful work. "But like anyone else, if that officer breaks the law, he must be held accountable."
Sanders didn't specifically address high-profile police shooting deaths of Chicagoans like Rekia Boyd or Laquan McDonald, though he did call out Sandra Bland, who died in a Texas jail after a police officer stopped her for making an improper lane change and locked her up for arguing with him. Sanders quietly met in October with the mother of Bland, who was from Illinois.
"I talked to too many African-Americans, people with PhDs, who worry when they get into a car and travel, they're going to be pulled aside by a police officer and terrible things will happen," Sanders said.
Sanders also mentioned another hot-button issue related to crime and policing in Chicago -- embattled Mayor Rahm Emanuel, a close ally of Sanders' opponent Hillary Clinton.
"If the question is, do I want or need Rahm Emanuel's support for president? With all due respect to the mayor, no, I don't."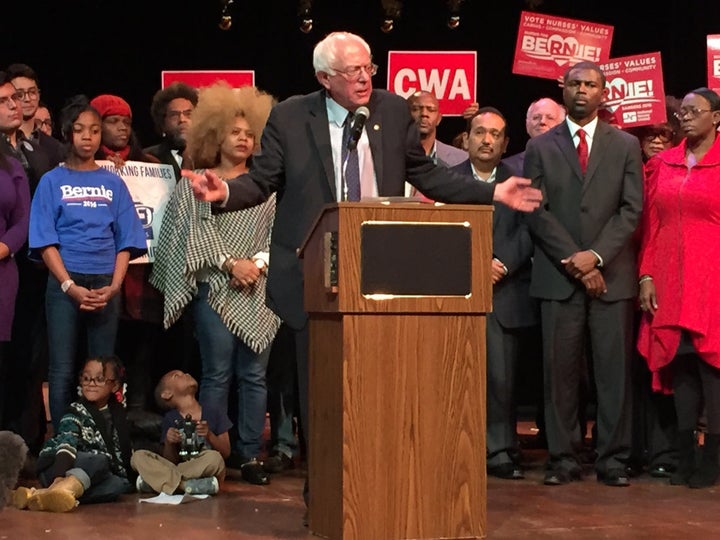 Sanders' stop in Chicago featured gatherings that were relatively intimate affairs compared with the massive campaign rallies earlier this season. Activists Cornel West, Jim Hightower, Mike Render -- better known by his rap moniker Killer Mike -- and Ben Cohen of Ben & Jerry's ice cream were among the high-profile supporters on hand.
At the popular El Pollo Feliz restaurant in the city's heavily Latino neighborhood of Little Village, Sanders said he would work to keep families together, and would use executive authority to stop deportations.
"We will not accept candidates like Donald Trump, referring to Mexican people as criminals and rapists," Sanders said to boos from attendees, according to the pool report. "We're going to end that. We're going to shut the door on racism. We are not going to let Trump or anyone else open that door."
Sanders told supporters people are sick of the "millionaire and billionaire" class "buying elections."
"What people want to see is a political revolution -- working people, low-income people, middle-class people beginning to come together," Sanders said. "Not allowing our opponent to divide us up."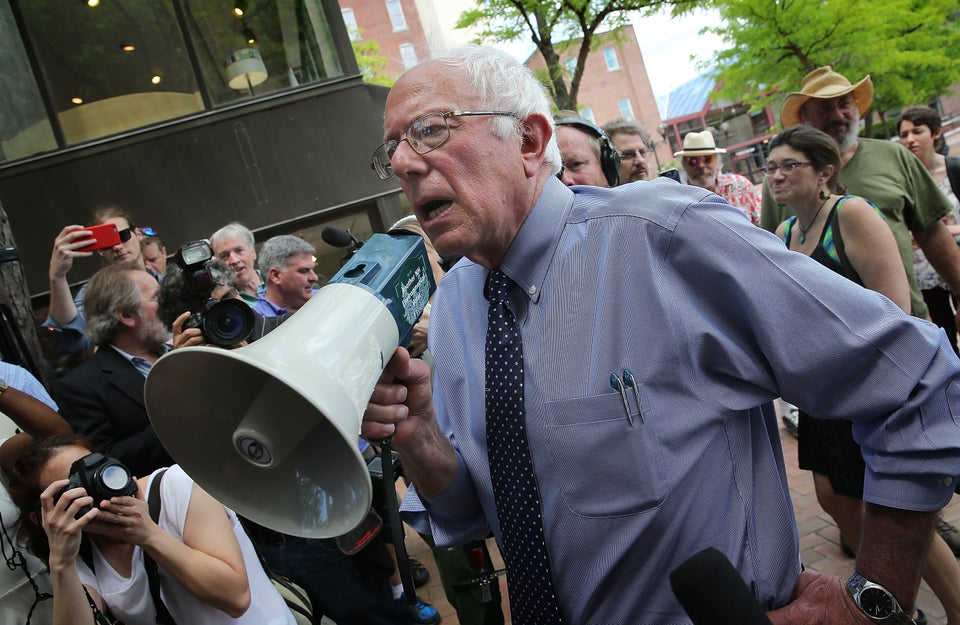 Bernie Sanders' Most Interesting Quotes
Popular in the Community