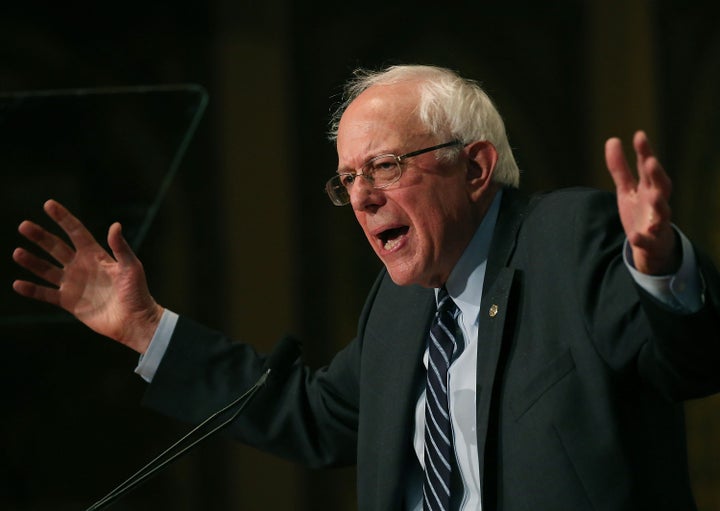 WASHINGTON -- Democratic presidential candidate Sen. Bernie Sanders (I-Vt.) unveiled a forceful climate change plan Monday that sets its sights on the fossil fuel industry and commits to taxing carbon pollution.
Setting himself apart from front-runner Hillary Clinton, Sanders offers a hard target to reduce carbon pollution beyond the current administration, vowing to cut emissions 40 percent by 2030 and 80 percent by 2050. (Clinton's plan does not set future hard targets to curb emissions beyond pledges the U.S. has already made.) To achieve that, he would mandate emitters pay for the amount of greenhouse gases they pump into the air -- a policy that remains immovable in Congress.
In the sweeping 16-page plan, Sanders lays out an agenda that would repeal fossil fuel industry subsidies; dedicate funding toward a clean-energy workforce of 10 million jobs; ban oil, coal, and gas lobbyists from working in the White House; and return billions to the communities hit hardest by the transition to cleaner energy sources and extreme weather tied to climate change.
"Right now, we have an energy policy that is rigged to boost the profits of big oil companies like Exxon, BP, and Shell at the expense of average Americans," Sanders said in a statement. "CEO's are raking in record profits while climate change ravages our planet and our people -- all because the wealthiest industry in the history of our planet has bribed politicians into complacency in the face of climate change."
A sizable chunk of Sanders' plan takes aim at the fossil fuel industry, which has battled with the fall of coal, lower oil prices, and regulations meant to curb production and push the nation's energy makeup toward less carbon-intensive sources.
Addressing nearly every controversial issue under the energy and environment policy umbrella, Sanders' plan would outright ban offshore drilling, ban Arctic drilling, block natural gas exports, stop attempts to lift a decades-old ban on crude oil exports, support states trying to ban natural gas fracking, and ban mountaintop removal coal mining.
While stressing the need to move away from oil, gas and coal, Sanders' plan states that if elected he would be "fair" to those working in the energy sector. Investing in solar, wind and other renewable sources, the proposal states, would create millions of jobs.
Pointing to legislation he has introduced in the Senate, Sanders argued for increasing low-income families' access to solar energy, and providing benefits (extended unemployment, education, job training) for workers moving from a career in the oil fields, or coal mines, to the clean energy industry.
Unlike Sanders, who did not offer a specific target for renewable takeover, Clinton's proposal aims to have every U.S. home powered by renewable energy by 2027. Clinton also pitched a $30 billion blueprint to help coal communities shift to cleaner energy.
Sanders didn't include a price tag for his plan to help workers in the middle of the shifting energy landscape, and aid for communities that are fighting drought, rising sea levels and other climate change side effects.
Former Maryland Gov. Martin O'Malley, who is also running for the nomination, has made climate change a central pillar of his bid, supporting a carbon tax. He set the bar high among Democrats running for the presidency when introducing the heart of his climate change plan earlier this year, vowing to phase out fossil fuels by 2050.
Attempting to go further than President Barack Obama and his competitors, Sanders' plan also mentions the ongoing climate change summit in Paris, promising that in his first 100 days of office he would convene a meeting of the "world's best climate experts" to build on achievements and chart a course to battle climate change in the future.
"The climate plan released by Senator Bernie Sanders today shows that he has broken free of the corporate and one percent money that has held back climate policy for far too long," Annie Leonard, executive director of Greenpeace, said in a statement. "Sanders has issued a powerful call for climate justice and decisive action to keep fossil fuels in the ground and support the communities who are suffering from climate and environmental impacts."
Here's What The 10 Leading GOP Candidates Think Of Climate Change
Support HuffPost
The Stakes Have Never Been Higher
Popular in the Community