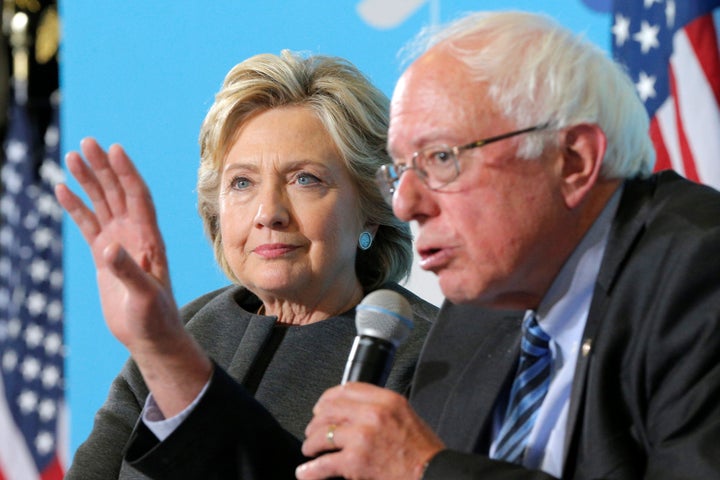 Sen. Bernie Sanders (I-Vt.) says he agrees with Hillary Clinton's characterization of his young supporters, whom the former secretary of state described as "living in their parents' basement" after buying into a "false promise" in the wake of the Great Recession. 
Clinton's comments surfaced on Friday after the conservative website The Washington Free Beacon posted audio of the remarks, which were delivered by the Democratic nominee at a private fundraiser in February and taken from a Clinton campaign staffer's hacked email.
"If you're feeling like you're consigned to, you know, being a barista, or, you know, some other job that doesn't pay a lot, and doesn't have some other ladder of opportunity attached to it, then the idea that maybe, just maybe, you could be part of a political revolution is pretty appealing. I think we all should be really understanding of that," Clinton said.
Over the weekend, Republican nominee Donald Trump sought to capitalize on the hacked audio, tweeting that Clinton "is nasty to Sanders' supporters behind closed doors," and is "owned by Wall Street and politicians."
"HRC is not with you," he added, in a late appeal to Sanders supporters. 
Asked Sunday on ABC's "This Week" whether he agreed with the New York businessman, Sanders, who has endorsed Clinton, said she was "absolutely correct" in her assessment of his supporters.
"I think what she said ― and, by the way, during the campaign, we do have our differences, Secretary Clinton and I do disagree on issues," he said. "But what she was saying there is absolutely correct. And that is, you've got millions of young people, many of whom took out loans in order to go to college, hoping to go out and get decent-paying, good jobs."
REAL LIFE. REAL NEWS. REAL VOICES.
Help us tell more of the stories that matter from voices that too often remain unheard.
BEFORE YOU GO
PHOTO GALLERY
Bernie Sanders On The Campaign Trail