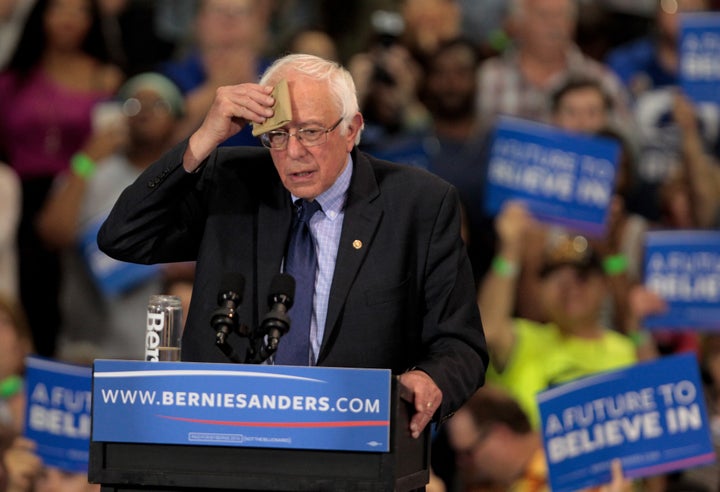 Bernie Sanders' chances are dwindling fast. Donald Trump no longer needs Indiana to win a delegate majority. And this campaign cycle has taken a toll on Americans' views of the GOP. This is HuffPollster for Friday, April 29, 2016.
A SANDERS COMEBACK IS HIGHLY IMPROBABLE - Milo Beckman: "[T]he unsexy truth is that, barring some catastrophic news event, Sanders will not win the Democratic nomination for president in 2016. In fact, most past candidates in Sanders's position dropped out long before this point in the race, and those who stayed in made little pretense of winning...As it stands, Sanders is firmly in runner-up territory. He is losing 9 million to 12 million among those who have already voted, and polls show him lagging by an average of 8.8 percentage points in the states yet to vote. Sanders has gained substantially in national polls but is still the less popular candidate...Sure, you may say, it's unlikely, but he still could come back, right? I looked back through every Democratic race since 1972 to see if there's any precedent for a late-stage political revolution….The result is pretty striking: After the early days of the campaign, no underdog has ever won the Democratic nomination."  [538]   
Closed primaries are hurting Sanders, but they're not why he's losing - Jeff Stein: "Bernie Sanders is right: Closed primaries, which exclude independent voters, are hurting him at the voting booth, according to a new analysis. But just how much better would Bernie be doing if every state primary let independents vote? Luckily, Emory political scientist Alan Abramowitz agreed to run the numbers for us using a model he's built for Larry Sabato's Crystal Ball. Controlling for other variables, Abramowitz found that closed primaries did penalize Sanders — by roughly 4.7 points…A flip of nearly 5 percentage points sounds like a big effect, and in some ways it really is. But it wouldn't meaningfully change the outcome of the race. Only six states — New York, Pennsylvania, Maryland, Connecticut, Delaware, and Florida — have held closed primaries since the race began….Add those up, and Sanders would have won 41 more delegates than he currently has. Clinton is currently leading Sanders by 293 delegates (without even counting the superdelegates)." [Vox]
TRUMP MIGHT NOT NEED INDIANA TO WIN THE NOMINATION - Nate Cohn: "[A]fter his strong showings in the Northeast, Indiana no longer seems to be a must-win state to capture the Republican nomination. Sure, winning the state would be very helpful toward gaining a majority of delegates. Without Indiana, he would struggle to get the 1,237 bound delegates needed to wrap up the nomination heading into the convention. But there's now a credible path to winning on the first ballot without it. The main reason is Mr. Trump's success on Tuesday among Pennsylvania's 54 unpledged delegates. Even though none of them are officially bound to a candidate, 31 of the 54 spots went to delegates preferred by Mr. Trump. And before the election, others had said they would vote for the winner of their district (Mr. Trump won all of the state's districts)....He would still need a comfortable victory in California — enough to win about 130 of the state's 172 delegates in the event of a loss in Indiana." [NYT]  
NATIONAL POLLS SHOW CRUZ AND KASICH TRENDING DOWNWARD - Although national polls aren't good at predicting primaries, they can help to measure the national mood. That mood has turned against Texas Sen. Ted Cruz and Ohio Gov. John Kasich in recent weeks. According to HuffPost Pollster's average of all publicly available surveys, Cruz and Kasich both peaked at the end of March, when Cruz had about 30 percent support and Kasich had nearly 19 percent. Throughout April, each slowly declined to their current positions -- Cruz is just under 28 percent, and Kasich is at 17 percent. These aren't huge declines, but coupled with a 6-point rise for Trump, they seem indicative of Republicans nationally moving away from the alternatives and toward Trump.
OPINIONS OF THE GOP SINK - Pew Research: "Currently 33% of the public has a favorable impression of the Republican Party, while 62% have an unfavorable view. Unfavorable opinions of the GOP are now as high as at any point since 1992. In October, 37% viewed the Republican Party favorably and 58% viewed it unfavorably. The decline in favorability since then has largely come among Republicans themselves: In the current survey, 68% of Republicans view their party positively, down from 79% last fall. By contrast, public views of the Democratic Party are unchanged since October. Currently, 45% of the public has a favorable impression of the Democratic Party, while 50% have an unfavorable opinion." [Pew]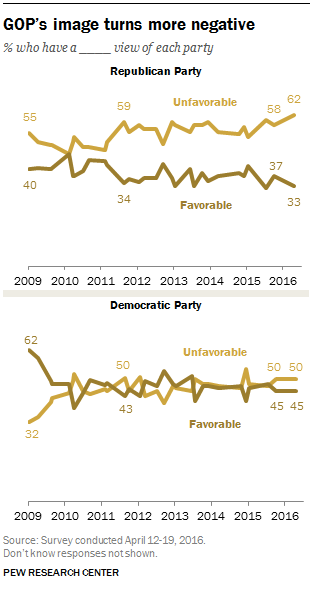 CANDIDATES VIEWED AS 'INTENSE' AND 'COMPETITIVE' - Frank Newport and Jim Harter: "[W]e set out to assess the degree to which Americans believe that each of the four major presidential candidates possess each of a list of 12 leadership traits that Gallup has found to be important in helping distinguish leadership styles and in distinguishing successful from unsuccessful leaders….respondents are most likely to believe the four major presidential candidates are competitive, intense, focused and enthusiastic, and are least likely to see the candidates as inspiring, caring and visionary." [Gallup]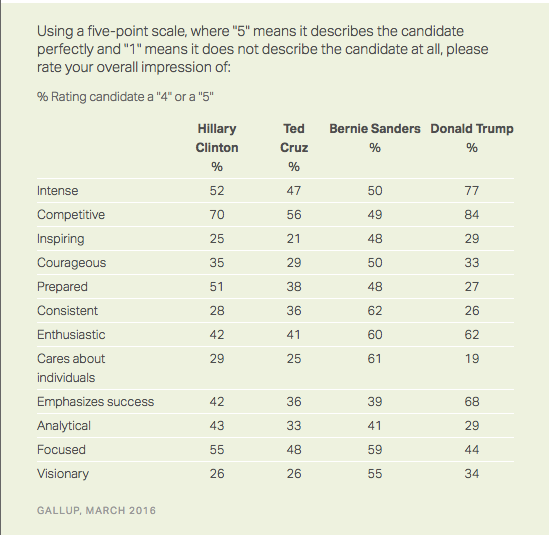 HUFFPOLLSTER VIA EMAIL! - You can receive this daily update every weekday morning via email! Just click here, enter your email address, and click "sign up." That's all there is to it (and you can unsubscribe anytime).
FRIDAY'S 'OUTLIERS' - Links to the best of news at the intersection of polling, politics and political data:
-Daniel Nichanian posits that Hillary Clinton would triple her delegate lead under GOP primary rules. [538]
-Jennifer Steinhauer explains why Republicans are hoping that split ticket voters make a comeback. [NYT]
-Bart Bonikowski and Noam Gidron argue that populism isn't new to American politics. [WashPost]
-Inequality has worsened in the aftermath of the US housing crisis. [WashPost]
-The Census Bureau lays out a plan to cut costs by using other agencies' data. [Pew]
-Americans' financial worries have increased since last year. [Gallup]
Calling all HuffPost superfans!
Sign up for membership to become a founding member and help shape HuffPost's next chapter