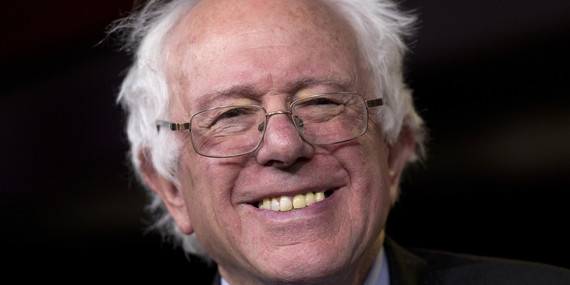 The Sanders and Clinton campaigns are going in opposite directions, primarily because Bernie Sanders and Hillary Clinton are the antithesis of one another. Although both analyzed the same intelligence reports in 2002, the Vermont Senator voted against Iraq, while Clinton called her vote a "mistake." Clinton's foreign policy has been referred to as "neocon," while Sanders says "I'll be damned" if America fights Saudi Arabia's wars. Bernie is vehemently against Keystone XL, while Hillary has dodged questions and once supported the pipeline. Sanders voted against the Defense of Marriage Act in 1996, while Clinton was against gay marriage in 2013 and has yet to elaborate specifically on why she "evolved."
As for the Black Lives Matter movement and its noble objectives, the former Secretary of State has for some reason has been able to evade her record on the topic of race. In the heated battle with Obama in 2008, one black Congressional leader stated the Clinton campaign was "committed to doing everything they possibly can to damage Obama to a point that he could never win." Hillary Clinton also used a television ad in 2008 against Obama with a "racist sub-message" and for some reason waited almost three weeks to discuss Ferguson. Bernie Sanders, on the other hand, has a comprehensive racial justice platform (Hillary Clinton finally met with Black Lives Matter representatives after they were "barred" from her event), Sanders is approachable enough to even be protested in the first place, and is far more outspoken on matters of race.
Sanders recently stated, "When an African-American woman gets yanked out of her car, when that happens -- when we all know that would not have happened to a middle class white woman." It's highly doubtful Clinton would ever make a direct reference to the manner white and black women are treated differently in America. Furthermore, civil rights leader Deray Mckesson recently stated after attending Clinton's presidential announcement that there was "nothing directly about black folk" and "Coded language won't cut it."
However, aside from Clinton's recent experiment with "Emoji Politics," nothing exemplifies the difference between Bernie and Hillary more than overflowing stadiums and deleted emails. The nationwide electricity and enthusiasm generated by Bernie Sanders is analyzed in a recent Washington Post article titled 100,000 people have come to recent Bernie Sanders rallies. How does he do it?:
LOS ANGELES -- The overflow crowds showing up to hear Bernie Sanders these days are a testament not only to his current popularity and the campaign's social-media savvy but also to the promotional abilities of an alchemy of like-minded interests: progressive activists, labor unions and even Sarah Silverman...

That event drew an estimated 27,500 people -- about five times as large as any crowd that has turned out for Democratic front-runner Hillary Rodham Clinton.

"Bernie always seems to be on the right side of history," Silverman told the boisterous audience at the Los Angeles Memorial Sports Arena...

All told, Sanders has attracted more than 100,000 people to his rallies in recent weeks, riding a wave of Facebook shares, retweets and old-fashioned word-of-mouth to become by far the biggest draw on the campaign trail.

But it is drawing energy and attention away from Clinton -- whose aides peg her largest crowd to date at 5,500 -- and exposing a lack of enthusiasm for her candidacy among some facets of the Democratic Party...

Roughly 28,000 people showed up for a recent Sanders rally in Portland, Ore. The self-described democratic socialist drew 15,000 in Seattle; 11,000 in Phoenix; 10,000 in Madison, Wis.; 8,000 in Dallas; and 4,500 in New Orleans.
So, it's important to take things into context. Bernie Sanders was never supposed to even compete with Clinton, yet he's now "drawing energy and attention away from Clinton," and recent polls in New Hampshire and around the country have validated this sentiment. In the minds of many people earlier this year, Hillary Clinton had the nomination locked up. Now, Americans nationwide are searching for a better alternative to the status quo and a Democrat who votes for wars, instead of standing up to the Dick Cheney's and George W. Bush's like one Senator from Vermont.
In contrast to Bernie Sanders, Hillary Clinton was recently forced to hand over her email server to the Justice Department and the FBI. Inspectors general from the State Department recently found four classified emails "that contained government secrets" (out of 40 investigated) on her private email account and server, prompting other intelligence agencies to issue further investigation. According to an ABC News article titled Hillary Clinton Hands Over Private Email Server To Justice Department, the former Secretary of State's email protocol has been linked to breaches in security:
Hillary Clinton has turned over her private email server to the Department of Justice, the Clinton campaign confirmed to ABC News.

Barbara Wells, a lawyer for Platte River Networks, the technology company that has managed Clinton's email server since 2013, said the company turned the server over to the FBI Wednesday afternoon at a New Jersey facility.

Clinton ordered her campaign to turn the server and thumb drive over to the Justice Departmentamid a federal investigation into the security of the server and whether there was classified information in the emails from the private account she used while serving as secretary of state.

On Tuesday, the Intelligence Community's inspector general notified senior members of Congress that two emails randomly sampled from Clinton's server contained sensitive information that was later given a "Top Secret" classification, while two others contained classified information at the time they were sent. The emails with information subsequently classified as "Top Secret" were forwarded to Clinton, according to the State Department.

The State Department is in the process of reviewing and releasing some 30,000 emails that were sent during Clinton's time at the State Department.
Therefore, it's important to note that people who claim to be realists, the same naysayers who believe Americans won't elect Bernie Sanders in a general election, are also the same people who disregard the release of "30,000 emails that were sent during Clinton's time at the State Department." It's likely that since numerous emails have already been found to compromise security (within only a small sample size), the odds are that far more emails and correspondence will lead to further scandal or controversy. This never-ending saga of emails and security blunders doesn't bode well for a general election.
Ultimately, who wants to have a nominee with a constant stream of emails being introduced to the public from now until Election Day? This isn't an unfair question to ask nor is it biased against Clinton; these emails are being released and will most likely be fodder for endless debate.
Is this good for the Democratic Party? In contrast, Bernie Sanders has zero scandal associated with his campaign. Sanders is attracting tens of thousands of people across the country, his poll numbers continue to rise, his views are mainstream, and with greater name recognition, the Sanders campaign has flourished. The words "FBI" and "Justice Department" should never be associated with a presidential campaign. Record crowds of enthusiastic supporters, totaling around 100,000 people in various states, should be associated with a presidential campaign.
Therefore, do progressives focused on Supreme Court nominees and the consequences of a Republican controlled White House see the difference between Sanders and Clinton? From now until Iowa next February, Clinton will be defending against an email scandal that isn't a conspiracy; the FBI and Justice Department are already part of the investigation. Bernie Sanders will only have to focus on sharing his value system with America, continuing to draw tens of thousands at events, and energizing a Democratic base constantly defending against controversy. In 2016, Americans are beginning to see the difference between Sanders and Clinton, and it's this disparity between both candidates that will propel Sanders to the Democratic nomination, and ultimately to the White House.
Calling all HuffPost superfans!
Sign up for membership to become a founding member and help shape HuffPost's next chapter