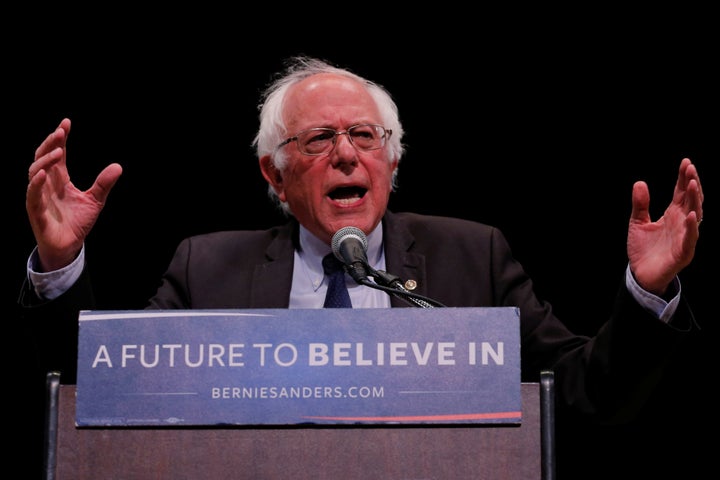 Democrats have for weeks treated the still-operational presidential campaign of Sen. Bernie Sanders (I-Vt.) with a mix of deference and caution, worrying about too strongly pushing the occasionally irascible senator and his legion of devoted followers.
But as time has passed and the party's convention nears, supporters of Hillary Clinton really want to know what Sanders' endgame actually is.
The question has been prompted by some recent muddled messaging from Sanders himself. The senator has said he'll vote for Clinton, but is declining to actually endorse her candidacy. On Tuesday, he raised the specter of convention disorder over the nuts and bolts of the party platform, all while insisting he will do everything in his power to ensure that presumptive Republican presidential nominee Donald Trump loses.
The Democratic Party is eager to see that loss, but has begun wondering whether ideological disputes and bruised egos may get in the way.
"So far [Sanders] has been riding a wave of good feelings in the sense he ran an incredible campaign," said former Sen. Kent Conrad (D-N.D.), who served with Sanders and Clinton but has endorsed the latter.
"But that has a pretty short shelf life and then people start looking at you through a different lens, and that lens is: Are you a team player and do you have the larger picture in mind or are you just focused on yourself?" Conrad said. "At some point, pretty soon, he crosses the threshold. He may have already crossed it."
Sanders' campaign did not return requests for comment. But those who know the senator say that the simplest explanation for his current pursuits is, in his typical fashion, the right one: He wants to change the Democratic Party, from the way it nominates its candidates to the policies it pursues.
"Bernie is trying to do exactly what he says he is trying to do. It's in every one of his statements. He is making sure the concerns he has raised are taken into account for the future of the Democratic Party," said former Sen. Ted Kaufman (D-Del.), who worked with Sanders for a short period of time.
"The easiest answer with Bernie is to listen what he says because what he says is what he means," he added. "It is remarkable working with him. You didn't have to spend a lot of time figuring out what he was saying or what he meant. It was a pleasure being around him."
And Sanders has been around. Since voting in the Democratic primary concluded, he hasn't receded far from the spotlight. The stadium-sized rallies are over, but he has campaigned for like-minded progressives, sent fundraising emails to elect allies, pushed for platform changes through his delegates and, lately, has taken to the op-ed pages of the major newspapers.
The senator delivered his latest missive on Wednesday morning: He sent a warning shot to Democrats via The New York Times, writing that Britain's vote to exit the European Union exposed an underappreciated anger in the electorate over income inequality and trade deals.
"At some point, pretty soon, he crosses the threshold. He may have already crossed it."
That Sanders remains a player in the party is clearly not in dispute. The question Democrats -- especially those in the Clinton universe -- are grappling with, is to what end?
"I'm confused by it," conceded Ed Rendell, the former governor of Pennsylvania and a longtime Clinton ally. "If he wants to speak in primetime at the convention, then he has to suspend his campaign. If I was leading the movement and I wanted to convince the American people that the movement was correct, then I'd want to speak in primetime. But apparently he must not want to because he hasn't thrown in the towel."
With weeks to go before the party convenes in Philadelphia, Sanders' role in that coronation of Clinton remains a mystery. He said Tuesday on MSNBC that he was taking his campaign to the convention floor in an effort to affect the platform.
"Politics is not a baseball game with winners or losers," Sanders said at the time. "What politics is about is whether we protect the needs of millions of people in this country who are hurting."
But changing the platform with the dramatic stripes that would satisfy the senator and his supporters seems unlikely. The party, for example, will be hard-pressed to formally disavow trade deals that its leader (President Barack Obama, not Clinton) still supports.
"You can't have a platform that will embarrass the president," said one prominent Democratic National Committee official.
Sanders' leverage seems limited in other ways as well. The portion of the liberal base that is withholding its support for Clinton has decreased in recent polls. That's been aided in part by Sen. Elizabeth Warren (D-Mass.) endorsing the former secretary of state -- although the Clinton camp believes that 10 percent to 15 percent of Sanders' supporters were never Democrats to begin with and won't vote for Clinton simply because other progressives are on board.
Many of Sanders' prominent endorsers have switched their support to Clinton as well. And according to Democratic sources, the Clinton campaign has been working behind the scenes to try to limit the prospects of convention chaos: Clinton campaign manager Robby Mook has spoken repeatedly with Sanders campaign manager Jeff Weaver, in addition to meeting with Sanders' delegates in Vermont in an attempt to earn their support.
Rendell, who is chairing the convention, said he has also been working with the Sanders campaign to ensure that it has access for a march through the city and a convenient spot to host a rally and demonstration. But even then, he wasn't optimistic that the party was gearing up for a serene week.
"My guess is it won't be totally peaceful," Rendell said. "But it will be more peaceful than [the Republican convention in] Cleveland. Total low bar, I know."
Sanders' close colleagues say he's fully aware of the delicate role he will play at the convention.
"He has clearly thought this thing through," said one lawmaker who has worked with him. And they insist that he is sincere in his desire to see Trump lose. That he has not stuck to a timeline that pleases all Clinton supporters is not an act of ego, they argue, but of legitimate policy pursuits and, in some ways, political finesse.
"He can't just snap a finger and the people who have all the passion and support suddenly get up and have an epiphany and support Hillary Clinton," said Rep. Raul Grijalva (D-Ariz.), one of the few members of Congress who endorsed Sanders. "It is not going to work like that. Part of it will happen if Bernie walks us in that direction."
Popular in the Community