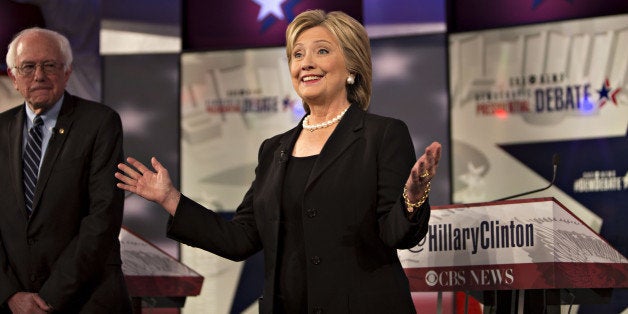 While one poll had Hillary Clinton the winner of the debate, a closer look shows that this survey was "conducted for the pro-Clinton super-PAC Correct The Record." In reality, Bernie Sanders won the second Democratic debate because he focused solely on veterans' issues, Wall Street corruption and climate change. Most importantly, an online poll by DeRay McKesson of 42,575 votes showed 83 percent of respondents believed Bernie Sanders won the debate.
In addition, top Ohio Democrat Nina Turner switched from Clinton to Bernie Sanders just before the debate, signifying a major shift in an important swing state. Black Women 4 Bernie Tweeted a video of Ms. Turner explaining why she's endorsing Bernie Sanders for president. While Clinton's endorsements have little to do with her trustworthiness or leadership skills, and everything to do with political power within the Democratic Party, Ms. Turner explains in the video exactly why Bernie's message resonates with her and millions of other Americans. "He should be the president of the United States of America," says Ms. Turner, and I agree completely in this video.
In contrast, Bernie's challenger sounded like a Republican. Clinton said the words "war" seven times, "jihadist" four times, "terrorist" three times, and spoke about "radical jihadists" and "jihadi radicalism." Taking a play out of the Bush/Cheney playbook, Clinton evoked 9/11 when asked about Wall Street donors. In a bizarre defense for accepting hundreds of thousands of dollars from Wall Street firms, Hillary Clinton evoked the emotions of September 11, 2001. As a result, Martin O'Malley pounced upon the irrational response to a legitimate question.
An article titled "Martin O'Malley unloads on Clinton's 9/11 comments" at MSNBC explains how both Dr. Cornel West and O'Malley felt Clinton's answer made little sense:
Cornel West, the Princeton professor and radical activist, spoke on Sanders' behalf and was even more critical of Clinton than the senator was the night before. "I took Wall Street money but it didn't affect me?" he said in disbelief of "my dear sister Hillary Clinton."

Speaking with MSNBC on the sidelines, West said Clinton "is a master of giving lip service to progressive causes but acting like a neoliberal and a example of the corporate wing of the Democratic Party."

"It's fascinating to see her mastery of the lip service, but there is just no progressive substance there," West continued, saying he will continue to highlight "Bernie Sanders' integrity and moral consistently. He's not giving lip service. He's the real thing in terms of being progressive."

...Speaking with reporters, O'Malley said Clinton made a "gaffe" in a "very, very distasteful way, trying to pump out a smokescreen for her coziness with the big banks of Wall Street by invoking the tragedy of 9/11 and those attacks -- and especially so fresh after so many were murdered in Paris."
Like Cornel West states, Bernie's strength is his "integrity and moral consistently." Sanders refused once again to address Clinton's email issue, even though the FBI is expanding its investigation. While there are definite issues pertaining to why Clinton needed a private server in the first place, Sanders chose instead to focus on topics important to Democratic voters.
As for Hillary Clinton's reference to 9/11, as if the terror attacks that day were justification for her Wall Street ties, the former Secretary of State stretched the truth within her answer. According to POLITIFACT, it's mostly true that Hillary Clinton's top donors are banks and corporations, not individuals:
Clinton's top 10 cumulative donors between between 1999 and 2016 were, in descending order, Citigroup ($782,327), Goldman Sachs ($711,490), DLA Piper ($628,030), JPMorgan Chase ($620,919), EMILY's List ($605,174) Morgan Stanley ($543,065), Time Warner ($411,296), Skadden Arps ($406,640), Lehman Brothers ($362,853) and Cablevision Systems ($336,288).

Social media memes say that Clinton's top 10 donors are mainly "banks, corporations and media," while Bernie Sanders' top 10 donors are labor unions. This contention fits quite closely with campaign data from the Center for Responsive Politics.
What 9/11 has to do with Clinton's ties to Wall Street money is anyone's guess, and her answer is one of the reasons 57 percent of Americans find Clinton "not honest and trustworthy." No doubt, her donors are one reason POLITICO once labeled Clinton Wall St. Republicans dark secret.
In addition, Jim Webb recently Tweeted that Hillary Clinton "disparaged integrity" of the USMC by "claiming wrongly turned away from serving." Webb also asked, "Tell us when, where & w/whom." Of course, as with many issues associated with Clinton, there's not enough data to either confirm or deny Clinton's experience with a Marine recruiter. However, we do know according to a Washington Post article titled Hillary Clinton's claim that she tried to join the Marines, that other claims have been proven false:
So far, we do not have enough documentary proof to say the incident never happened, such as supposedly landing under sniper fire in Bosnia or getting the date wrong for hearing a speech by Martin Luther King Jr. (Both of these were written by Michael Dobbs, who originated The Fact Checker during the 2008 campaign.) This is simply a personal recollection -- one that at least two friends have confirmed they had been told about at the time.
If Brian Williams had claimed he too was rejected from the Marines, people might question the story, but alas, it's Hillary Clinton. Her supporters rarely question any decision or statement, from her evolution on gay marriage to calling her Iraq War vote a "mistake."
Ultimately, every debate revolves around trust, and the Sanders campaign is fostered upon trust and integrity. You might not agree with everything Bernie says, but you know he's at least honest and not beholden to special interests. For this reason, he won the debate, and focused upon the consequences of war, the link between climate change and terrorism, and the fact he's less of a socialist than Eisenhower.
Finally, Hillary Clinton might be a liberal icon to some, but in reality, she's the only candidate with neoconservative advisers and a hawkish foreign policy. According to Rolling Stone in a piece titled Hillary Clinton's 10 Most Hawkish Moments From the Democratic Debate, only one candidate sounded like a Republican on foreign policy:
1. ISIS is a "barbaric, ruthless, violent, jihadist terrorist group." -- Clinton in her opening statement
2. "It cannot be contained, it must be defeated." -- Clinton on ISIS, again
3. "Turkey and the Gulf States are going to have to make up their minds: Are they going to stand with us to [confront] this jihadi terrorism, or not?"
4. "Of all of the Arab leaders, Gadaffi had more blood of Americans on his hands than anybody else." -- Clinton on why regime change was justified in Libya
5. "I think we're at war with jihadists.... You can talk about Islamists who are also jihadists." -- Clinton on whether America is at war with radical Islam
6. "So barbaric and so vicious that it doesn't seem to have any purpose other than lust for killing and power." -- Clinton, on ISIS again
7. "We have an authorization to use military force."
8. "We have problems with Russia." -- Clinton citing the risk of Russian drone submarines capable of carrying nuclear weapons
9. "I represented New York on 9/11 when we were attacked. Where were we attacked? We were attacked in downtown Manhattan where Wall Street is." -- Clinton on why Wall Street has supported her with campaign contributions
10. "I took the chance to tell the president... to bring Bin Laden to justice." -- Clinton on her hardest choice
So, Clinton did her best at the debate to seem tough on terror, but in reality sounded more like a Republican than Marco Rubio on foreign policy. If you dread more American involvement in the Middle East, perhaps Clinton might not be your choice for president.
Bernie Sanders won the debate, and according to a recent Hill article titled In new shock poll, Sanders has landslides over both Trump and Bush, "The polling shows... increasingly in general election match-ups of Republicans running against Sanders, that it is the left, not the right, which has the upper hand with American voters."
Bernie Sanders will win the Democratic nomination and presidency, not only because he beats any Republican in a general election, but because he's honest. In terms of honesty, one of his competitors is lacking in this department.
Popular in the Community