PHILADELPHIA ― Bernie Sanders backers are not yet ready to admit defeat.
The Vermont senator's supporters booed the idea of party unity and voting for presumptive Democratic nominee Hillary Clinton at events around the city Monday, in advance of the Democratic convention's kick-off that evening.
Vermont delegates even booed Sanders himself when he addressed them Monday afternoon and urged them to help elect Clinton.
"We have got to elect Hillary Clinton and Tim Kaine," Sanders said to boos and chants of "We want Bernie!"
A gathering for California delegates also took a chaotic turn Monday morning as Sanders delegates booed and chanted over speakers.
At a breakfast for California's 551 delegates, Sanders supporters made their ongoing support for the candidate known with T-shirts, "Bernie or Bust" signs and loud jeers at every mention of either Clinton or Kaine, the senator from Virginia and Clinton's newly announced running mate.
Progressive favorites like U.S. Reps. Mike Honda and Barbara Lee, both from California, were at times drowned out by chants of "Bernie!" or jeers when they advocated for party unity.
The largest uproar of the morning came as California Secretary of State Alex Padilla took the stage. Padilla has become a villain among fervent Sanders supporters in California, who claim the secretary of state's office took too long to count provisional and mail-in ballots, and is still withholding enough ballots to tip the state in Sanders' favor. As soon as Padilla was announced, the room filled with boos.
"Count the votes!" chanted the delegates throughout the duration of Padilla's speech, making it nearly impossible to hear him.
And as House Minority Leader Nancy Pelosi (D-Calif.) spoke, the crowd chanted Sanders' name repeatedly, drowning out her remarks.
Speaking with reporters later, Pelosi brushed off the divisive mood as politics as usual for the Democratic Party.
"This is nothing new," she said. "We've never been a monolith, and we've always tried to reach consensus. But unanimity has never ― it's just an impossibility for any party."
"This is interesting, and it's entertaining even to a certain extent," she continued. "And it might be grist for your mill to write something. But what's important is the competing visions between Hillary Clinton and Donald Trump for president of the United States."
California Democratic Party spokesman Michael Soller offered a similar sentiment, saying the party would work with Sanders supporters to make sure their voices are heard.
"Anyone who's surprised by today's breakfast doesn't know California Democrats!" he wrote in an email to The Huffington Post. "We want delegates to understand that Philadelphia isn't the end of the road, and we want to work with them at the state and local level to elect Democrats who share our values. That work will continue all the way to November and beyond."
Delegates at the breakfast, however, didn't seem so confident.
"This is the true face of a house divided. The Democrats have been painting a picture that we are unified when we are not," said Jeanna Harris, a Sanders delegate from Los Angeles. "The people whose voices have been suppressed, now the only way we can make our voices heard is to do things like this."
"A lot of the Bernie delegates were disappointed with who was chosen to speak today," said Nicole Lutkemuller of Tahoma, California. "We feel very disrespected by the lack of acknowledgement that he's still a candidate, that we're still delegates here for him. And I think that disrespect is being displayed here with our reaction."
At a press conference held by the Bernie Delegates Network later Monday morning, the idea of party unity was all but rejected. The group, which claims two-thirds of Sanders delegates as members, cited two major points of frustration in recent weeks: Clinton's selection of Kaine as a running mate, and the controversy surrounding Florida's Debbie Wasserman Schultz, particularly the congresswoman's move to honorary co-chair of Clinton's campaign following her resignation as DNC chairwoman in the wake of the party's email leak scandal.
Sanders delegate Manuel Zapata of Tracy, California, said he and other progressives are "pissed off."
"The California delegation is not happy about this at all," he said. "We find it a little disrespectful that it seems like a madman like Donald Trump is reaching out more for the progressive vote than Hillary Clinton is."
They hinted that conventiongoers could expect to see similar demonstrations throughout the week, even if Sanders calls on them to rally behind Clinton once she formally becomes the nominee. A possible walkout during Clinton's acceptance speech Thursday was not ruled out.
"Bernie delegates came here with an entirely different agenda than what the Democratic Party would like to see us be a part of. They would like to see party unity," said Karen Bernal, a Sanders delegate from Sacramento, California. "We came here to push a progressive agenda."
Similar protests broke out at the Florida delegation's breakfast. Wasserman Schultz, who resigned on Sunday, was booed off the stage as protesters repeatedly chanted, "Emails."
Amanda Terkel contributed reporting.
Support HuffPost
The Stakes Have Never Been Higher
Before You Go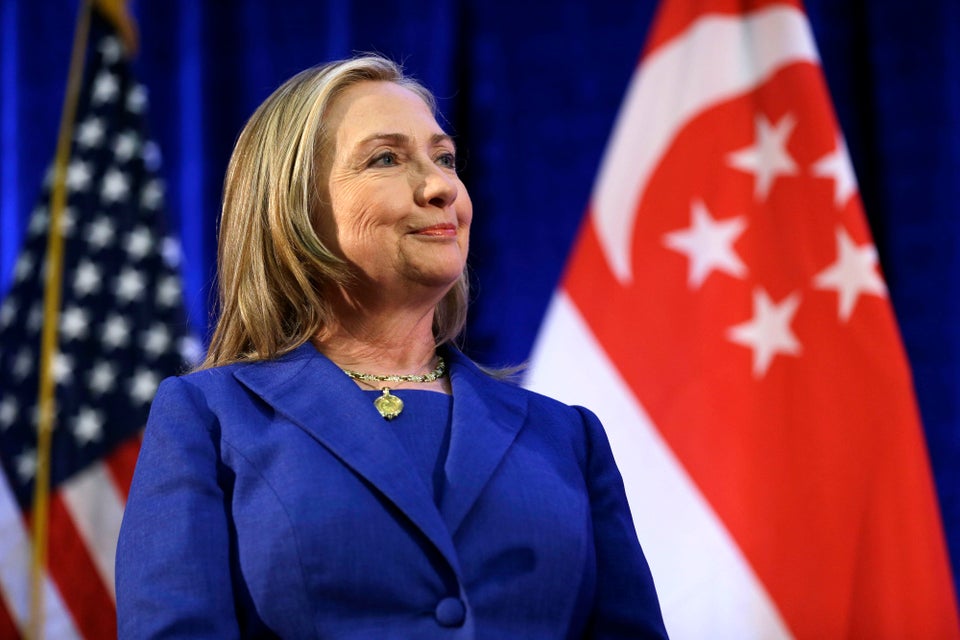 Hillary Clinton
Popular in the Community