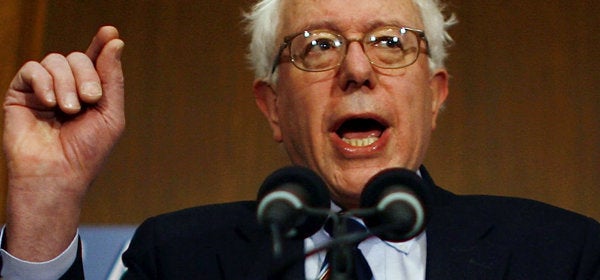 Sen. Bernie Sanders (I-Vt.) demanded on Thursday that regulators impose limits on oil speculation to help lower the price of gas in a letter sent to President Obama.
"There is mounting evidence that the skyrocketing price of gas and oil has nothing to do with the fundamentals of supply and demand, and has everything to do with Wall Street firms that are artificially jacking up the price of oil in the energy futures markets," Sanders wrote. "In other words, the same Wall Street speculators that caused the worst financial crisis since the 1930s through their greed, recklessness, and illegal behavior are ripping off the American people again by gambling that the price of oil and gas will continue to go up."
Last year's financial reform bill required the Commodities Futures Trading Commission to crack down on commodities speculation by imposing "position limits" -- a cap on the size of the bets that Wall Street traders can place. The agency was required to apply the new rules by January 22, but the CFTC has delayed the rules in order to collect data.
"What is particularly offensive is that this could and should have been prevented under current law," Sanders wrote.
While at least part of the recent spike in oil prices is likely the result of unrest in the Middle East, the heavy volume of Wall Street speculation may be exaggerating the rise, if not driving it outright. The number of speculative bets on food and energy today is even higher than in 2008, when oil reached its highest price ever, sparking food riots across the globe. CFTC Commissioner Bart Chilton has been pushing to implement position limits soon, citing heated speculation and a March 21 research note from Goldman Sachs analyst David Greely that claimed Wall Street gambling in the futures markets is in fact driving up oil prices.
Obama announced a new inter-agency working group to combat fraud in the oil markets on April 21, but some economists and experts believe the effort will have a very limited impact on gas prices. Commodities speculation is perfectly legal, and traders do not have to break the law in order to drive up prices.
The full text of Sanders' letter is below:
April 28, 2011

The Honorable Barack Obama
President of the United States
The White House
1600 Pennsylvania Avenue, NW
Washington, DC 20500

Dear Mr. President:

As you know, the skyrocketing cost of gasoline is causing severe economic pain to millions of Americans who have already suffered through the worst economic crisis since the Great Depression.

In Vermont, where it is not uncommon for people to commute 100 miles to work and back five days a week, the increased price of gas is taking a serious bite out of the paychecks of middle class families, many of whom are already working longer hours for lower wages. We have a responsibility to do everything we can to lower gas prices so that they reflect the fundamentals of supply and demand and bring needed relief to the American people at the gas pump.

Let's be clear. There is mounting evidence that the skyrocketing price of gas and oil has nothing to do with the fundamentals of supply and demand, and has everything to do with Wall Street firms that are artificially jacking up the price of oil in the energy futures markets.

In other words, the same Wall Street speculators that caused the worst financial crisis since the 1930s through their greed, recklessness, and illegal behavior are ripping off the American people again by gambling that the price of oil and gas will continue to go up.

According to the Energy Information Administration, the supply of crude oil is higher today than it was last year when gas prices averaged $2.81 a gallon, while the demand for gasoline is lower today than it was last year. Based on supply and demand fundamentals, prices should be going down, not up. Instead, gas prices have gone up by over a dollar a gallon since last year.

According to Goldman Sachs, 20 percent of the price of crude oil is due to excessive speculation. Other experts believe that excessive speculation is driving up crude oil prices by 50 percent. This means that Americans are paying a Wall Street premium of between 70 cents and $1.63 a gallon every time they fill up their gas tanks.

This is simply unacceptable. What is particularly offensive is that this could and should have been prevented under current law.

The Wall Street Reform and Consumer Protection Act that you signed into law last summer required the Commodity Futures Trading Commission (CFTC) to impose strict position limits on the amount of oil that Wall Street speculators could trade in the energy futures market no later than January 22, 2011.

It is now April 28, 2011, and the CFTC has still not imposed speculation limits on oil trading in direct violation of both the letter and the spirit of the Wall Street reform law.

Since January 22, 2011, when these speculation limits were supposed to go into effect, until today the national average for a gallon of gas has gone up by more than 80 cents a gallon.

Instead of putting strong speculation limits in place in January of 2011 as required by law, the CFTC proposed a rule on position limits that wouldn't go into effect until late January of next year. Adding insult to injury, these position limits are so ineffective that they would allow just one Wall Street firm to control 25% of the entire U.S. crude oil spot market or four firms to control 100% of this market without violating the regulations.

Three out of the five commissioners at the CFTC must vote to approve strong oil speculation limits before they can take effect. It is clear right now that there are only two commissioners who are willing and able to do what the law requires to significantly limit oil speculation and bring down gas prices at the pump.

I urge you to make it clear to the CFTC that they must obey the law and establish strong oil speculation limits as soon as possible. I would also urge you to ask for the immediate resignation of any CFTC commissioner who refuses to obey the law and nominate someone else who will.

We cannot allow Wall Street speculators to rip off the American people at the gas pump for one more day and the American people cannot wait another eight months to go by before any limits on Wall Street oil speculators go into effect.

Thank you for your attention to this important matter. I look forward to working with you on this issue.

Sincerely,


Bernard Sanders

United States Senator
Popular in the Community