Sen. Bernie Sanders (I-Vt.) on Friday continued his attack on the Democratic National Committee, asking that the co-chairs of two committees be booted from their posts because they were partial to Hillary Clinton.
Sanders' campaign requested that Connecticut Gov. Dan Malloy and former Rep. Barney Frank (Mass.) be removed from their respective positions on the Platform Committee and the Rules Committee. Both have endorsed Clinton.
"Both Governor Malloy and Mr. Frank (the "Chairs") have been harsh, vocal critics of Senator Sanders, and equally active supporters of his challenger, Hillary Clinton," Brad Deutsch, a Sanders campaign lawyer, wrote to the DNC's rules and bylaws committee in a letter obtained by Politico. "Governor Malloy and Mr. Frank have both been aggressive attack surrogates for the Clinton campaign. Their criticisms of Senator Sanders have gone beyond dispassionate ideological disagreement and have exposed a deeper professional, political and personal hostility toward the Senator and his Campaign."
"The Chairs therefore cannot be relied upon to perform their Convention duties fairly and capably while laboring under such deeply held bias," the letter says.
Jim Roosevelt and Lorraine Miller, co-chairs of the DNC's rules and bylaws committee, responded with their own letter Saturday saying that because there was no allegation of rule-breaking they were "compelled to dismiss" the challenge.
Sanders' campaign accused Frank of "defaming" the senator in a March interview with Slate in which the former congressman accused Sanders of being "outrageously McCarthyite" by suggesting that Clinton had a conflict of interest when it came to regulating Wall Street.
"Yes, I saw one commercial that said the big companies weren't punished. Why? Well, maybe it's because Hillary is getting speaking fees. So the secretary of state should have been indicting people?" Frank told Slate. "I mean, yes, McCarthyite in the sense that it's guilt by association. He complains about what she did with regards to all this money stuff. Where's the beef of that?"
Sanders also pointed to interviews in which Malloy criticized his position on guns and linked him to Trump as evidence that the Connecticut governor could not treat him fairly.
But Frank dismissed the idea he would treat Sanders unfairly in an interview with Politico.
"I hope it is not to lay the basis for an inaccurate claim that he was unfairly denied the nomination and I do see some elements of this," he said. ""We really had two nomination contests this year. Bernie Sanders is the nominee of the caucuses; Hillary Clinton is the nominee of the primaries, which are more Democratic."
"Gov. Malloy is committed to a platform and a process that is reflective of the diversity of viewpoints throughout the Democratic Party," Leigh Appleby, a spokesman for the Connecticut Democratic party told the Hartford Courant. "This year's Democratic platform process is making an unprecedented effort to ensure the process is reflective of the entire party," she said.
The request comes after the DNC, Sanders and Clinton reached an agreement earlier this week to each appoint members to the platform committee. It was a concession to Sanders, since the committee's 15 members, responsible for setting the party's goals and principles, are usually all picked by the DNC head. The agreement allows Sanders to select five members of the committee, Clinton six and DNC Chair Debbie Wasserman Schultz four. Sanders' picks to the committee include Cornel West and Rep. Keith Ellison (D-Minn.)
Last weekend, Sanders said Wasserman Schultz would not continue as DNC chair if he were elected president and endorsed a primary challenger in her re-election bid to her Florida House seat.
Before You Go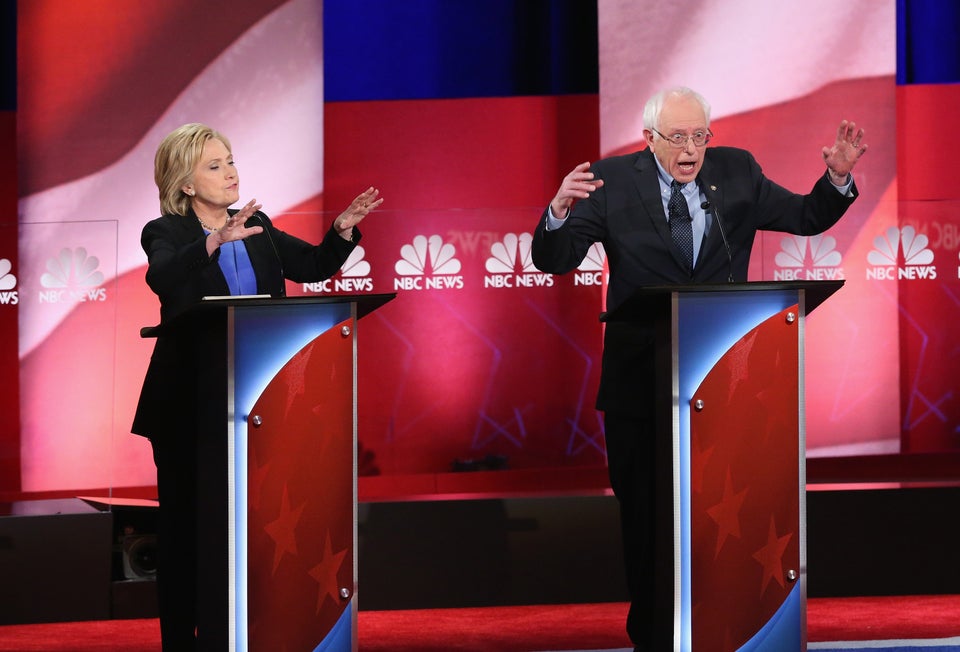 Bernie Sanders And Hillary Clinton Face Off
Popular in the Community