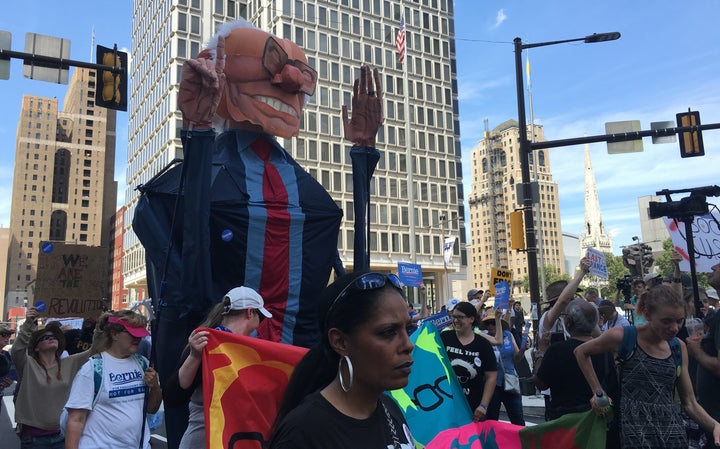 PHILADELPHIA ― Thousands of backers of Sen. Bernie Sanders (I-Vt.) took to the streets Sunday in advance of the Democratic convention, kicking off a week of planned protests.
"I felt he worked so hard for the 99 percent, I could do my little bit and come to the convention to [get out] two messages: to still support him and also protest the Democratic National Committee," said Paula Iaesella, a woman from southern New Hampshire carrying a "Still Bernie" sign.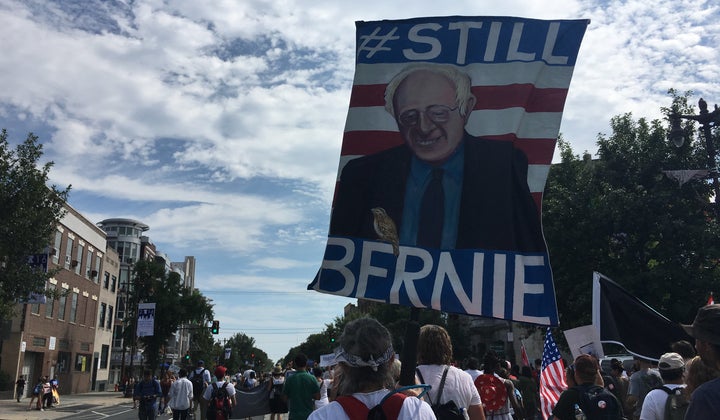 Sanders backers endured intense sun and temperatures in the high 90s to march through the center of Philadelphia Sunday afternoon. Many of them had just marched for clean energy earlier in the day.
The only person less popular than Hillary Clinton at the rally was Rep. Debbie Wasserman Schultz (D-Fla.), who had just stepped down as convention chair after leaked emails came out suggesting DNC staff favored Clinton over Sanders. For Sanders supporters, the emails proved what they had believed all along ― that despite public pronouncements of neutrality, the Democratic establishment was helping Clinton.
"I think it was about time and long past due for her to be gone," said Leslie Ann "Lacy" Copley-Gorman, from Bruceton Mills, West Virginia. "We knew from the beginning that it was not fair to Bernie. We've been saying it all along."
"Thank God," said Janice Blanchard of Denver.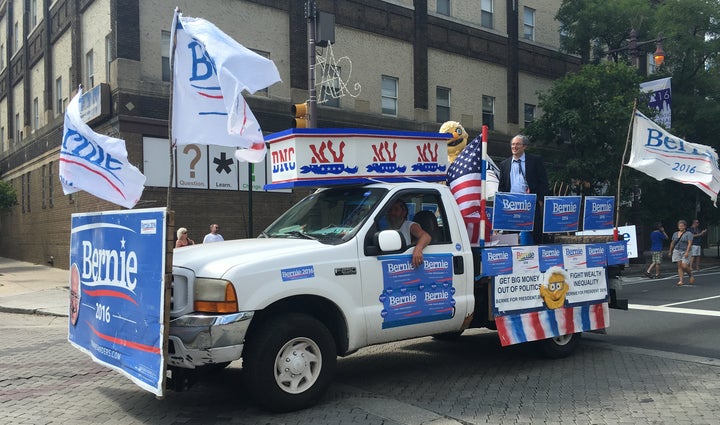 Pittsburgh resident Adam Bluebaugh was carrying a "Fire Debbie!" sign during the march. "I think she should be fired," Bluebaugh said. "I think if they really want to unify the party, that would be a big step. Clearly she just rigged the whole thing."
Bluebaugh's wish came true later in the day when Wasserman Schultz announced she was stepping down as DNC chair.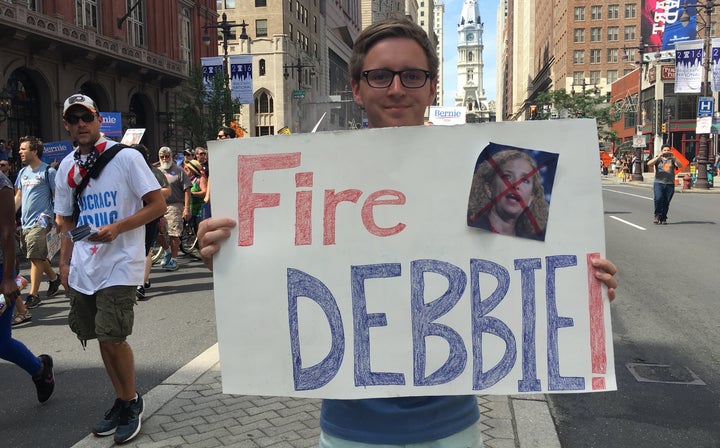 In a statement, Sanders said she made the "right decision" and called for new leadership that will "open the doors of the party and welcome in working people and young people."
Wasserman Schultz will now serve as honorary chair of the Clinton campaign's 50-state program.
The email leaks, Wasserman Schultz's resignation and the protests were likely not the message Democrats wanted heading into their convention. A plane flew over the protesters flying a banner reading "Hillary for prison," which elicited cheers from the people on the ground. It was sponsored by Infowars.com, the conspiracy theorist website run by Alex Jones.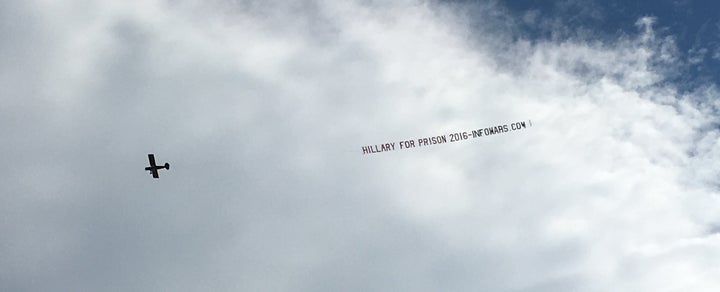 Steffanie Greer, who was carrying a "Hillary for prison" sign, said she believes Clinton should absolutely be locked up for using a private server as secretary of state.
"I believe that if she were not Hillary Clinton, she would be in prison. I think that would be justice, and I believe in justice," Greer said.
Iasella, however, wasn't so sure.
"I don't know about prison, but she definitely needed to be indicted," she said. "That was ridiculous that the FBI said she mishandled secret documents extremely carelessly and didn't recommend an indictment. That totally destroys all the trust we have in our government."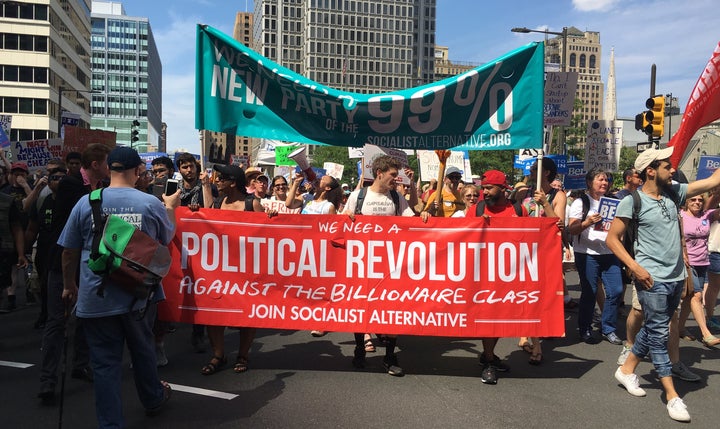 Sanders supporters have a full lineup of protests planned for the week, including events called "Occupy the DNC Convention," "Bernie or Bust Rally," "Shut Down the DNC!" and "Mass Civil Disobedience at the DNC." There will also be a rally for Green Party candidate Jill Stein, a favorite of Sanders supporters.
They were chanting "Hell no, DNC, we won't vote for Hillary" ― even though some marchers admitted that in the end, they may end up voting for Clinton just to stop Trump.
Trump has been making a play to win over Sanders voters, even mentioning them in his acceptance speech last week at the Republican National Convention in Cleveland.
"I have seen firsthand how the system is rigged against our citizens, just like it was rigged against Bernie Sanders ― he never had a chance," Trump said. "But his supporters will join our movement, because we will fix his biggest issue: trade. Millions of Democrats will join our movement because we are going to fix the system so it works for all Americans."
But Sanders supporters at the march Sunday laughed off the suggestion that they would ever back Trump.
"No way. He's a dog off a leash," Copley-Gorman said.
"I think he is pitiful," added Delaware resident Eric Morrison. "I won't be voting for Trump or Hillary."
For his part, Sanders said Sunday that he is fully behind Clinton and that the DNC email leaks have not changed his support.
"My job right now is to see that Donald Trump is defeated, Hillary Clinton is elected," Sanders said in an interview with NBC's "Meet the Press."
He also rejected the overtures Trump is making to his supporters.
"In terms of who could be trusted, I think the evidence is clear that there has been no candidate that I have ever seen that lies more often than does Donald Trump," Sanders added. "That's not just me saying it; that's what any independent media analysis has shown. In terms of trust, you can't trust a word I think that Mr. Trump has to say."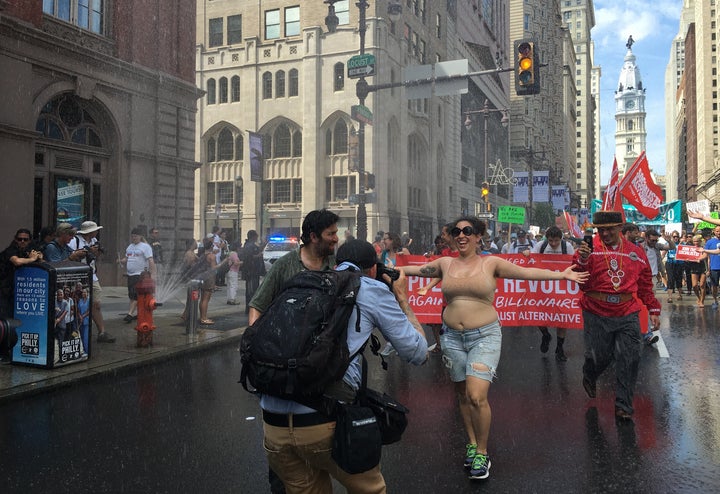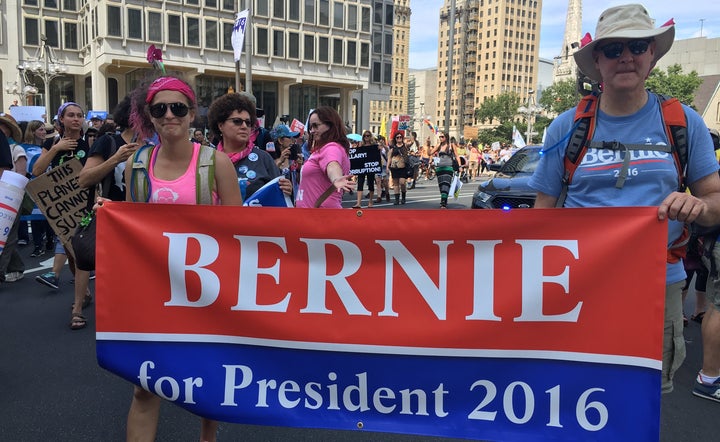 Popular in the Community