Trump's fiscal priorities prove he was never a serious advocate for the working and middle classes, the senator added.
"When Donald Trump campaigned for president, he told the American people he would be a different type of Republican, that he would take on the political and economics establishment, that he would stand up for working people, that he understood the pain that families all across this country were experiencing," said Sanders, the ranking member of the Senate Budget Committee.
"Well, sadly this budget exposes all of that verbiage for what it really was: just cheap and dishonest campaign rhetoric that was meant to get votes ― nothing more than that," he added. "At a time when the rich are already getting richer, while the middle class continues to shrink, this is a budget for the billionaire class, for Wall Street, for corporate CEOs and for the wealthiest people in this country."
Sadly this budget exposes all of that verbiage for what it really was: just cheap and dishonest campaign rhetoric that was meant to get votes.

Sen. Bernie Sanders (I-Vt.)
Trump's budget makes cuts to disability insurance under Social Security, even though he promised not to touch the program, noted Rep. John Yarmuth (D-Ky.), the ranking member of the House Budget Committee. Yarmuth appeared at the press conference alongside Sanders, Senate Minority Leader Chuck Schumer (D-N.Y.) and House Minority Leader Nancy Pelosi (D-Calif.).
"The president's budget was a betrayal, a line-by-line tally of broken promises he made to the American people," Yarmuth said.
It's ultimately up to Congress to decide how much to spend on everything from the military to programs like Meals on Wheels. Still, Trump's budget is a useful window into the White House's worldview ― which is why Democrats have wasted no time pouncing on it.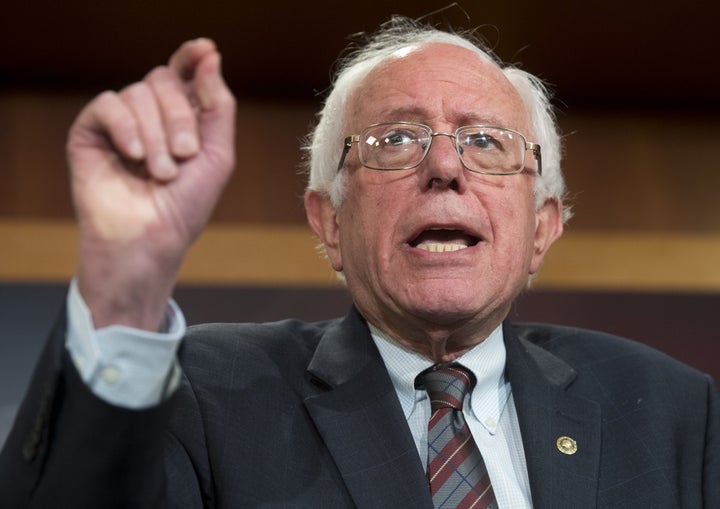 The rhetoric of Sanders, who launched an unexpectedly competitive bid for the Democratic presidential nomination with a campaign platform of economic populism, has sometimes been compared to that of Trump, who found success by highlighting his anti-establishment tendencies (albeit with a racial demagoguery that was anathema to Sanders).
Sanders has a made a point of trying to hold Trump to his promises to fight for working people ― even insisting that it could be grounds for bipartisan cooperation.
The Vermont senator said in a statement the day after the election that he and other progressives would be willing to work with the president "to the degree that [he] is serious about pursuing policies that improve the lives of working families in this country."
For a lawmaker like Sanders, this was a win-win proposition. In the unlikely event that Trump governed progressively, Sanders could claim a policy victory. And the senator had ammunition to attack the president if he did not.
So far, Sanders hasn't found much to like in Trump's agenda ― even when it comes to issues like trade policy, on which Sanders and Trump both defy the bipartisan, pro-business consensus in favor of trade agreements.
The support of Democratic senators ensured the confirmation of United States Trade Representative Robert Lighthizer, a trade hawk who enjoys a good reputation among progressive experts.  
But Sanders was one of 11 members of the Democratic caucus to vote against confirming Lighthizer, complaining that the nominee was insufficiently committed to reforming a status quo on trade that privileges corporate profits over human need.
Calling all HuffPost superfans!
Sign up for membership to become a founding member and help shape HuffPost's next chapter
BEFORE YOU GO
PHOTO GALLERY
Bernie Sanders' Most Interesting Quotes