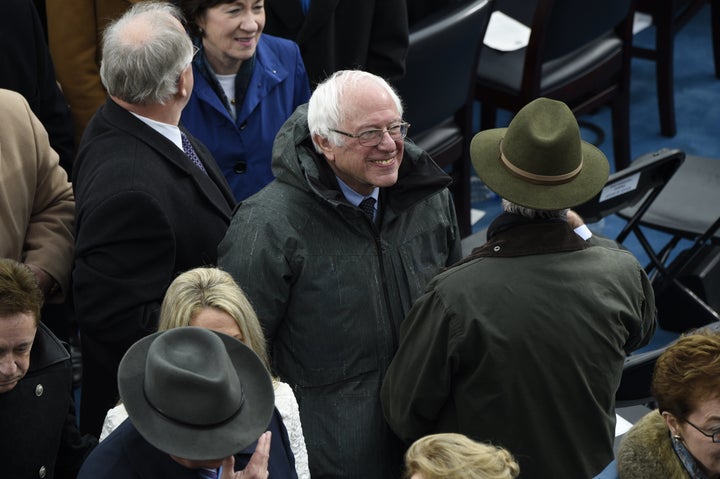 WASHINGTON ― Sen. Bernie Sanders (I-Vt.) said Sunday he found one part of Donald Trump's inauguration speech to be at least unintentionally funny ― Trump's criticism of Washington's elite. 
On "Face the Nation," host John Dickerson suggested that maybe Sanders could find some common ground with Trump's anti-establishment rhetoric. The senator quickly put that notion to rest. 
"Well, I found it somewhat amusing that Mr. Trump, President Trump, was punching the establishment, but right behind him, John, sitting in the VIP section, were billionaire after billionaire after billionaire, some of the most powerful people in this country, who over the last 10, 20 years have become much, much richer while the middle class has shrunk," Sanders said. 
Trump's potential Cabinet is filled with billionaires, as he has nominated several Wall Street, Washington and oil industry insiders. CBS News reported that his Cabinet has a combined net worth of more than $14 billion. The Intercept noted that at least a dozen seats at the inauguration had been given to elite donors. 
"I find it somewhat amusing that you're attacking the establishment when the establishment is sitting right behind you and when billionaires and large corporations are funding many of your inaugural events," Sanders said Sunday.
"Now if Mr. Trump is serious about standing up for working families," he continued, "then he's not going to throw 20 million working people off of health insurance, he's not going to cut Medicare and Medicaid."
How will Trump's first 100 days impact you? Sign up for our weekly newsletter and get breaking updates on Trump's presidency by messaging us here. 
REAL LIFE. REAL NEWS. REAL VOICES.
Help us tell more of the stories that matter from voices that too often remain unheard.