Despite their countless differences as presidential candidates, Sen. Bernie Sanders (I-Vt.) and business mogul Donald Trump have been hammering on the exact same theme for months on the campaign trail.
The democratic socialist and the Republican billionaire agree on one thing: U.S. trade policy has been a disaster for working-class Americans.
That message helped propel both insurgent campaigns to their respective victories in Michigan on Tuesday night. For Sanders, the win marks a historic upset in the modern history of Democratic presidential primaries.
The exit polling from Michigan indicates that most voters there are wary of free trade agreements -- and that Sanders and Trump drubbed their opponents among those voters.
According to CNN, 58 percent of Democratic voters polled after casting ballots said they believe U.S. trade with other countries takes away U.S. jobs, compared with just 30 percent who said they believe it creates them. Among that group, Sanders won by a whopping 17-point margin: 58 percent to Democratic rival Hillary Clinton's 41 percent. He won the primary overall by less than a 2-point margin.
Republican voters were almost as bearish on U.S. trade policy as their Democratic counterparts, according to CNN. Fifty-five percent said they believe trade kills U.S. jobs, compared to 32 percent who said they believe it creates them. Among that group, Trump won twice as many votes as any of his competitors, earning 45 percent to Texas Sen. Ted Cruz's 22 percent, Ohio Gov. John Kasich's 20 percent and Florida Sen. Marco Rubio's 9 percent. Overall, he won the Michigan primary with about 36 percent of votes.
Trade -- and resentment toward U.S. trade policy -- has been the sleeper issue in 2016. By eliminating trade barriers with low-wage countries, the North American Free Trade Agreement and subsequent treaties over the past two decades have encouraged U.S. companies to move jobs to countries where workers are paid less.
Sanders has made a point of pressing Clinton on trade throughout the Democratic debates, including just days ago. The Vermont independent has been a vocal opponent of the Trans-Pacific Partnership, a trade deal with 12 Pacific Rim countries championed by President Barack Obama. Clinton's stance on the deal hasn't been nearly as clear.
Trump, meanwhile, has made a point of saying -- over and over and over again -- that China and other nations are "killing us" on trade, and he points to our trade deals as a key reason.
It isn't surprising that Michigan voters would have a dim view of our trade deals, or that they would now be gravitating to candidates who loudly reject those deals. Like other Rust Belt states, Michigan has lost a lot of manufacturing jobs since NAFTA, a free trade agreement between the U.S., Canada and Mexico, came into force in 1994.
According to an analysis of labor statistics by the think tank Public Citizen, Michigan shed 231,752 manufacturing jobs between 1994 and 2015. Those lost jobs had employed 28.3 percent of the state's manufacturing workforce.
In 2010, an analysis by the liberal Economic Policy Institute found that the U.S. trade deficit with Mexico after NAFTA was enacted led Michigan to lose 43,000 jobs. EPI said Michigan was the hardest-hit of all U.S. states.
And Democratic voters in Michigan no doubt remember who signed NAFTA into law: Hillary Clinton's husband, President Bill Clinton.
Support HuffPost
The Stakes Have Never Been Higher
Before You Go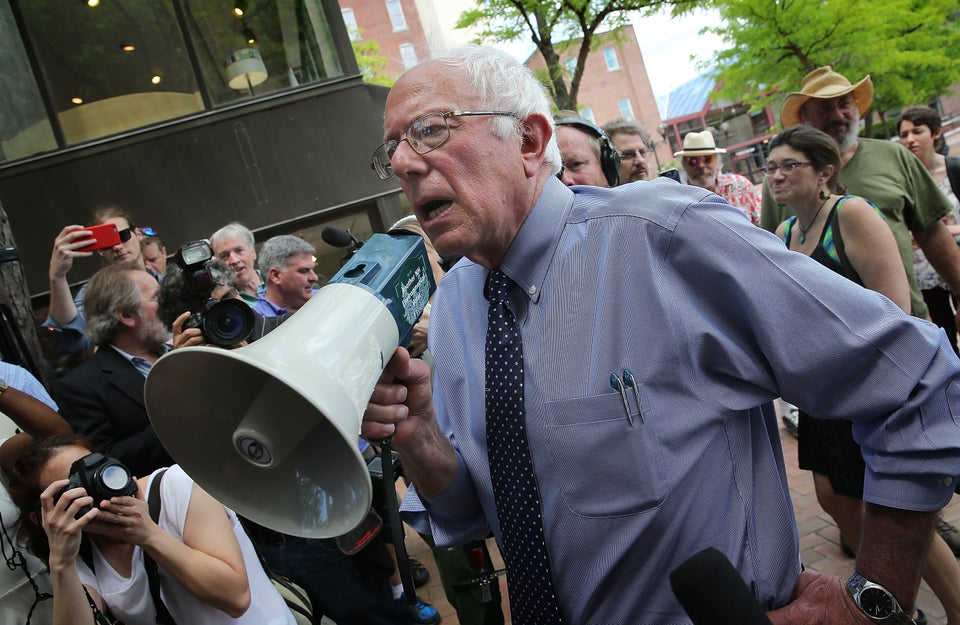 Bernie Sanders' Most Interesting Quotes
Popular in the Community