WASHINGTON -- Donald Trump's opponents have struggled to find a line of attack that would slow the billionaire businessman ahead of Monday evening's Iowa caucuses. They should take a page out of Bernie Sanders' playbook. It looks like the independent senator from Vermont launched the only criticism of Trump that actually worked.
During a GOP primary debate on Nov. 10, Trump was asked whether he's sympathetic to workers protesting for a $15-an-hour minimum wage. In response, he offered his usual thoughts about how the United States doesn't "win anymore."
"But taxes too high, wages too high, we're not going to be able to compete against the world. I hate to say it, but we have to leave it the way it is," Trump said. "People have to go out, they have to work really hard and have to get into that upper stratum. But we cannot do this if we are going to compete with the rest of the world."
The next day, Trump repeated the same argument on MSNBC's "Morning Joe" when he was asked how he thinks people can live on the federal minimum wage of $7.25 an hour. This time, the Republican presidential candidate added the crucial word "are," clarifying that he believes wages are currently too high, rather than they would be if the minimum wage were raised.
"Our taxes are too high. Our wages are too high. We have to compete with other countries," he said.
The day after that, Trump apparently sensed that arguing wages "are too high" was probably a bad idea, especially given his base among white, working-class voters who are not happy that wages are stagnating. He insisted in a Fox News interview that he never said wages are too high, just that he thought the minimum wage should not increase.
Still, damage had been done. Democratic presidential candidate Hillary Clinton hit on Trump's wage comments at a campaign rally in Texas on Nov. 17.
"In [the GOP's] last debate, their leading candidate, Mr. Trump, said, 'Wages are too high in this country.' Honestly, I do not know who they talk to," Clinton said. "They have a lot of people come to their events, but I don't know whether they're actually talking about what's going on around kitchen tables, like what are the concerns that people have."
But it wasn't until Sanders criticized Trump for the "wages are too high" comment in December, on television, that the businessman walked back his comments in earnest.
"Look, many of Trump's supporters are working-class people, and they're angry," Sanders said. "They're angry because they're working longer hours for lower wages, they're angry because their jobs have left this country for China or other low-wage countries. ... This is a guy who does not want to raise the minimum wage. In fact, he has said that he thinks wages in America are too high. But he does want to give hundreds of billions of dollars in tax breaks to the top three-tenths of 1 percent."
In response, Trump claimed in a series of tweets that he actually believes wages "are too low."
Trump's decision to effectively disavow his "wages are too high" comment indicates just how powerful Sanders' attack was, since Trump isn't one to retract, even indirectly, anything that comes out of his mouth. This past July, for instance, he argued that Sen. John McCain (R-Ariz.) is not a war hero because he was captured in Vietnam. Trump refused to apologize to McCain, despite the outcry that followed.
After Sanders' slam, Trump presumably finally grasped just how out-of-touch he sounded with the working-class people who back him. Unlike most of the other Republican candidates, Trump has appealed to voters in swing states like Ohio and Pennsylvania by speaking out against cuts to Social Security and opposing the Trans-Pacific Partnership trade deal.
None of that has worked. Indeed, a focus group conducted by Republican media consultant Frank Luntz in December found that hearing negative information about the candidate only makes Trump supporters like him more. Voters who back Trump say that his unfiltered "personality" is more important than his stance on any particular policy.
However, working-class voters who back Trump are also very worried about the economy and their families' futures, suggesting that highlighting his weakness on wages could hit home for them.
"So even people who are not union members, let me say to you, you have a stake in this," Clinton said at an organizing event in Davenport, Iowa, last week. "You should care about all these Republican efforts. And when you hear Republican candidates say, as they do, that wages are too high in America, they're sure not talking about themselves. They're not talking about working people. They are clinging to a set of beliefs that do not work."
Then again, other Republicans likely won't choose to take on Trump over wages, because it would draw attention to their own resistance to raising the federal minimum wage or having a minimum wage at all.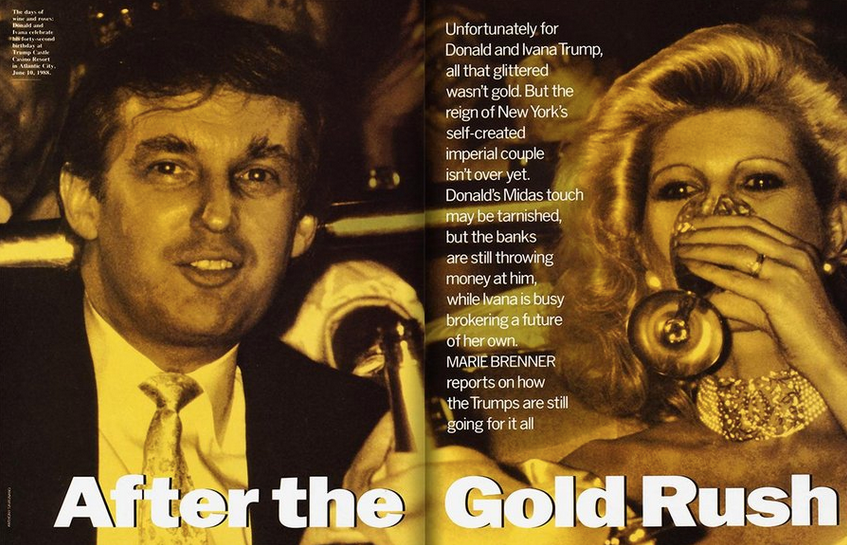 18 Real Things Donald Trump Has Said About Women
Popular in the Community