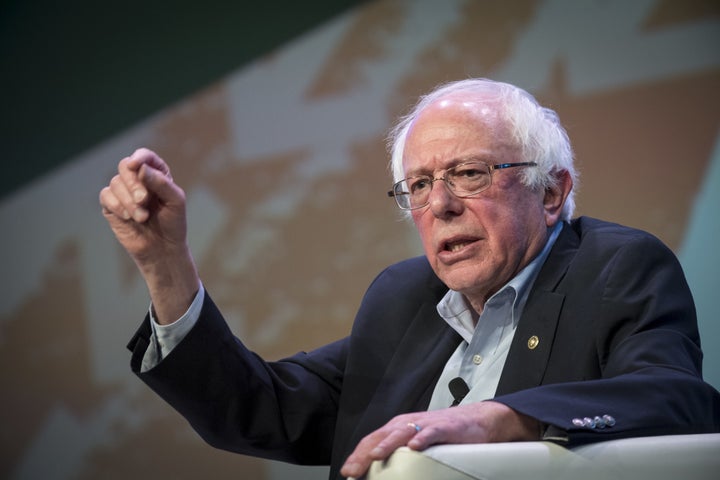 WASHINGTON ― Sen. Bernie Sanders' televised town hall on economic inequality drew about 1.7 million live viewers during an online broadcast Monday night.
The broadcast provided the Vermont independent with an opportunity to expand his new alternative media revue beyond "Medicare for all" to the broader issue of economic inequality, which he maintains that commercial media outlets frequently ignore.
"What I would say to our friends in the corporate media: Start paying attention to the reality of how many people in our country are struggling economically every single day ― and talk about it," Sanders declared at one point during the discussion.
Not content to wait for the cable television channels and newspapers to take him up on his advice, Sanders partnered with The Guardian, The Young Turks, NowThis and Act.tv to do just that for about an hour and a half on Monday night.
Three co-hosts aided Sanders in his efforts: Sen. Elizabeth Warren (D-Mass.), New School economist Darrick Hamilton and filmmaker Michael Moore.
Together they interviewed three guests with specialized knowledge of the economic and political structures suppressing economic mobility and funneling wealth upward. Catherine Coleman Flowers, a founder of the anti-poverty Alabama Center for Rural Enterprise Community Development Corp., spoke about the destitute poverty of the rural black community in Lowndes County, Alabama, where exposure to untreated sewage prompted a rare outbreak of hookworm.
Cindy Estrada, a vice president of the United Auto Workers, addressed the role of organized labor in raising living standards ― and how its decline has lowered them. And Gordon Lafer, a political scientist from the University of Oregon, explained how corporate interests neutralized public opposition through campaign donations and massive lobbying efforts.
An audience of about 450 people attended the town hall in person in the U.S. Capitol auditorium. An additional 100 people viewed the event on monitors in an overflow room.
The rest of what Sanders' staff estimates were 1.7 million live viewers saw the event online. (HuffPost's back-of-the-envelope tally from the social media pages of Sanders, Warren and the various digital partners produced a similar figure.)
Billed as a seminar on the causes of, and solutions to, rising income and wealth inequality, the town hall often doubled as a progressive pep rally for social democratic reforms.
During Estrada's appearance, for example, Warren's homage to labor unions elicited thunderous applause. "Unions built America's middle class. It'll take unions to rebuild America's middle class," she said.
For his part, Moore focused on the failure of the Democratic Party, which fashions itself as the party of working people, to stand true to its mission. This line of inquiry took Moore first into a discussion of the ostensibly Democratic leanings of the three wealthiest men in the country ― Warren Buffett, Bill Gates and Jeff Bezos ― and later into a riff on the Democrats who voted to authorize the Iraq War exactly 15 years earlier.
Moore appeared to be saying that letting Democrats off the hook had contributed to the collapse of the middle class.
"It's so important that we hold the people who say they're for the people ― hold their feet to the fire! And if they're not going to do the job they say they're going to do, let's get somebody else," he concluded to loud ovation.
The origins of American inequality that Sanders and his allies sketched on Monday are by now familiar to left-leaning activists immersed in the works of Robert Reich and Jacob Hacker, among other progressive thinkers.
In this history, former President Ronald Reagan ushered in a new era of corporate domination with his symbolic decision to fire striking air traffic controllers in August 1981. The move was the opening salvo in a prolonged war against organized labor that steadily diminished unions' ranks and reduced their clout, according to numerous liberal scholars.
A host of tax breaks, deregulatory measures, corporate-skewed trade agreements and safety net reductions backed by members of both parties in subsequent decades served to heighten the inequality generated in the 1980s. The result, Sanders said in his introductory remarks, is a country where "the top 10th of 1 percent owns almost as much wealth as the bottom 90 percent.
"In recent years, we have seen incredible growth in the number of billionaires, while 40 million Americans continue to live in poverty and we have the highest rate of childhood poverty of almost any major country on Earth," he continued.
A prominent feature of the evening's analysis that Sanders' critics have sometimes accused him of downplaying was an explicit breakdown of the racial roots of American poverty.
"Some of those same types of attitudes that existed prior to the 1960s, the structural racism that was reinforced by racial terror, is still in existence today," Flowers said.
Hamilton suggested that the universal programs Sanders favors would not erase the racial inequities that follow black Americans at every level of socioeconomic and educational attainment. He noted that a black household headed by a college graduate has, on average, less wealth than a white household headed by a high school dropout.
"So when Sen. Sanders proposes that we should have tuition-free public education ― absolutely, but as an end unto itself. We exaggerate the returns from education, particularly to marginalized groups," Hamilton said.
Sanders, Warren and Moore all endorsed relatively well-known left-leaning solutions to inequality, including a $15 minimum wage, stronger unions, free college education and paid family leave policies.
Perhaps in keeping with his intersectional focus, Hamilton embraced more radical measures. His preferred solutions included the creation of trust funds for every American at birth, a federal job guarantee, the replacement of private payday lenders with postal banking and an end to academic tracking in grade school, which he argued often replicates racial segregation, even within relatively integrated schools.
"To really get beyond our race problem, when we're ready as a nation to come together, we need to come to grips with reparations," Hamilton concluded, prompting cheers from the crowd.
CORRECTION: An earlier version of this story incorrectly quoted Sanders as stating that the top tenth of 1 percent of earners own almost as much wealth as the bottom 99 percent. In fact, he said the bottom 90 percent.
Support HuffPost
The Stakes Have Never Been Higher
Before You Go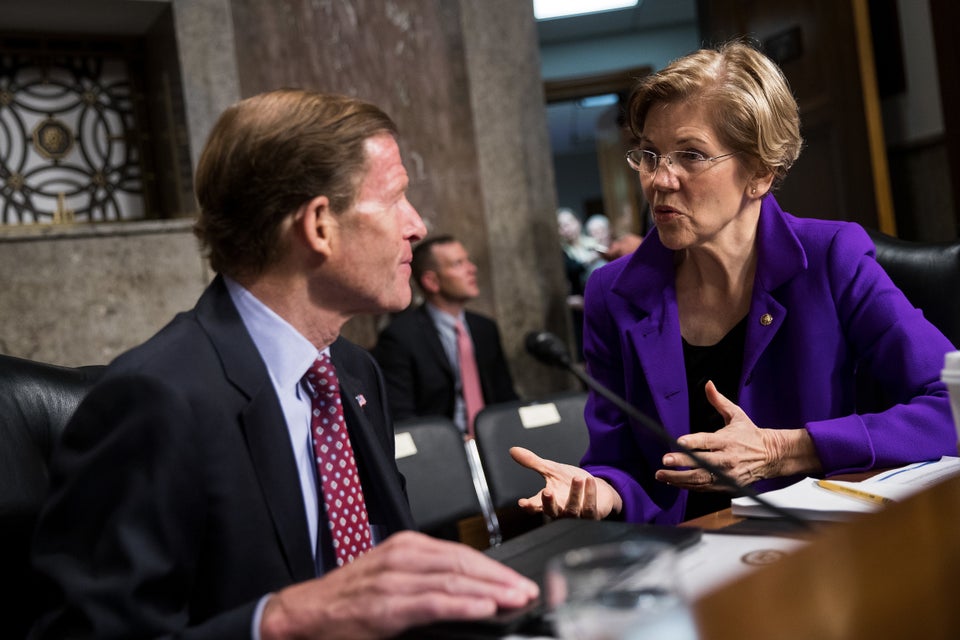 2017 Scenes From Congress & Capitol Hill
Popular in the Community