WASHINGTON ― In the course of his unexpectedly popular run for the Democratic presidential nomination, Sen. Bernie Sanders (I-Vt.) amassed a huge network of supporters ― along with their email addresses and other personal information. Now Democrats are gunning for access to that list, which is estimated to include millions of people.
An email list may sound like an arcane item to become the focus of a battle for the party's future. But access to a large list of enthusiastic liberals would allow candidates and campaigns to mobilize thousands of activists and donors at a moment's notice. In short, the "list" has become a coveted form of political currency in the digital era.
The question for Sanders is whether he should share his data, and if so, how he should go about doing it, according to experts in the list-building systems that have become a cornerstone of contemporary political organizing.
If the goal is for Sanders to provide the party greater access to his base, the most logical entity with which to share his list is the Democratic National Committee, the party's main national organ. And right now the DNC is in the midst of a seven-way competition between the major candidates who would like to become its next chair.
The Sanders campaign's email list is now housed at Our Revolution, a political action committee Sanders set up to continue the work of his presidential campaign. And Shannon Jackson, Our Revolution's executive director, said he doesn't want to just hand that list over to the Democratic National Committee, since Our Revolution is committed to remaining independent from the party. For his part, Sanders told The Washington Post that he would "cross that bridge" when the DNC race is settled.
Rep. Keith Ellison (D-Minn.), who is Sanders' preferred candidate to chair the DNC and the owner of his own large email list, suggested Sanders should grant party leadership access to the list. If elected chair, Ellison would "absolutely" ask the Vermont senator to share his powerful campaign list, Ellison said at a HuffPost-sponsored DNC candidate debate on Jan. 18.
Our Revolution's Jackson declined to comment on Ellison's statement, but reiterated that his organization supports Ellison's candidacy. Sanders spokesman Michael Briggs said in a statement that "there has been no discussion with the DNC about use of the list."
List sharing always poses risks. And in this case, the matter is especially sensitive.
Many Sanders supporters are still angry with the DNC for what they saw as unfair intervention on behalf of Hillary Clinton in the primary. Those supporters would likely only support the most progressive political candidates and causes, and would not want to hear from the DNC as it tries to raise money or turn out activists for anything that doesn't meet their standards.
Jackson said Our Revolution has already had to reassure many active members that it is not sharing data or otherwise colluding with the DNC. People have contacted the organization with accusations of unwanted collaboration on several occasions, typically when Our Revolution has mobilized members to take action for Ellison or other candidates it has endorsed in battles for control of local Democratic parties, he said.
There is not a particularly long tradition of individual candidates with large email lists sharing them with the party. Organizing for America, a 501(c)(4) former President Barack Obama created out of his 2008 presidential campaign, and its post-2012 successor, Organizing for Action, inherited the Obama campaign's successful email list. OFA only shared the list, which numbers in the millions, with the DNC in August 2015.
Once the 2016 Democratic primary ended, top Democrats ― including former Senate Minority Leader Harry Reid (Nev.) ― began talking to Sanders about sharing his list or its data with Clinton's campaign or the DNC. Speculation about the fate of Sanders' list has only escalated since November, with some more establishment-friendly Democrats seemingly hoping that putting Ellison in charge of the DNC would ensure access to Sanders' base.
One Democratic operative, who requested anonymity because he is not authorized to speak on the matter, said this is "uncharted territory" in many ways: "Bernie was an independent who became a Democrat and built a unique campaign that we haven't seen in a very long time."
Legally, political organizations or candidates can sell or donate their email lists. It's how you do it that presents the challenge. Donating a list is generally called a "list swap"; an organization can trade lists with a like-minded candidate or organization. They can also just sell their list to another organization, which can bring in a lot of money if the list is large or particularly useful. In each example, the organizations decide whether to allow list members to opt in to the new list, or directly add their emails and then let them opt out.
Direct adding email addresses and then forcing people to opt out comes with a higher risk of an organization's emails ending up in a spam folder. Internet service providers try to help their customers by sniffing out unwanted email, thereby creating a high barrier to entry for unwanted political solicitations.
"Signing people up for email lists without telling them is a very typical way to get marked as spam," said Emily Schwartz, vice president of organizing at NationBuilder, a nonpartisan digital firm that specializes in political campaigns.
Jason Rosenbaum, a veteran progressive digital guru and technology director for the Action Network, a nonprofit that builds online organizing tools, recalled excessive spam rates dooming campaigns he has worked on.
"I have seen programs go to zero because they have screwed up with this kind of stuff," he said.
"If we see a new DNC chair who takes the party in a new direction ... then maybe this type of sharing makes a lot of sense."
Other risks include the prospect of activists disengaging or unsubscribing from an email list, which could lead to attrition ― for both the DNC and the original Our Revolution list.
If Our Revolution chooses to share its list with the DNC, there are ways for the group to leverage its following to benefit the Democratic Party without compromising the trust it enjoys with its members, said Rosenbaum, who previously led online campaigns for the Progressive Change Campaign Committee and Health Care for America Now.
One way to do that is to start with joint actions between the two organizations ― inviting list members to sign a petition, donate money or mobilize around a cause. That would make it abundantly clear to list members that their contact information is being shared with a new organization, rather than forcing it on them.
One can envision Our Revolution asking its list members to join an action against Republican cuts to Planned Parenthood funding or attempts to privatize Medicare, for instance. The challenge, however, is ensuring that the DNC does not try to mobilize Our Revolution list members for a candidate or cause they don't like.
The best insurance against that kind of a mistake ― and the inevitable blowback ― is the election of a DNC chair that progressives trust, Rosenbaum suggested.
"The Sanders folks ― though I think they overstate their case ― they do have a point about the corruption in the DNC around the primary process," he said. "If we see a new DNC chair who takes the party in a new direction and is able to make a clean break with the past there in a way that Democratic activists understand, then maybe this type of sharing makes a lot of sense."
But Nomiki Konst, a former Sanders campaign surrogate who now works for The Young Turks, a progressive YouTube network, warned Democrats against viewing an email list as a panacea for the party's shortcomings.
"The Democratic Party has to reinvent itself. No Bernie list, no Keith Ellison list, is going to solve that problem," she said. "The Democratic Party has raised more money than ever, spent more money than ever, and lost more than ever."
Sign up for the HuffPost Must Reads newsletter. Each Sunday, we will bring you the best original reporting, long form writing and breaking news from The Huffington Post and around the web, plus behind-the-scenes looks at how it's all made. Click here to sign up!
Before You Go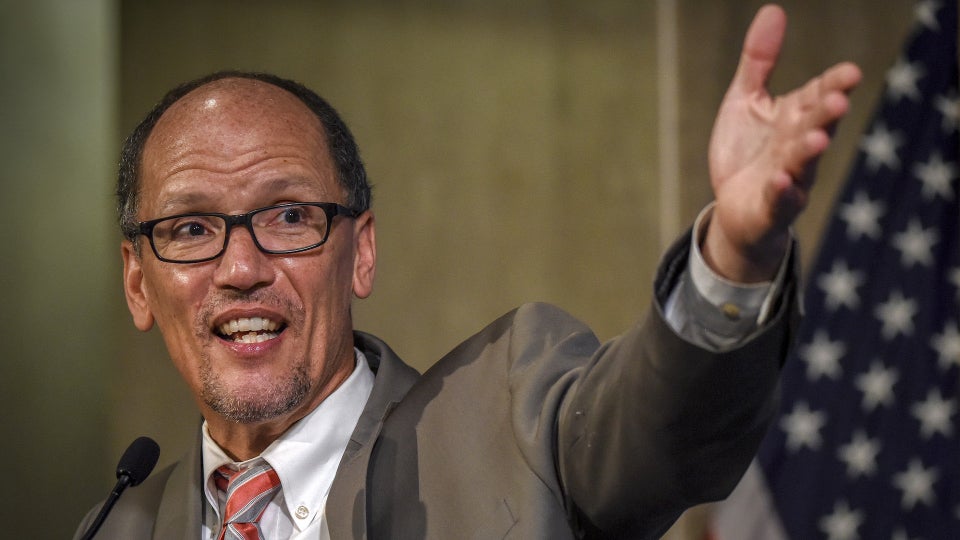 Democratic National Committee Chair Candidates
Popular in the Community