WASHINGTON -- The progressive political advocacy group Democracy for America backed Sen. Bernie Sanders' (I-Vt.) Democratic presidential bid on Thursday, in the organization's first presidential primary endorsement since former Vermont Gov. Howard Dean (D) founded it in 2004.
Sanders earned the endorsement after receiving 87.9 percent of the 271,527 votes cast by DFA members nationwide over a nine-day voting period. No Democratic candidate was able to clear the 66.7 percent supermajority needed to earn the DFA endorsement ahead of the 2008 presidential election.
"Bernie Sanders is an unyielding populist progressive who decisively won Democracy for America members' first presidential primary endorsement because of his lifelong commitment to taking on income inequality and the wealthy and powerful interests who are responsible for it," Charles Chamberlain, the group's executive director, said in a statement. "Throughout his campaign, Bernie has repeatedly said that the huge problems of income inequality, money in politics, and structural racism that our country must confront are bigger than a single campaign -- they need a political revolution."
The group, which claims 1 million members, says it has "knocked on hundreds of thousands of doors, made over 11 million phone calls, and raised and contributed more than $32.7 million to help elect 843 progressive candidates nationwide" since its founding. It said it would run a positive campaign on Sanders' behalf, rather than attack his rivals for the nomination.
"DFA's tireless focus on bringing people together through grassroots organizing is the best way we can fight back against the billionaires and oligarchs who have rigged our economy," Sanders said in a statement. "I also want to congratulate DFA for its principled support for grassroots democracy and for its internal democratic process. It is no secret that the founder of DFA -- my friend and fellow Vermonter former Gov. Howard Dean -- has chosen not to support my candidacy. Yet the leadership of DFA allowed a fair and free vote to take place which we won. That's pretty impressive."
All three of the Democratic candidates sent pitches to DFA's members asking for their vote before the announcement. Notably, Hillary Clinton's email to DFA's list was sent from her and Dean, who endorsed her last year.
DFA and MoveOn.org tried until June to draft Sen. Elizabeth Warren (D-Mass.) into the Democratic primary. At that time, it finally became clear to the groups that Warren would not run and that progressive voters were connecting with Sanders' campaign.
The Working Families Party endorsed Sanders last week. However, MoveOn.org and the Progressive Change Campaign Committee, two other progressive groups which do similar work to DFA, have not yet indicated whether they will endorse in the primary.
This article has been updated to include comment from Bernie Sanders.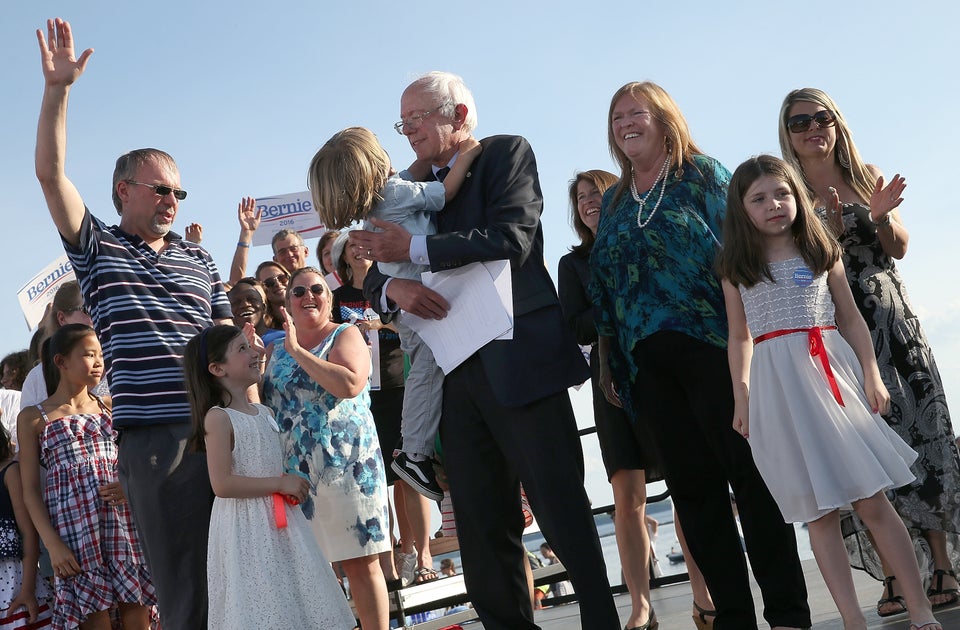 Bernie Sanders On The Campaign Trail
Popular in the Community