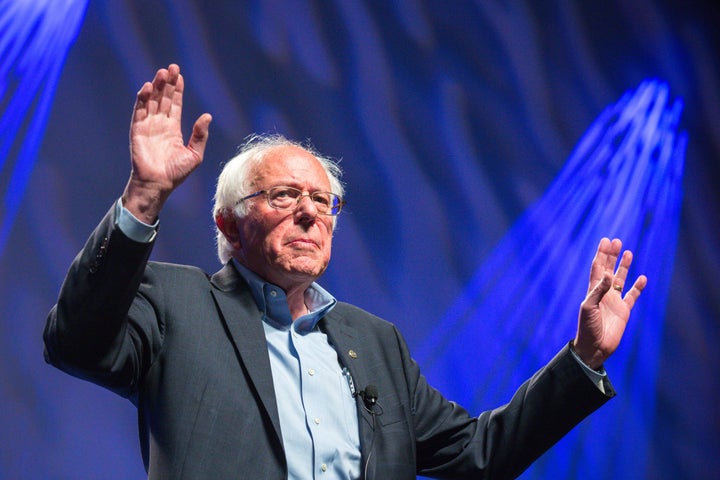 Americans' views of Sen. Bernie Sanders (I-Vt.) have grown more favorable as they continue to learn more about him, according to a new Gallup poll.
Sanders' "favorable" rating has doubled since March, jumping from 12 percent to 24 percent. Gallup notes that his rise in favorability can be attributed to Americans' increasing familiarity with him as he campaigns against former Secretary of State Hillary Clinton for the Democratic presidential nomination.
In March, only 24 percent of Americans were able to give an opinion on Sanders. Today, 44 percent say they are able to rate him. Sanders' increased visibility has caused his unfavorability quotient to go up as well: 20 percent of Americans now rate him unfavorably, compared to just 8 percent in March. Still, he remains the only Democratic candidate to have a net positive "favorable" rating, meaning that more people like him than dislike him.
At the same time, Americans' feelings toward Clinton have grown slightly less positive, dropping 5 percentage points since April. This latest poll marks Clinton's lowest net "favorable" score since 2007.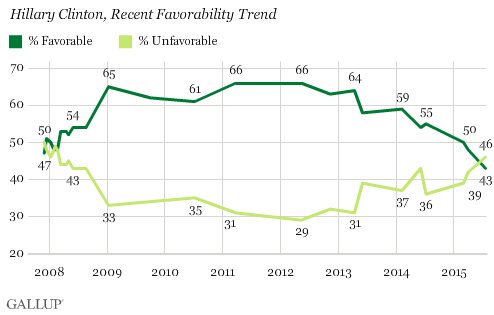 Sanders' recent surge still leaves him considerably behind Clinton, who has a 43 percent "favorable" rating compared to Sanders' 24 percent. Clinton also remains the most identifiable Democratic candidate. Eighty-nine percent of Americans are able to rate Clinton, while only 44 percent are able to rate Sanders.
Nearly 40 percent of Democrats and independents who lean toward the Democratic Party have a favorable view of Sanders. By contrast, 3 in 4 Democrats and Democratic-leaning independents have a favorable view of Clinton.
Gallup polled 2,374 American adults using live telephone interviews between July 8 and 21.
Popular in the Community