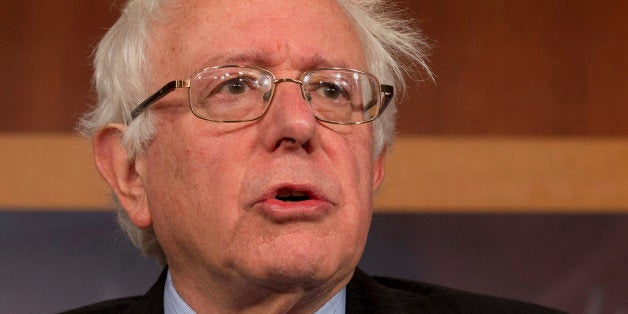 Move over, Peter, Paul and Mary. Sen. Bernie Sanders (I-Vt.) is America's newest folk heartthrob.
Sanders, known for his distinctive New York baritone, apparently released some folk music recordings in 1987 while mayor of Burlington. The songs were dug up by the site Seven Days, which said it was "impressed by the heights to which his guttural, Brooklyn-strained-through-a-wood-chipper accent elevated the classic 'We Shall Overcome.'"
Todd Lockwood came up with the idea to record Sanders at his White Crow Audio studios. Sanders' recordings ended up being one of the label's most popular albums that year, in part, he said, because conservatives purchased it as a gag gift. More from Seven Days:
The plan was for Sanders to sing relatively straightforward renditions of a handful of them. And that apparently seemed like a good idea to everyone. Until Sanders stepped into the recording booth for the first time.

"As talented of a guy as he is, he has absolutely not one musical bone in his body, and that became painfully obvious from the get-go," Lockwood said. "This is a guy who couldn't even tap his foot to music coming over the radio. No sense of melody. No sense of rhythm -- the rhythm part surprised me, because he has good rhythm when he's delivering a speech in public."
Sanders has been mulling a 2016 presidential run, recently saying he believes there needs to be a candidate who "speaks to the needs of the working class and the middle class of this country and shows the courage to take on the billionaire class."
All five songs can be found here, but below are a couple of the best:
Want more updates from Amanda? Sign up for her newsletter, Piping Hot Truth.
REAL LIFE. REAL NEWS. REAL VOICES.
Help us tell more of the stories that matter from voices that too often remain unheard.
BEFORE YOU GO
PHOTO GALLERY
Musicians vs. Politicians: Artists Fight Back