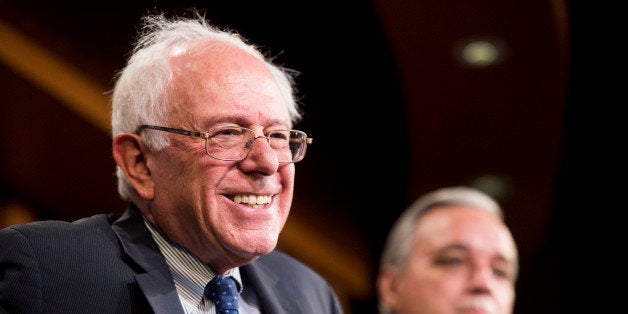 WASHINGTON -- Sen. Bernie Sanders (I-Vt.) doesn't often find common cause with Goldman Sachs. But when it comes to breaking up the world's biggest bank, Sanders is on the same page as a team of Goldman analysts.
"Goldman Sachs is right," Sanders said Thursday in a statement provided to HuffPost. "J.P. Morgan should be broken up."
Last week, Goldman's research department issued a report making the case that rival JPMorgan Chase would be more valuable to shareholders if it were broken into multiple banks. Since regulators have increased JPMorgan's mandated capital levels above that of some slightly smaller peers, Goldman analysts claimed the bank would be worth up to 25 percent more if it were split into as many as four separate entities. The smaller banks would have to hold less capital, since they would not pose as great a threat to the financial system in the event of failure, according to the analysis. Lower capital requirements would allow the smaller banks to profit more handsomely from riskier operations.
"Our analysis suggests that a breakup -– into two or four parts -– could unlock value in most scenarios, although the range of outcomes we assessed is wide, at 5 - 25 [percent] potential upside," the report reads.
Bank reform advocates have long proposed tough capital standards to encourage big banks to break up, but the levels contemplated are typically much higher than those currently imposed on JPMorgan. Sens. Sherrod Brown (D-Ohio) and David Vitter (R-La.) introduced legislation in 2013 that would coax the breakup of big banks by dramatically raising their capital requirements. The legislation never came up for a vote.
Goldman's report did not target all big banks, which are subject to more stringent capital rules than smaller banks. Instead, it focused on disparities between JPMorgan and other large banks, where it noted that JPMorgan faces more rigorous requirements than other behemoths. According to the Goldman report, regulators recently imposed tougher capital standards on JPMorgan, because it devotes an unusually large portion of its activities to risky businesses, including securities trading and derivatives operations.
Goldman gave no indication in its note that the analysis was anything other than an evaluation of JPMorgan's stock potential.
JPMorgan declined to comment. During a conference call to discuss the company's earnings on Wednesday, CEO Jamie Dimon said his bank was "under assault" from federal regulators. The bank has paid out billions in recent years to settle a broad array of allegations of wrongdoing, ranging from manipulating key interest rates to rigging energy markets for consumers, to ripping off homeowners on their mortgages.
While the nation's biggest banks often enjoy the fruits of each others' lobbying efforts, the spoils from some Wall Street victories on Capitol Hill are sometimes distributed unevenly. In December, big banks slipped a government subsidy for derivatives trading into a critical bill funding the federal government. The measure, which repealed a tenet of the 2010 Dodd-Frank financial reform law known as "swaps push-out," allowed big banks to continue trading their riskiest derivatives from subsidiaries that accept government-insured deposits.
Not every big bank was admitted to the party, however. JPMorgan, Citigroup, Wells Fargo Bank of America gained much more from the swaps push-out provision than Goldman and Morgan Stanley did. That's because Goldman and Morgan Stanley have very modest deposit operations -- giving them much less taxpayer-backed money to fund their risky operations.
The lopsided lobbying playbook repeated itself in January, when the House voted to delay a key part of the Volcker Rule until 2019. The measure would allow banks to continue holding and trading risky corporate debt packages known as collateralized loan obligations. The biggest beneficiary, by far, was JPMorgan -- which owns about $30 billion of a CLO market federal regulators value at between $84 and $105 billion. Goldman Sachs and Morgan Stanley have nothing close to such levels of CLO holdings.
For many financial watchdogs off Wall Street, of course, such intra-Too-Big-To-Fail rivalries are unimportant. In his statement to HuffPost, Sanders argued for breaking up the six largest U.S. banks -- a list that includes Goldman itself.
"Our biggest banks all need to be broken up," Sanders said. "Today, the largest banks in this country are much bigger than they were before taxpayers bailed them out. The top six banks today have over $9.8 trillion in assets, equivalent to almost 60 percent of the GDP of the United States … It's time to break up these behemoths."
Before You Go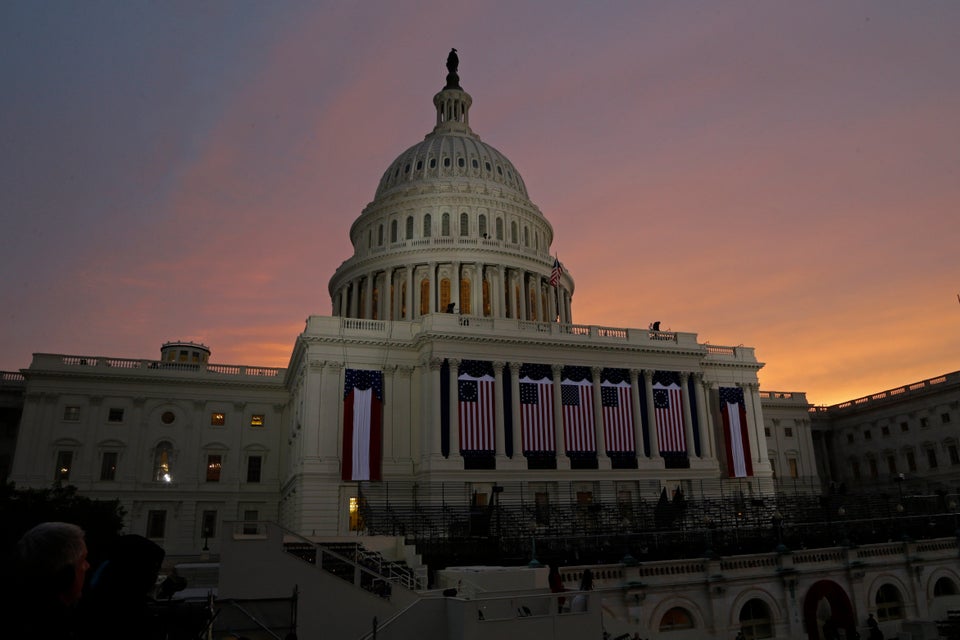 U.S. Capitol Photos
Popular in the Community