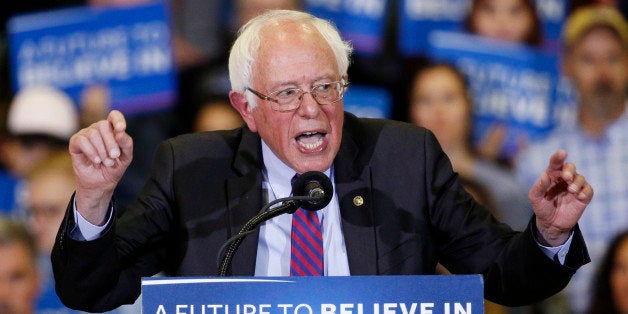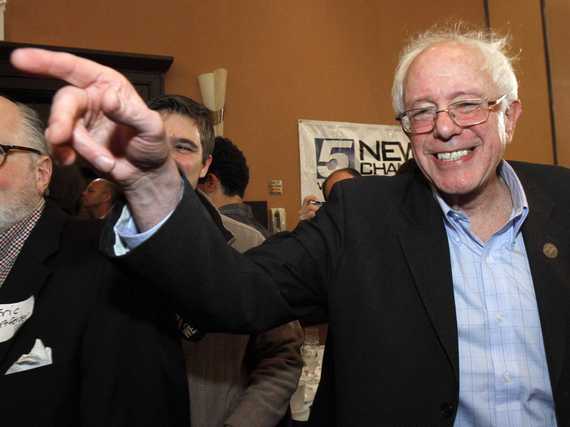 Here are a few simple facts:
Clinton's strong states are almost all behind her. Sanders has the advantage in the vast majority of those that remain; and in many cases, that advantage is huge.
If Sanders keeps pace with his victories outside the deep south, he will take 60 percent of the remaining vote. This is no pipe dream; this is math. That is more than enough to propel him to victory.
Clinton will begin to lose, and continue to lose. This is the high water mark of her inevitability; those losses, coupled with the other misgivings most Americans have about Clinton as a candidate, will erode it quickly.
All of those who support Sanders know how quickly he can persuade; the massive margins of victory he has achieved in places like Colorado and Minnesota are not just repeatable, they are exceedable, especially given the upcoming string of victories and the viral nature of his support.
Sanders' support among millennials is absolute; so far, he has received more votes from young people than the next two highest candidates combined.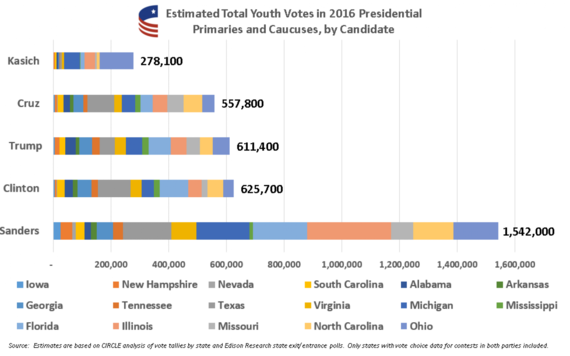 That generation is fighting for the future it wants; they have more at stake in this election than any other demographic. They are also better informed than any cohort has ever even had the possibility to be. Anything, anywhere, at any time -- the power of the Internet to debunk lies and reveal deceit, and inform of global truth has no stronger proof than the absolute support Sanders enjoys among the young. They are the force to be reckoned with this election; and it has never been more imperative for them to stay in the fight.
They support Sanders not because he promises "free stuff", but because they know his proposals, far from being outrageous, are the norm in every other major nation. And, a fact somehow ignored in the national media narrative, Sanders' proposals are supported by the vast majority of Americans.
They know campaign isn't radical; it's the most natural application of democracy. And every argument against it comes down to acquiescing to corruption.
The results on Tuesday were not unexpected; in fact, Sanders exceeded expectations, and garnered more delegates than had been hoped: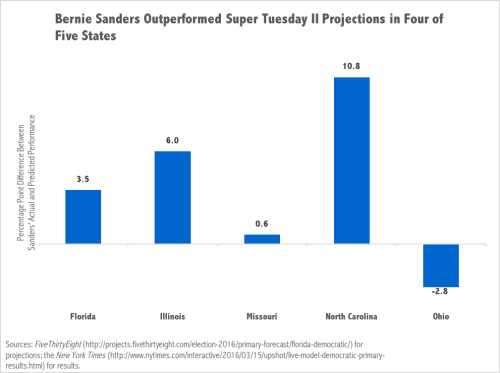 Another narrow victory would have helped the media narrative, but would not have changed the delegate math. Sanders' campaign has planned for this moment; they built their strategy around it. Had they won Nevada and Iowa as well as New Hampshire, a different approach would have been possible; they did not, and chose their strategy accordingly.
There is no clearer proof of this than the Sanders campaign's March 16th telephone press conference, in which his senior advisor and his campaign strategist discussed their place in the race, and fielded questions from reporters who expressed incredulity that Sanders had not simply rolled over. They are relaxed; they are optimistic; they see the way forward. It is highly, highly recommended listening. Here's Tad Devine, the campaign's senior strategist:
We believe as we look ahead at the states in front of us, that we can beat her in most of these states, and in some of them we can beat her by decisive margins... We're just not intimidated by the numbers; you know, the numbers are a significant advantage for her, she's done well, but the process for her has been front-loaded; all her really strong states were up front. We had a strategy to take on that front-loaded process, but that would have required us to win Iowa, New Hampshire and Nevada. We came really close to pulling that off. When we didn't win in Nevada, we decided to step back and take a much longer approach to this. We are uniquely situated to follow this strategy, because we have something I think that, really, I can't remember another campaign in history ever having, which is unprecedented financial support from the grassroots fundraising network we have built. That's really one of the the fundamental difference of this campaign: we have resources that past campaigns never had available to them; and that resource advantage is not only working for us in a practical way, providing what we need in order to campaign and compete, it's also working on a message level; people are supporting Bernie Sanders because they believe in what he's trying to do in revolutionizing American politics. So that's what I think is different; and that difference is really the reason that we can compete and win in the rest of the process.
Sanders' supporters must have faith in him, and his campaign strategy; he has been playing this game for a long time. He and his team understand it better than anyone -- better than we do, and far better than the media.
The media (when they have not simply been distorting the truth to smear him -- shame, shame upon you, New York Times) have been finding reasons to discount and marginalize Sanders since he announced. They have been wrong at every turn. This moment is no different; why on Earth would anyone start believing them or trusting their judgement now?
If his supporters continue to have faith in him -- and continue to support him with their unprecedented phonebanking, canvassing, GOTV, and donating efforts -- then his path to victory is entirely clear. Clinton's path to victory, on the other hand, depends wholly upon demoralizing those efforts.
Now is not the time to falter. Never before has a candidate for president felt the sense of obligation to the people that Sanders does; his dedication is beyond anything we have ever seen. His supporters, if they match his dedication with their own, will sweep him to victory, and change the world. They must remain engaged, and engage others.
As Bernie put it, "No one said political revolution would be easy."
Have faith; #keepberning; and get to work.
Popular in the Community